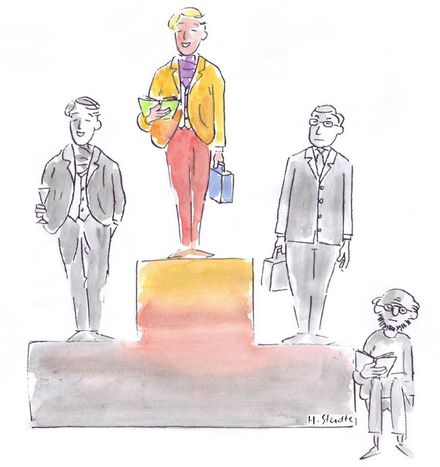 Describing a graduate all-rounder in Europe
Published on
The Germans have coined young, entry-level employees in Europe 'the egg-laying woolly milking sows' - rundown of other timely nicknames for other young European graduates in these times of crisis
They speak five languages fluently (and at least three of those to the level of a native speaker), have exceptional social skills, studied a double masters degree in London and Paris during which they took  an Erasmus (student exchange) year, have completed ten work placements in at least eight different countries, already have work experience, write a blog, play the piano divinely and on top of all this, they have only just turned twenty two: in German, the equivalent of Europe's generational brand of an all-rounder
is called an eierlegende Wollmilchsau
(egg-laying woolly milking sow).
This species really does exist. At least it often hangs around slightly ironically in German job descriptions, occasionally spoiling the mood of young graduates and causing their motivation to apply to hit rock bottom. Who else can lay eggs, produce milk, wool and at the same time provide juicy pork? These white ravens (biały kruk), as the Poles call this non-existent genius, can be really quite annoying.
The German mythological creature has its origins in jargon used by the Bundeswehr in the 1970s. Back then people used it above all to refer to multi-purpose war planes like the Panavia Tornado as invincible, multi-functional animals. The Spanish coined an all-rounder with the name JASP (Joven Aunque Sobradamente Preparado)
(young but one hundred percent prepared) in a similar fashion in a TV advert. The word was at first used to advertise a multi-functional car but was then used  in the nineties to represent a whole generation of high achievers, incidentally with a nod to the English WASP (White, Anglo-Saxon and Protestant)
.
The French and Dutch have avoided the headaches with letters and prefer to stick to numbers with the phrase five legged mutton (le mouton a 5 pattes
; schaap met vijf poten), while the pert Belgians noticed a long time ago that en als onze kat een koe was konden weze melken (if our cat were a cow, we would be able to milk her)! However everything is put into perspective at the end of the job ad, which the Polish saying often puts it as promising pears from a weeping willow (obiecywać gruszki na wierzbie).
Flick through the website of our resident illustrator Henning Studte
Translated from Eierlegende Wollmilchsau