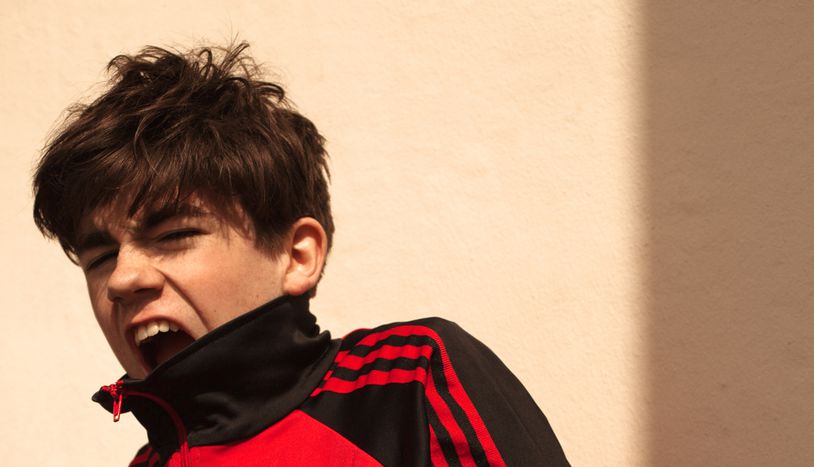 Declan McKenna: "Young people are completely engaged"
Published on
At 15 years old he released a hit song about corruption and football in Brazil, which he wrote in his bedroom. Two years later, Declan McKenna has made a record that deals with religion, police brutality, xenophobia and LGBT rights. In an interview with cafébabel, he shares some wise insights about the youth of today. 
French people know this better than anyone else: you may well prepare yourself differently for the beginning of September and the end of summer, but it will always have the same taste: shop-bought, triangular sandwiches. Even Because Music - one of the leading independent music labels in France – is no exception to this rule. On the terrace of their beautiful offices, a young woman takes a bite of a tuna and egg salad sandwich. Undoubtedly musing about Greece, she watches a group of charming young men in the garden recount their tales of holidays spent on the coast. Nearby, a pale teenager scrolls through Facebook on his phone, visibly waiting for someone to come find him.
If Declan McKenna doesn't look as tanned as everyone around him, it's probably because he spent August travelling across the USA by bus. From LA and San Francisco to Denver, Colorado, the young English artist has turned heads in the States with his first EP Stains, which was released last spring. His songs deal with heavy issues like religion, the lack of responsibility in the media and stereotypes about the LGBT community. It was in 2014 - at the age of 15 - that Declan wrote 'Brazil', which tackles the Brazilian government's corruption during the Football World Cup. Two years and nearly two million views later, the kid who wrote songs in his bedroom has started to make a name for himself. Some say that he has become the voice of social consciousness for Generation Z. So we decided to listen to him.
Cafebabel: Your songs deal with serious topics. How do you decide what you are going to write about?
Declan McKenna: I think I choose a subject just because I find it interesting or because it's something that I think isn't talked about much. I like talking about topics that are important to me, rather than talking about my personal life. So I tend to concentrate on issues that aren't talked about a lot or issues that are talked about in a negative way. I like taboo subjects. By talking about them, it helps to change perceptions.
Cafebabel: There's a story behind your song 'Paracetamol': can you tell us a bit about it?
Declan McKenna: I wrote that song after hearing about a trans girl who killed herself in the USA [in December 2014 Leelah Alcorn, a teenager from Ohio, killed herself after pressure from her family and friends about her identity became too much, Ed]. It shocked me, especially because I have friends who are transgender. I wanted to talk about the way that the media, authority figures and politicians speak about people who are LGBT: always in a negative light. I wanted to show that, despite Leelah's story, there are positive stories out there too. There are many trans, bi, lesbian and gay people who lead happy lives. But in the media, we get that impression that it's a miserable existence. It's just not true. It's changing, it's getting better slowly. I thought it was important to make a statement about that.
Cafebabel: What inspires you to talk about these sorts of issues?
Declan McKenna: Conversations I have with my friends. It's because people of my age speak about these issues that I talk about them too. I'm part of a generation that thinks a lot about how they can change the world. It's important to do something. As for me, I want to be a part of this movement that wants to encourage social change. With social media, it's become so much simpler for young people to communicate about the issues closest to their hearts. I think that's a great thing. I heard the story behind 'Paracetamol' on Facebook because it was shared there so much.
Declan McKenna - 'Paracetamol'
Cafebabel: You grew up in Hertfordshire as one of six siblings. Did your family life teach you values that are important in your life now?
Declan McKenna: Totally. I'm the youngest of six, so I always learnt from my brothers and sisters. I wanted to learn guitar because my brother played. But I also gained a lot from their experiences and their advice about life generally. We're a pretty close-knit family. Everyone has a creative side, which really helps.
Cafebabel: You started writing songs very young and suddenly, you win the Emerging Talent Competition at Glastonbury and get a rave review on NME at 16 years old. Has this changed your career goals?
Declan McKenna: A little, I think. Suddenly, lots of people started listening to my music. Playing at Glastonbury was such a big deal for me, and being the winner of that competition out of 6,000 people was amazing. It gave me the confidence I needed to get on stage at first. Now I have a band with me, it's a bit easier to connect to the audience. But anyway, I've always had confidence in myself.
Cafebabel: Have you always wanted to be a musician?
Declan McKenna: I always wanted to make music. I did many different things beforehand. I was into theatre and sports, but music was always what I enjoyed most. Now, I feel that I made the right choice. I feel at ease, even it's just one part of my daily life now. So yes, to some extent I think I have always wanted to be a musician.
Cafebabel: How do you handle fame at such a young age?
Declan McKenna: It can be difficult at times. Most of the time, I enjoy it a lot as I always manage to focus on the bright side of things. What is a bit more complicated is that now I have to write pieces that people like. That feels weird to me, because music was just a hobby before. The songs that I loved making are now listened to by loads of people. It's bizarre but I can't stop enjoying it.
Cafebabel: You said, "People don't realise how intelligent young people are." Have you been the object of criticism or patronizing remarks?
Declan McKenna: [laughs] Yes. All the time! It's not necessarily patronizing, but it's mainly the way that people talk to you. Like, "Oh, you talk about politics, you must be different to other young people your age, right?" I think it's because people don't listen to young people. Young people are completely engaged, and want to be involved, but people my age can't vote. They can't make their voices heard. As a result, people think that young people don't give a damn about anything. Young people are intelligent though, they are getting more and more intelligent every day in fact. My friends are clever and they think about and talk about the same things as me. Young people are more engaged than ever. Honestly, I can never understand why people say things to me like "at your age, it's unusual."
Cafebabel: What would you do to change all that?
Declan McKenna: I think the best thing to do is to show as many people as possible that young people are interested in many issues. I think that music, and the arts in general, have always played an important role in social and political change. It's a great time to speak out about things you care about.
Cafebabel: You've also said that "there aren't many artists that honestly represent young people." Would you like to be the type of artist that does?
Declan McKenna: I'd like to think so, yes. I try to write like a 17-year-old. I like honestly representing who I am, and my friends, and people my age, because I'm proud to be part of a progressive generation that's very intelligent and engaged. Unfortunately, for a long time, young artists out there have been just like older ones.
Cafebabel: Who are the artists that you think represent young people today?
Declan McKenna: That's a difficult question. But I'd say the British rapper, Loyle Carner. He's sick.
Cafebabel: Beyond the music industry, who are the young people that represent your generation?
Declan McKenna: [pauses] Hmm… who is there? The thing is, we don't really hear much about young people and their initiatives. However, my friends inspire me hugely. Thinking of celebrities, it's harder to say. I guess there's the young journalist from the Guardian, Owen Jones. He's very leftist. I saw an amazing interview with him on Sky News the day after the Orlando massacre. He left the set because the journalist was talking rubbish. He's a great example of young people trying to encourage change in society.
Cafebabel: You said that you're very interested in politics. What's your view of the world in 2016?
Declan McKenna: I think the world is a bit crazy at the moment. There are many things to be scared of. The politics of fear is all the rage right now. On one hand, the world is a depressing place and there are so many sad stories out there, but on the other hand we shouldn't become cynical. For every piece of bad news, there are two stories that give you a reason to believe in the world and that give you hope that unbelievable things can happen. I'm so excited about the future because I know that things are going to get better and that people are starting to focus more and more on what is important. [laughs] I'm a real optimist.
Cafebabel: So, turning to a very specific subject, what is your view on Brexit?
Declan McKenna: Well, I couldn't vote because I'm too young. But if I could have, I would have voted Remain. After the vote, I had the impression that it was the older generation who had decided the fate of the younger one. It's strange, as it gives you a really negative image of the future, right? Old people made a decision about something that they probably won't even experience. The generational gap is obvious. But well, that's just how it is. It's not the end of the world, but it's going to be a big change. It's going to complicate things for me, like tours and so on. But again, we have to see the positive side of things. Many people are very angry about the situation and some even regret their decision. It could end up being very interesting.
Cafebabel: what was your first reaction to the news?
Declan McKenna: I remember it well. I had to play Glastonbury on the same day. The night before, I had gone to sleep at the hotel with the firm conviction that we were going to stay in the EU. Then I got up and saw Nigel Farage's ugly face beaming on TV, announcing that 51% of us had voted Leave. It was horrible. I couldn't believe it. I remember the bus ride to the gig. Everyone had the same word on their lips: "fuuuuuuuck." It was really shit. But what can you do? You can always find the positive side of things, right?
Declan McKenna - 'Brazil' 
Translated from Declan McKenna : « Les jeunes sont de plus en plus intelligents »