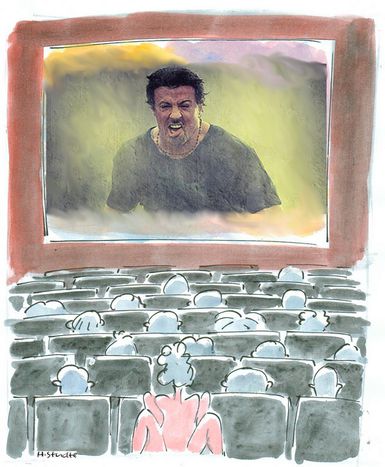 Death of the Italian stallion?
Published on
An August survey reports that the myth is dying, with Italian men becoming 'too feminised'. Whilst we make up our minds, a quick filmic tribute to Italian action hero Sylvester Stallone, who has long claimed the nickname and is back on the big screen, where sexual stereotypes from Europe are prevalent. Term of the week
Sylvester Stallone is cinema's most famous Italian stallion, which originated as the nickname of his boxer character in the Rocky movie series. Sylvester, whose father had Italian heritage, wouldn't have escaped the nickname even if he hadn't made Rocky; in Italian, stallone means stallion, an uncastrated male horse. The nickname resurfaced as the title of a porn film that Stallone debuted his career with in 1970; whilst his The Expendables co-star Arnold Schwarzenneger played the role of the Greek god Hercules in the same year.
Rocky's surname 'Balboa' was Spanish though; in Spain, a translation for 'Italian stallion' doesn't exist, as the English term latin lover (with a Spanish accent) encompasses the whole concept. On European soil, the most famous porn star in Italy, Rocco Siffredi, claims the national title of the Italian stallion. The term is translated directly in some European languages, such as in Polish (włoski ogier).
A British blogger discusses the German stereotype on cafebabel.com's blog in Berlin
Historically, the best-known Italian stallion was Giacomo Casanova, an 18th-century Italian author famous for his powers of seduction. In the UK, a French lover is taking over the screens with the release of Gainsbourg, a biopic of the famous French pop star Serge; one review inThe Telegraph describes him as a louche (seedy) charmer and 'dissolute Casanova'. Best to go across the border and get Belgian, like the muscles from Brussels himself, Jean-Claude Van Damme, who refused to co-star in the Stallone co-penned and directed vehicle The Expendables.
Illustration: ©Henning Studte/ studte-cartoon.de/