Day 4: From Street Cred to Screen Credibility
Published on
This is part six of a special series on cafebabel.com's Berlin blog, in which three Babel reporters will cover a not so well-known aspect of the Berlinale, Berlin's famous film festival. It's called "Berlinale Talent Campus", a forum for 350 young filmmakers from all over the world to present their works, meet each other and improve their skills during various workshops.
by Sandra Wickert
"Hip hop is life. Hip hop is a cultural force. Hip hop has nothing to do with politics. Hip hop has everything to do with politics. Hip hop discriminates against women. Hip hop empowers women. Hip hop is poor. Hip hop is bling." The opinions on the true nature of hip hop expressed by Talents and visitors of the panel From Street Cred to Screen Credibility- Hip-Hop and the Movies were as different as the backgrounds of the experts on stage. The stage united Karim Chrobog, Volker Meyer-Dabisch, Atif Ghani, Fatoumata Kande Senghor, Donald Mugisha and Tyron Ricketts with moderators Kevin Fitzgerald and Satti R. Kujipers.
An expert in Hip Hop: Tyron Ricketts.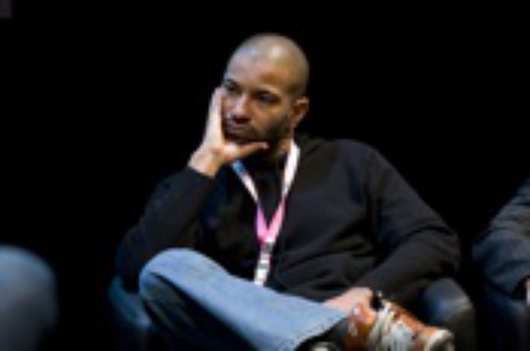 The panel gave an overview of the different approaches to bringing hip hop to the big screen. German director Volker Meyer-Dabisch, whose movie Love, Peace and Beatbox is featured in this year's Berlinale, came only indirectly to this topic. Originally planning to make a film about a Turkish family in his neighbourhood (Kreuzberg, Berlin), their young son opened the door to hip hop music for him. In his adolescence, German actor and musician Tyron Ricketts found a role model in hip hoppers in a world where there were not many black people on screen in Germany. Hip hop has changed Tyron's life: for him it is a tool to change the situation for foreigners in Germany and is an instrument to release emotions.

London underground filmmaker Atif Ghani shows the drastic side of hip hop and features Plan B MC who uses a lot of explicit lyrics. He wants to hear the voices from the streets and for him, hip hop is not at all a national thing but has provided an international identity with global points of reference. Senegalese activist and filmmaker Fatoumata Kandé Senghor wants to give a forum to her country, which has many things to say. She showed how hip hop influences every aspect of everyday life in Senegal and how it is used by politicians to address youth – but also how the youth uses it to get back at politics. In a country where 65% of the population consists of young people, hip hop is the overall language.

Teaching screen credibility: The experts helped bring Hip Hop to the Big Screen.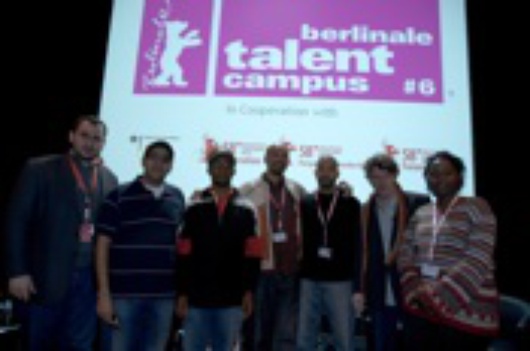 Donald Mugisha from Uganda uses not only hip hop but the local version of Dancehall in his movies and shows life 'how it is'. The extract of Karim Chrobog's movie War Child, playing at Berlinale, was very impressive. It shows the story of Emmanuel, a child soldier in three civil wars, who now has exchanged his machine gun for hip hop in order to make himself heard. "Hip hop does not only touch the mind, but the hearts" was the message. Some discussion followed – about the raw language in the songs, the stereotypes that are still used, the long way from idealism in the Bronx to the 'bling bling' of West Coast hip hop. And finally the complaint that Africa is always portrayed in the media as a continent of war, crime, disaster – and not laughter, weddings, dances, beauty. "We do documentaries. We portray life. And when the houses in Uganda are flooded and the water stays there for five months and the government doesn't do anything about it, that's how it is, there's nothing to euphemize", was Kandé Seghor's response.
The discussion was just about to start, going deeper into the connection between film and hip hop and the different approaches and possiblities, when the two hours were already over. Fortunately, there was the hip hop lounge afterwards, where theory could be turned into practice. Yo!