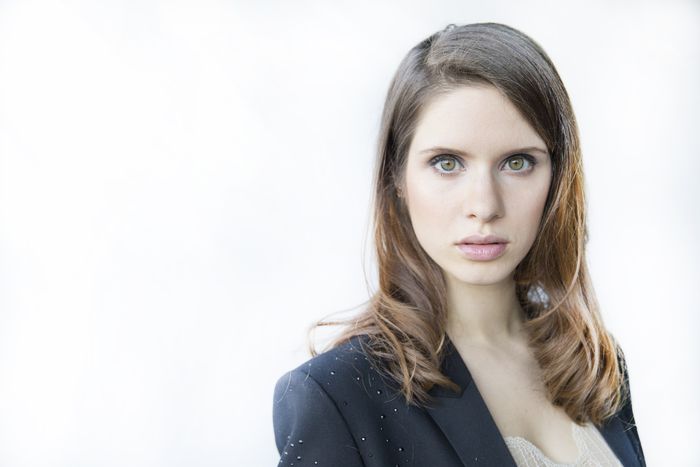 Daphne Patakia, Berlinale Shooting Star
Published on
Shooting Star Daphne Patakia on what it is like to make films in Greece, and her perspective on social media. 
We all know that actors are, well… acting. That they are inhabiting a role for entertainment purposes. But that does not stop us from making assumptions about the actor's true personality on the basis of the characters they play. It is the reason why actors who play villains sometimes get red wine splashed in their faces by strangers or why enthusiastic fans refer to their character's name in the street.
 Of course I know this. Yet I still could not help being taken aback by Daphne Patakia's timid nature. It seemed to fly in the face of the roles she is most well known for: a gangster and prostitute.
The Greek/French actress is soft spoken and almost apologetic in her body language. I ask her whether she finds it easy to play such reprobate characters. "As a person I am very vulnerable. So it's easier to do the opposite. It's a form of protection," she says with her hands in her lap. "I feel more vulnerable if I do something that is closer to who I am." Patakia appeared in Constantine Giannaris' new film Spring Awakening in which she plays a leading role as a gang member.
She started out in theater, which she believes has helped her to play more intimate scenes in front of the camera. "The fact that you are big, deeper, more expressive in theater, helps you with the inner stuff in films. You still have to have the same energy as you have in theater." 
 Patakia's performances have managed to convince the critics, earning her a spot among this year's shooting stars at the Berlinale. She has not quite got used to all the attention though, preferring even to avoid social media. "It is something that I don't know and it terrifies me. I don't want to be part of it. I just want to do my work in films," she says, audibly overwhelmed at the prospect of everyone having her picture all the time.
Patakia really is much less interested in the marketing of the films as she is in the work of acting. This is hard enough in the sparse Greek film scene where she cut her teeth. "It's very challenging making movies in Greece. It's a small industry. There's no infrastructure."
At the same time Patakia appreciates the creative fruit that comes from working in such a difficult creative environment. "I guess that's an added value of the Greek films. They're all low budget or no budget. They require a lot of effort and extra creativity."
Perhaps the lean days are over now though. After all, she is at the Berlinale, with access to the entire spectrum of European film making. Near the end of the interview she seems to have warmed up, she gesticulates more as she says how excited she is about her future. And for a brief second I see the fire that I recognised in the characters she plays.