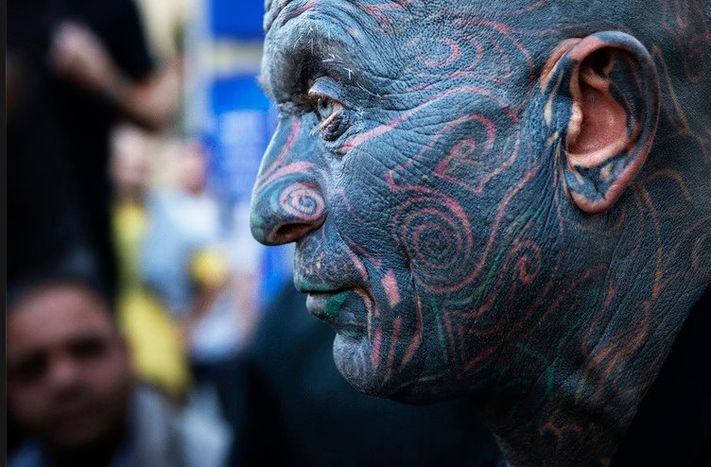 Czech Republic: Vladimir Franz, tattooed professor for people's president
Published on
The artist and musician is polling third to become the next Czech president, the first ever to be elected in a popular vote on 11 and 12 January. The tattooed university professor, 53, is quite a vision of the promise of tomorrow
It's raining on a Friday afternoon. Vladimir Franz stands by an immense thirty-metre statue of Stalin, with a granite statue of the proletariat queuing for meat rations behind. This is where the 53-year-old has decided to ring in his election campaign in October 2012. His followers strike poses behind the independent candidate as his speech comes to an end and the flashbulbs go off.
Let him smoke
To even stand a chance of becoming a presidential candidate, Franz tried to reach the legal threshold of 50, 000 signatures during a 'Tour de Franz' across the Czech Republic. Of course Vladimir Franz is famously covered in tattoos. His blue eyes dart from left to right but he still manages to engage the attention of any of his interlocutors. The artist, musician, intellectual and now political hopeful responds to the questions he is posed with elegance and amusement: Professor, what do you think about climate change? Animal rights? Intellectual property rights? Pussy Riot? Can same-sex couples adopt children in the Czech Republic? At one point he does retort: 'Let me smoke this cigarette,' to a woman who wants to know about Franz's beliefs.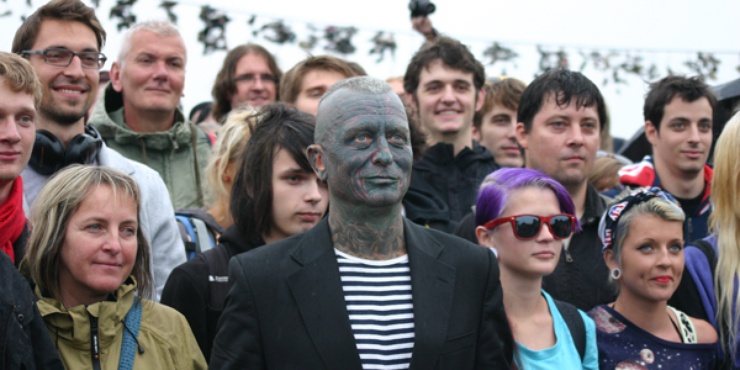 Mostly young people are attracted to the shining white sofa assembled up on Letna Hill, although there's only around thirty of them. 'Vladimir's got around 10, 000 signatures now,' says Jakub Hussar, director and creator of the Vladimír Franz prezidentem campaign. By the end of 2012, the professor surpassed a whopping 88, 000 signatures. Nor is Franz busting to take on the mostly ceremonial role of president. He is more focussed on the message behind his actions, the initiative of citizens who no longer want to stand, arms folded, before other political challengers. 'There's no going back when I decide to do something,' he says. 'I have always been at the bottom of the ladder, in every undertaking I have attempted.'
Bottoms up
This is precisely what makes Franz a fascinating person. He is the son of an electronic engineer and a nurse, and finished his doctorate in 1982. He beat about his own path in his refusal to be a part of a totalitarian Czechoslovakian state. This was what parachuted him to the bottom of the ladder, as it were. He was a snow shoveller before he became a professor and theatre music composer. He was educated privately in music. Celebrities such as the painter Karel Soucek or composers Miroslav Raichl and Vladimir Sommer took Franz under their wings in the 1980s. As a six-time winner of the prestigeous Alfred Radok foundation award, he is also teaching at Prague's academy of performing arts where he spent four years at the academic senate. Czech galleries are not the only ones to appreciate his paintings. He is currently working on an adaptation for the state opera of a 1968 science-fiction novel by Karel Capek called War with the Newts.
In a democratic system, everyone has the right to choose the colour of their skin
Then there is Franz's skin, in hues of tattoed blue. He is not a big fan of discussing his body art, having once called it his 'secret garden' - it's none of our business. But with the presidentials looming, he has less right to keep this quiet. 'Do other politicians have a problem with your skin, Vladimir?', he is asked, as he stands by the ancient statue of the soviet tyrant-cum-improbable gigantesqye metronome for skaters. 'Diplomacy means not having any problems about nothing,' sneers Franz in his dark suit and marine striped shirt. 'Even if it was a problem for someone, it shouldn't be commented upon.' In the past, the artist has attributed a political dimension to his tattoos. In a democratic system, everyone has the right to choose the colour of their skin. So why should that right be taken away from a president? Tattoos are an expression of this man's 'personal will', of his artwork, of his life.
The more passionate speeches that Franz makes on the grand mysteries of life – faith as one of man's virtues, or the state as an instrument of the citizens – the more clumsy are his responses to concrete political questions. A Russian journalist asks whether foreigners can have the right to vote. 'The right to vote doesn't belong to the citizens of a state: it's the same everywhere in the world,' responds Franz, referring to the deadlock of the European vote, and the trends in certain countries to ensure immigrants participate on a political level.
Which Vaclav are you then?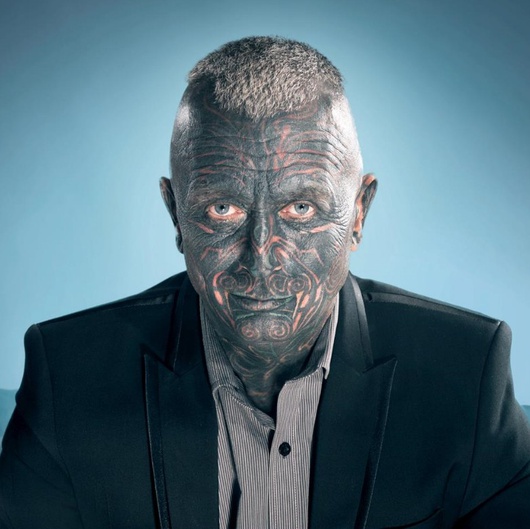 Franz is neither left-wing nor right-wing. He does not have a precise opinion on European integration (the Czech Republic joined the EU in 2004 - ed) or nuclear energy. But that's what charms his fans. He is someone who listens and who does not hesitate to admit he is not a know-it-all. He is not someone who delves into the past for answers to the country's young political state. 'I have been voting for a decade now and I have never known who to vote for in good conscience,' says Jana Zelinkova, a young mother. So why might she vote for Franz instead of his eight other rival candidates, led by former prime ministers Milos Zeman (1998-2002) and Jan Fischer (2009-2010)? 'He's just got nothing to do with politics today. He doesn't seem to be rotten, like our current leaders are.'
In a country as young as the Czech Republic – twenty years ago it did not exist – history has only known two presidents, so it is inevitable to draw comparisons with Franz's predecessors. So is he more of a Vaclav Havel (1989-1992) or the outgoing eurosceptic president Vaclav Klaus (since 2003, when Czechoslovakia split - ed)? Franz seems unhappy to criticise either of the two, but you can detect a trend in his background and his behaviour as an authentic candidate of the people. To those who have flocked to see him this rainy autumn afternoon, Vladimir Franz promises not to be a 'stubborn old donkey who knows better than others'. Every doubt is distinguished as we see, up on the hill, what Franz measures up to.

Written by Martin Nejezchleba; in partnership with jádu, the young German-Czech online magazine of the Goethe Institute in Prague
Images: main and portrait courtesy of © official facebook page of Vladimir Franz; in-text © Martin Nejezchleba/ video (cc) RobertRoberts/ youtube
Translated from Vladimír for president: Tschechiens Tour de Franz