Cyber democracy in Madrid: Participation moves online?
Published on
Spanish municipal elections signalled significant changes within the local government of the capital. The party Ahora Madrid emerged, taking a third of the seats in the city council as well as the Mayoralty. In order to promote citizen participation in local governance, new online platform "Decide Madrid" was introduced. Has it managed to find a place in the hearts of the rebellious electorate?
My journey to Spain starts from the opposite side of Europe – in Stockholm, where I meet an exchange student from Madrid. Pablo Villa (22) thinks of himself as an active citizen: "I have been interested in politics since the age I could vote," he explains. He got engaged with the platform "Decide Madrid" without hesitation, voting for several proposals, even though he had already purchased air tickets to Sweden.  
"One problem we have is that the city is very polluted," Pablo explains, "Some of the proposals that [members of the platform] are putting forward relate to how to make it cleaner: for example by constructing solar panels on buildings for greener energy, or planting more trees to improve air quality. Now, they've added technology to public buses to measure their pollution levels."
Pablo's increased concerns about environmental issues are representative of an atmosphere that is evident from the moment I arrive in Madrid. I immediately see trucks armed with water tanks washing away dust in the street. They do the same thing every day.
Marching for Democracy
I interview Pablo Soto Bravo (36) – the founder of the "Decide Madrid" platform – in Plaza de la Villa; a place full of tourists posing for pictures in front of Madrid's old city hall. It's right in the middle of the city – Puerta del Sol is only a few hundred meters away. On the 15th of May 2011, over 4 years ago, it was the site of the start of historic demonstrations against austerity. With proud eyes and a cheerful smile Pablo tells the story of how revolutionary that moment was.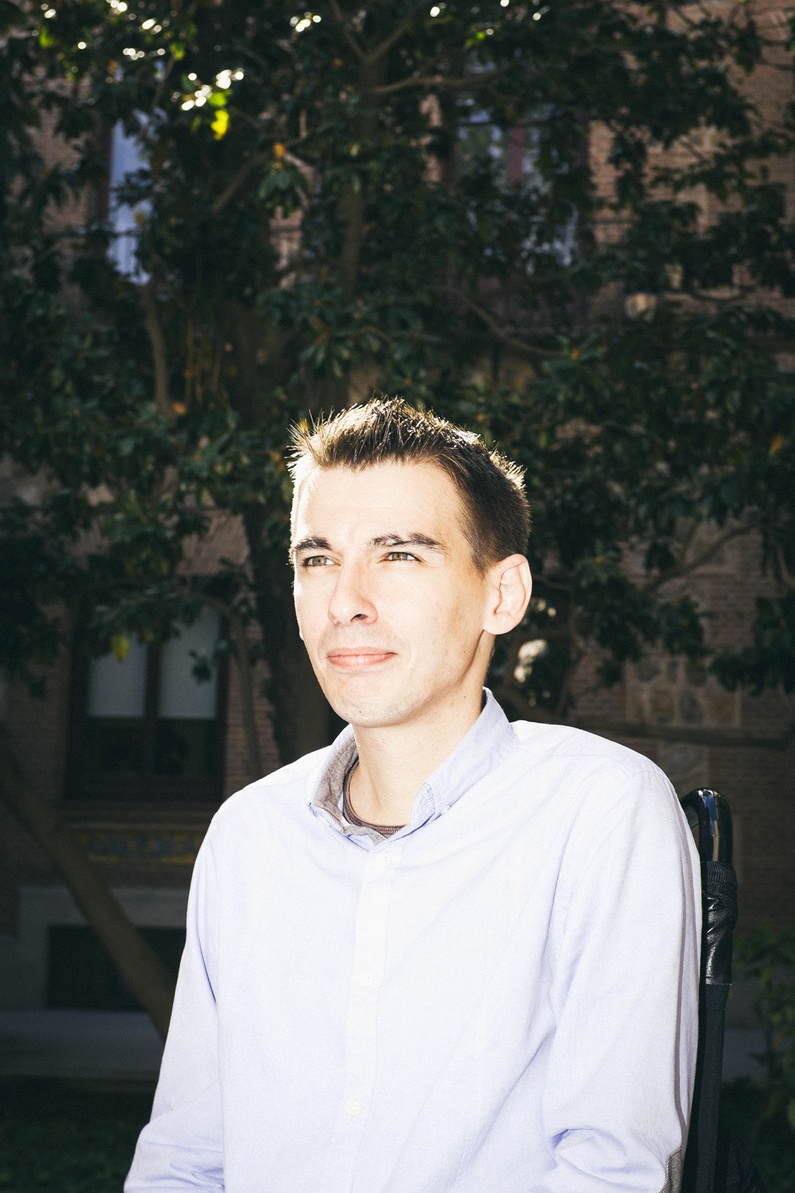 "In Spain many people were losing their jobs, there were very heavy cuts in public education and healthcare," he explains,  "Thousands of people were losing their houses. One million young people fled the country because they could not see a future here. However, during the demonstrations people did not ask for a house, a job, or public healthcare. They asked for democracy."
Democracy 2.0
The online platform "Decide Madrid" has become a tool for implementing what Pablo calls "real democracy". With a smile, he explains that about 90% of proposals on the platform reflect changes people want to see within their own city. 
"It is a very good sign that people are already figuring out what can be done with this tool," he says. As a result of the platform, issues of sustainability, public transportation and bullfighting are the most active proposals in Madrid: "There was no debate about these things before. We did not tackle them as specific issues. Thanks to this kind of tool it is now happening."
Creating debates, submitting proposals, suggesting ideas or voting for your preferences – these are the main activities of the platform. "You need to live in Madrid in order to support a proposal by voting for it," Pablo specifies, "but not in order to propose it, because we want the best ideas, no matter where they come from."
Who are the users of the platform? "We are trying to make sure that students get involved by sending volunteers into universities. Volunteers are also going to old people's homes to inform them what the new government is doing." On top of this, major representatives of the city council also have accounts on the platform, due to the possibilities that it presents for interacting with citizens. Pablo wants them to be even more active.
It has been more than two months since "Decide Madrid" was launched, and in that time around 2500 debates and almost 4000 proposals have been created.  So far, none of them have attained a high enough level of support, set at 2% of the city's population (~53 000 from 3.3 million inhabitants). Once this is achieved a proposal must be considered by the city council. Proposals have a year to achieve the required number of votes. Despite this formality, Pablo assures me that initiatives are being made more visible. The council is already discussing a few of them.
"There has to be conflict."
However, not all academics consider the appearance of "Decide Madrid" to be a revolutionary moment in politics. "I am not sure that this specific platform is changing or reshaping anything," explains Rosa Maria de la Fuente Fernandez (43), the professor of Urban Policies at Universidad Complutense. She is taking part in a research project of urban governments in Madrid, as well as other cities across Spain and the United Kingdom, "This is because it only acts as a space, an open window through which citizens can ask questions and express their own opinions, feelings or worries. There were such online platforms before, of course, they were not interactive."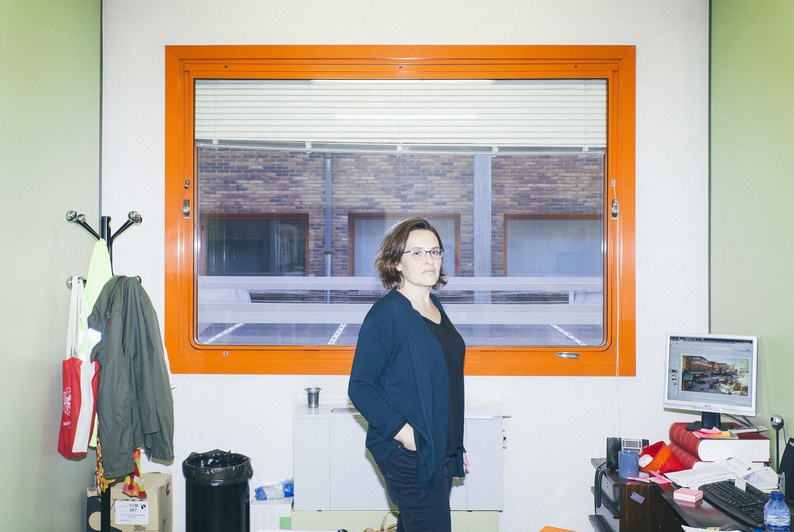 Rosa views the biggest hole in the "Decide Madrid" platform to be the difficulty of achieving a 2% level of support when more of the proposals focus on local issues rather than those affecting the collective. "If you want to make a proposal about your own neighbourhood or district," she says, "You will not manage to get support from the whole of the city's population, unless political parties and social initiatives help out."
On the other hand, Rosa points out that "Decide Madrid" still makes an impact on society by empowering such organisations to act. "I believe, this platform is important in order to change citizens' mindsets," she continues, "People think, 'What can I do?' Now, they can get some proposals debated in local parliament, and that is important."
According to Rosa, citizens can have a small influence on the political agenda using the platform. It would be even more useful if local government invited people to discuss these issues at the same time as the council is debating them. "However, it might be very disappointing if people participate but there is still no conflict," Rosa argues, "Some social movements are arguing that if people get close to the government they will not be able to push them. At moments like this, there has to be conflict."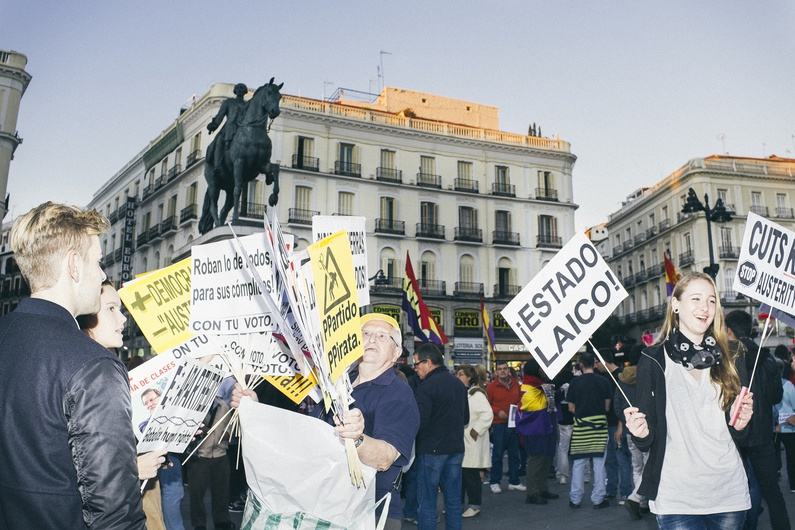 When I return to the streets of Madrid, a demonstration begins. Hundreds of students, health workers and trade union members call for "bread, employment, a roof and dignity". Maybe one day the undiscovered platform "Decide Madrid" could become part of a national network through which people will be able to express their views about a changing country, but so far it has not been the case. However, for some of the students, like Alexandra (16), demonstrations such as this are the only way to express their opinions, no matter the issues concerned.
---
This feature report is a part of our EUtoo 'on the ground' project in Madrid, seeking to give a voice to disenchanted youth. It is funded by the European Commission.

Report: Vaida Ražaitytė
Photography: Hannes Jung