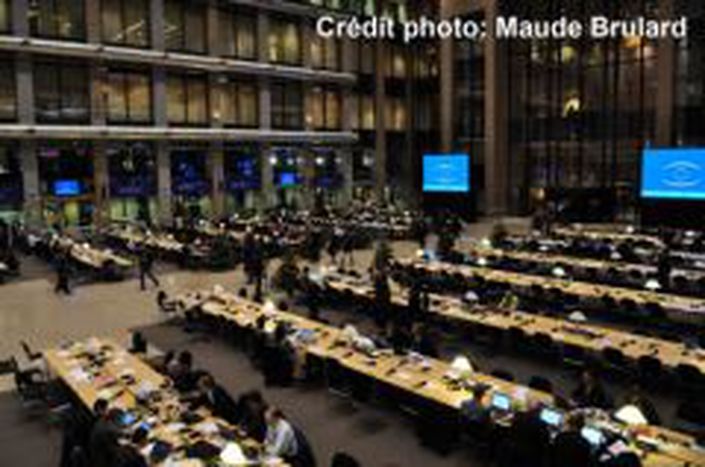 Council by numbers: 27, 1, 1700 but also…
Published on
By Maude Brulard The Council of Europe is 27 heads of state and governments, one president –Herman Van Rompuy- 1700 demands for media accreditation, but also so many other things that can be numbered.
Here's a little guide to the Council in numbers
First, the journalists. A European Council summt attracts a lot of media people.
All media workers together, between cameraman, journalists, press agencies, television or radios, this December council attracted more than 1700 demands for accreditation. The pressroom, with more than 600 seats, is buzzing with the sound of the activity – depending on the moment- of journalist. But others hide in other little rooms with 225 to 200 seats.
The council has 1 restaurant, 1 cafeteria, 2 press bars, and countless fridges regularly filled with sandwiches and water in every corner of the room ( everything is free). Right now, only a little 20 are left over, for night snacks, in the fridge behind the cafebabel table.
On a security level, that's a different story. The Brussels police can't assume alone the heavy task of guarding all the big from Europe. So, policemen come from all over Belgium, from Charleroi, Namur and Anvers. About 50 policemen and women are in the same time in the first security zone, just around the Schuman roundabout. 300 in the total, if you count in the two days, and the tours.
The European council, it's also the building which shelters the meetings: the Justus Lipsius building: 6 years of construction and a work-space of 215 000 m2. Then there's the people who work permanently there, with a directory of more than 1251 pages. Since 2004, it has been the place where every European council has taken place, that's 28 get-togethers, formal and informal, of which 5 were under the Herman Van Rompuy presidency.
It is here where great decisions are made. But also long nights of work for everybody –from the head of states to the cleaners.