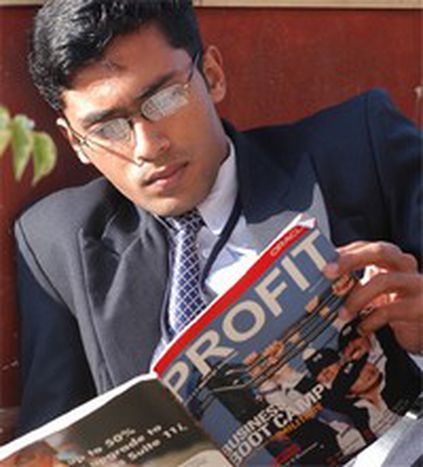 Continental blues
Published on
While youths on the continent are living on internship stipends and parental support, in London their counterparts are in secure jobs and earning large paycheques.
David Mueller is depressed. In his late twenties and having finished his studies in the United States, he has returned to settle in Berlin, but is not having any luck finding work. "At first I thought of looking for a job in government, but there were hundreds of applicants for each position and I hadn't spent years doing internships like the rest. So I thought I would settle for a job in consultancy, but in the end I never even got to the interview". Now David is left contemplating his options. He has taken a job in advertising, but feels his qualifications merit more. Should he give up his aspirations and settle down, or spend the next few years interning in order to build up his CV so he can reapply for more prestigious work?
Not alone
David's case is typical of the 'lost generation' - the thousands of skilled young Europeans whose potential is being wasted as they tread an endless mill of temporary jobs, internships and study courses, unable to find a job that satisfies their need for dignity and financial independence. But this dilemma is one that would bring a curious stare - and perhaps a touch of Schadenfreude - to the crowds of young professionals who gather in London's pubs for Friday after-work drinks.
Jean Barret, a twenty-two-year-old Franco-British graduate from Cambridge, is celebrating his graduation ceremony - and his second month of paid employment. But he didn't even have to look for a job, because the job came looking for him. "I wasn't sure what to do after finishing university, so I thought about going home and maybe travelling. But then I got an email from a friend who said he'd had to turn down a £24,000 (€34,500) a year job and was recommending me for the post. A week later they interviewed me and that was it - within days I was earning money".
Streets Paved with Gold
In London, the economy is like a magnet - even if you try and escape it, sooner or later it will draw you in. If it isn't the size of your rental bill, it will be the size of your friends' salaries which finally convinces you to go on the job hunt: this year, average starting salaries for graduates in London hit a record £26,500 (€38,000). Internships are rarely demanded, and many start work after leaving university aged 21.
This could not contrast more with the situation on the other side of La Manche: in France and Spain, the rate of youth unemployment is 22%; Italy, 24%; Greece, 27%. In Germany, thanks to the apprenticeship system, the official figure is far lower, yet this conceals both the high numbers of young Germans continuing their studies well into their twenties, their stagnant wages, and the barriers faced by Germans who return from study abroad to seek employment in their native country.
That there is little protest against a system that is cheating Europe's youth of their future is surprising, but perhaps not when we consider that the most ambitious have already voted with their feet, making the long march to other cities where their talents will be remunerated. The French population of London is now estimated between 40-200,000, making it France's fourth city; meanwhile, clandestine Italian emigration to New York - long thought of as a distant episode of early twentieth century history - has restarted, with 36,000 illegal residents arriving in the last decade, according to the Metro New York emigration office.
Dual labour market
The cause of this European youth exodus from countries like France and Italy is the baby-boomer generation, who refuse to sacrifice their job or pension security, even while this prevents their children from finding stable employment or taking home enough after-tax income to pay a mortgage and settle down. Consequently there is a dual labour market with security 'haves' - those between 30 and 55 who possess stable, salaried employment - on one hand, and security 'have-nots' - those in their 20s or late 50s who are forced to pursue the treadmill of temporary positions and study courses, or accept early retirement, respectively - on the other. In Britain and Ireland, this coalition was broken in the 1980s by a divisive politics of labour market reform. The consequences were not comfortable: in the UK, thousands of middle-aged professionals lost their jobs in the early 90s as companies downsized and restructured. Yet with productivity growth restored, they have mostly been able to find new work and so - importantly - have their children.
Can the system be reformed without the same uncomfortable consequences? Probably not. Yet the economies of mainland Europe have much to gain from their exile populations, and must reform now so as not to lose them forever. Many would return were there opportunities available, bringing their knowledge, capital and enterprise with them: Ireland's vast overseas population in Britain and the US flocked home in the 1990s, once economic reform ensured a secure business environment, and indeed most of the Scandinavians who work in London, Chicago or Minneapolis find their way home after a few years, attracted by the thriving business climate of Malmö, Copenhagen, Stockholm and Helsinki.
Countries like France, Italy and Germany do not lack talented, enterprising, hard-working youth. But unless they reform, they will lose the capacity to retain them.