''Conquering'' the Athenian Place de la Concorde together with the atenistas!
Published on
Few words can describe how we felt yesterday night while we were following atenistas, a grass-route organisation which calls us to act and do something for Athens!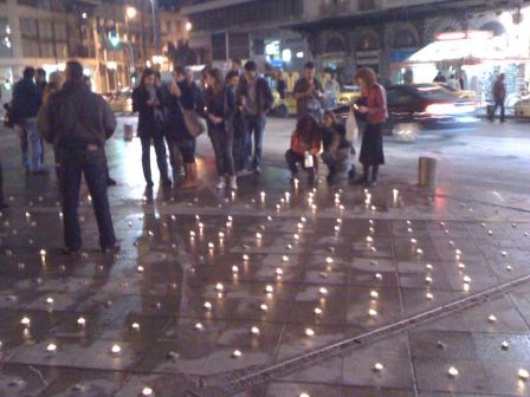 The rain didnt discourage us but on the contrary, we kept singing louder and lightening on again and again the candles at Omonia Square (Place de la Concorde).
Songs, melodies, fun and .. Thanks to atenistas, we could walk the streets around Omonia without fear for the first time ..What the state and the municipal authorities couldnt achieve, we made it on our own!
a thrilling sense like if we had ''conquered'' Athens
We were only a few people in the Kotzia Square when it all started. With musicians and horns we ve started our ''marching to Omonoia''! We went to the square, we started lightning the candles and the party was there..! Minute after minute the crowd was growing

and a movement of citizens who are fed up with the current situation of Athens, was born.

Things went frenzy when cyclists started coming from Athinas street. Their parade was endless ... we lost them for a couple of minutes and of they come again from Panepistimiou street, giving the signal for the parade to start! Hola atenistas!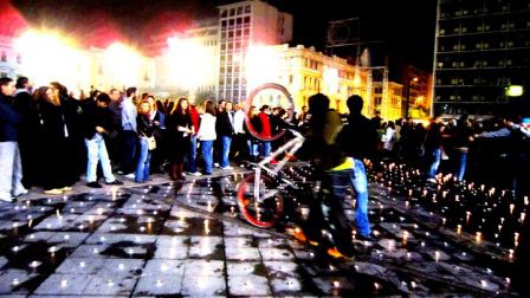 From Menandrou street we are marching towards Piraeus street  and Kommoundourou square. First stop outside the building of Medecins du Monde, where we are singing them songs. On our way immigrants from the apartments, participate in the celebration. Just a couple of squares before the actors from the National Theatre were waving and supporting us ..
Soon we move to Evripidou street .. The shops are closed but the smell of the spices is everywhere .. immigrants stare us, they are hesitant at first, but soon they cross the road and sing and dance with us.
Our second stop is at George Kaminis's elections office for a drink. Kaminis is the left-centered candidate mayor of Athens and our only hope for this city today. From there our final destination is Syntagma (Constitution) square where the parade finished, after promising to get together in the next action ..
Yesterday I realized that we are Athens. It may sound trite but its true, trust me. Their slogan ''shut up or act'' couldnt let anyone indifferent. Nobody will care of our city, and unless we do it no mayor or MEP will.
This Sunday Greece votes for the second round of the municipal elections. The motto is one : This Sunday we ''win''our city ..
PS. A big fat thank you atenistas, for inspiring us to get down to the streets!