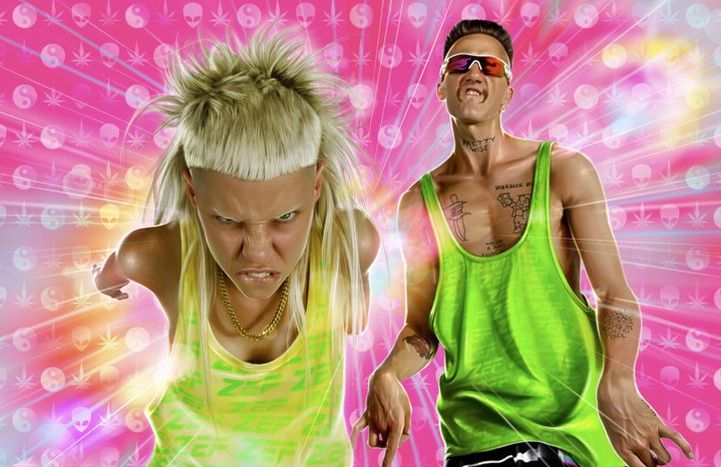 Concert hype review: Amy Winehouse in Belgrade vs Die Antwoord in La Coruna
Published on
As the weekend drew to a close we've been hearing polar concert success stories. Between one Grammy-award winning British former drug addict's Balkan comeback and more outrageous non-European sounds in Spain, is it off the continent where we need to be experiencing the best music live?
Amy Winehouse in eastern Europe: non-concert
Fans in Poland, Turkey, Greece, Spain, Switzerland, Italy, Austria, Hungary and Romania won't be seeing this lady perform the rest of her 2011 comeback tour after three years away. It was really painful to watch how Amy Winehouse was out there in Kalemegdan Park during Belgrade's Tuborg Festival, humiliating herself. I don't regret the money I paid because I wouldn't have believed without my own eyes how wasted she was. I thought it was all just an act and kept waiting for the 27-year-old to grab the mike and say Gotcha.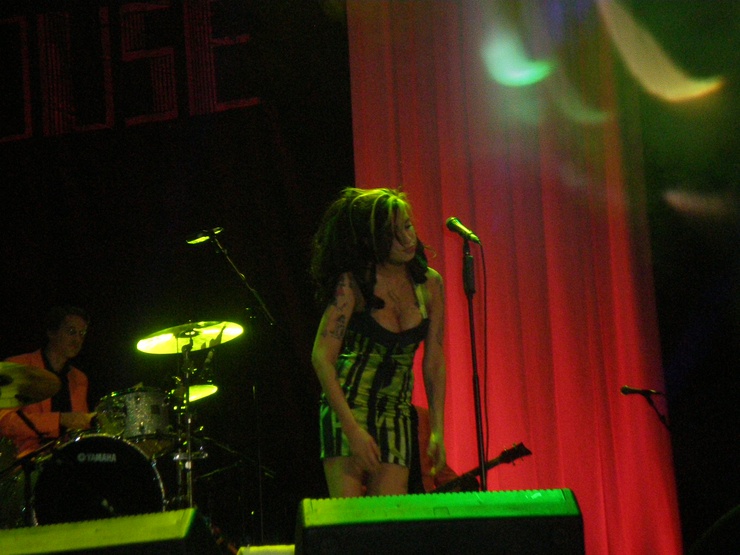 For the two songs she actually did know the lyrics to (Back to Black, You Know I'm No Good), she mostly mumbled them totally out of rhythm. Half of the time that she actually stood in front of a microphone, she had her face covered by her hand, as though she felt ashamed. At some points she looked as she was going to cry and kept holding her stomach like she was in pain. 
'I don't regret the money I paid because I wouldn't have believed without my own eyes how wasted she was'
Winehouse went offstage on two occasions for couple of minutes. The first time she came back on stage, the 20, 000-strong crowd applauded her because it seemed that she had got a grip on it. But, when she started mumbling again, they booed her and started to call for Moby (who was scheduled to perform after her). Some started to throw things at her, paper and plastic cups. One guy threw his Amy cowboy hat (sold before the show outside of the venue), but hit a security guard instead. She didn't seem aware of any of that. It seemed that most of the booing was coming from behind, from the people with cheaper tickets, while the people in front rows were just shocked. The band remained professional, especially the two backing singers Zalon Thompson and Ade Omotayo, both singing two cover songs. Days later it's still being discussed. Some call it the worst concert in the history of Belgrade, wanting their £35 or 40 euros back. Less just feel sorry for her whilst the third line - people who didn't go to the concert - feel self-content by posting 'could you really not see this coming' comments.
Seeing the condition Winehouse is in, her management has to take the blame. They did a really good PR before the concert, launching stories on alcohol ban in hotels where Amy is staying and surprise concerts at London's 100 Club on 12 June (how come there are no videos of that?). My guess is that Ray Cosbert and co. are not really keeping that good an eye on her (or maybe she doesn't allow them to), but are well in exploiting her while she's still able to walk. Her contract stated that she has to arrive to Belgrade on time and spend seventy minutes on stage. Although she was ready to leave the stage twice, they got her back, in spite of her condition, so she could fulfill those terms. Of course, the performance fees go to her, but they also get their piece of the deal.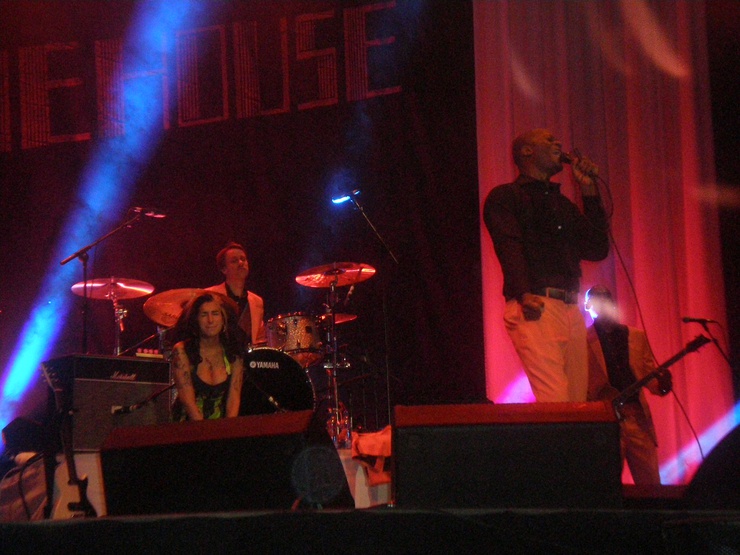 by Senka Korac in Serbia
Sonar festival 2011: concerts of the future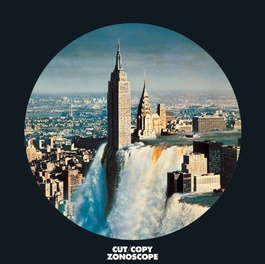 The chiropodists and cobblers of Barcelona and La Coruna (northern Spain) must be making a killing. The Australian band Cut Copy offered a smooth, non-principled dance recital, bursting every assistant's pair of feet this side of the Sonar 2011 festival. Hymn after synthy hymn, the Melbourne lads have grown as a group since the release of their recent album Zonoscope, here they have accentuated eighties post punk style and revised their former musical creations. The music live is much more perfect than it sounded three years ago and they all loop up into a collective catharsis. It's a renovation of dance music which was already tiring of an overload of techno and an overload of minimal for slightly vacant minds, inciting those Good Vibes without verging on cheese. Cut Copy weave melodies like spider webs which trap your thoughts, whilst your legs keep you moving like a kangaroo and your heart pounds without stopping.
Sonar's 'something special' which differentiates it from other festivals in Europe is that it allows you to travel into the future. Die Antwoord seem to have made their music in the twenty-third century. Yo-Landi, Vi$$er and Ninja are three degenerates from the suburbs of Cape Town, carrying giant plastic penile-shaped microphones and constantly writhing around with their genital zones headfirst. They manage to make an effective mix of the voice of an angel and of a demon. Their dirtiest flow rhymes with the most piercing dance moves. Their remixes of Enya ('Sail Away Motherfucker') are pornographic whilst break-based rap (DJ Hi-Tek) is blunt. They maintain all of this naturally, mixing the most 'chavtastic' 'Zef' aesthetic whilst still being the most stylish of the event's musical panorama - a day ticket cost 45 euros or £40.
The concert starts in the dark with an homage to the late progeria sufferer and group collaborator Leon Botha, 26. From then it's a complete musical orgy, both onstage and in the audience. Die Antwoord are bad upbringing personified converted into culture. They are aggression channeled into positive thoughts, their illness converted into ecstasy. It's difficult to find more words for this music because they simply haven't been invented yet. It's difficult to find labels too. They're just a group who have created the most different music since the turn of the century. The meaning of 'Die Antwoord' is 'The Answer', and that's precisely the point of this music which has come back from the future. After penguins, beaches, corals, South Africa and Australia are now the epi-centre of music too. Whoever would have thought it better go and tell the funkies of Hamburg, Brooklyn or Barcelona past.
by Fernando Garciain Spain
First published on cafebabel.com on 22 June 2011
Images: Die Antwoord and Cut Copy from official facebook pages; Amy Winehouse in Belgrade © Senka Korac