Communism in Slovakia: "At least we had enough to eat."
Published on
Translation by:
Kath Burns
It has been 25 years since the fall of eastern Europe's communist regimes. A quarter of a century later, what is left of communism in Slovakia?
Former Prime Minister Iveta Radičová explains: "The transition from oppression to freedom works by its own laws. People go from being generally enthusiastic to having doubts about new rules and new laws being created. A certain level of cohesion is regained, but also a sort of nostalgia for the old regime, which offered no freedom but at least provided certainty that you would have enough to eat."
A survey carried out by the Czech Public Opinion Research Centre (CVVM) in March 2014 revealed that 29% of Czechs and 33% of Slovakians believe that the fall of communism was not a positive change.
A number of papers, such as the Czech daily newspaper Mladá Fronta Dnes and the Slovakian newspaper Nový Čas, are inviting readers to send in their photos that remind them of socalism. Some readers have fond memories of their younger years spent under the socialist regime – long queues outside groceries, the specific fashions of that period, the way that apartments tended to be decorated or even cars like the Škoda 1000 MB.
The hope that people will wise up
According to sociologist Oľga Gyarfášová, it is the social sphere that has the most limits for many people – not only in terms of people's careers and living standards but also their ability to influence political decision-making in any way or their equality in the eyes of the law.
However, everyone has the opportunity to study and work abroad today. Everyone has freedom of speech or religion. "But some rights and freedoms are now taken for granted," warns Gyarfášová. 
Peter Krištúfek, author of the book Atlas of Forgetting, says: "The hope that Slovakia would become a 'cultural paradise' after the democratic change or that people would suddently become wiser and we would all have equal opportunities was never really fulfilled."
In 1989, the aim was to create a free and democratic society with new rules. Slovakia's gamble paid off. It became a member of the EU and NATO, adopted the euro in 2009, and can even boast stable finances and reasonable economic growth.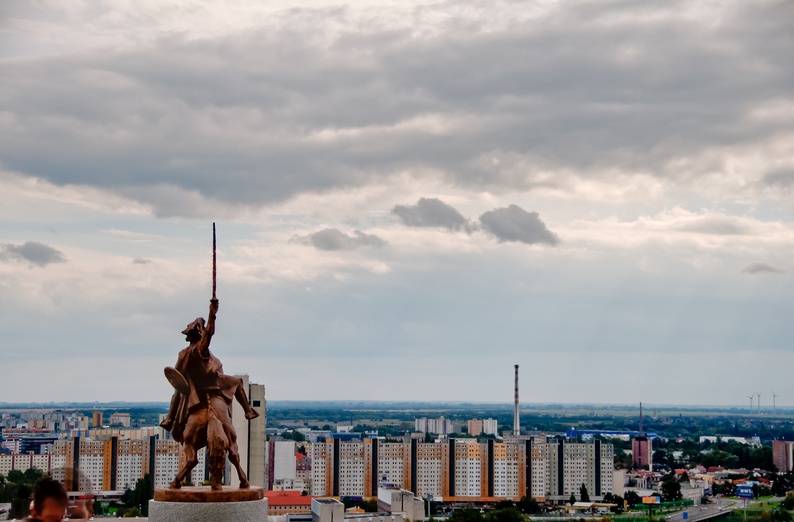 The vestiges of communism remain
The most obvious reminder of the communist era is the architecture than can be found in a large part of the country – terrifying buildings in grey concrete. But the low wages, particularly slow rail network and ineffective social policies also serve as reminders.
Furthermore, the Slovakian political elite remains close to the old regime. Prime Minister Robert Fico entered the Communist Party in 1986, just before the fall of the regime, when he was an ambitious law student. 
The media mock the "RSDRr" academic title that some local politicans proudly use before their surnames, because it was a title reserved for committed communists under the regime. However, certain senior politicians – such as Fico's adviser, former MP Vladimír Faič – still use the title without any shame.
Historian Dušan Kováč explains: "It's seen as a ridiculous title today. I'd be surprised if someone still used it on their CV. But that wasn't the only problem for universities under the communist regime. All qualifications – even the title of 'doctor' – were only granted on the basis of political 'merits'."
Translated from Le communisme en Slovaquie : « au moins, on avait de quoi manger »