Colourful Japanese devils in Vilnius streets
Published on
"What's this? What's this?" curiously repeat an elderly French-speaking couple to each other as they pass by a colourful crowd of all kinds of characters, some holding swords about the size of themselves, some with blue hair or painted faces.
It is the fourth time Cosplay enthusiasts get together in Vilnius and show how they can imitate their favourite characters, but lately (at least since 2009) the Japanese embassy happily supports their show(-off) in the framework of a festival called "Now Japan". In addition to crafts workshops and a movie night, Cosplay was one of the parts of the festival. However, the city, waking up from the summer vacation, felt it more than anything else.
Cosplay (short for 'costume roleplay') was popularised by Japanese anime, manga and game fans, who tried to look as close as possible to the characters they happened to adore. However, people say Cosplay, like many things, came to Japan from the US and was made much better. Harajuku neighbourhood in Tokyo is famous for all kinds of characters - it has become a style of fashion rather than imitation of a character. Interestingly, many people around the world discover Japanese culture through anime, manga and games, and express it through Cosplay (I attended a similar event in Tel Aviv). Children who start this may later be tempted to study Japanese or learn more about the culture that produced something they can so well identify with. No surprise that the Japanese embassy is all up for supporting Cosplayers' initiatives. All it has to do is to provide the venue and some prizes for the best costumes etc - the rest will be taken care of by the participants voluntarily.
As for me, who has been interested in various aspects of Japanese culture and society for about 10 years, I was never attracted to anime, manga, Cosplay or the like, and especially the fanaticism that often comes with all this in Japan. However, I think Cosplay is really excellent for children and teenagers. I really admired the young participants of the Vilnius Cosplay parade. They did a good job gathering, adjusting and putting together different materials to produce the costumes they want. Unlike their Harajuku counterparts, these people do not have a developed infrastructure for their hobby (in Japan such costumes are available from specialised stores to sex shops). In addition, some e-shopping websites wouldn't ship to Lithuania. Creating a real costume takes effort, skill and talent. Take a look at my personal favourites.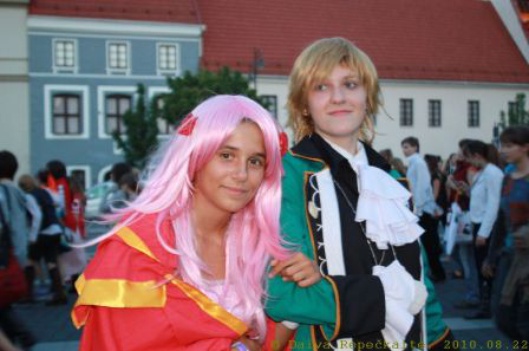 Third place - this aristocratic couple, who were very willing to be photographed. Great job!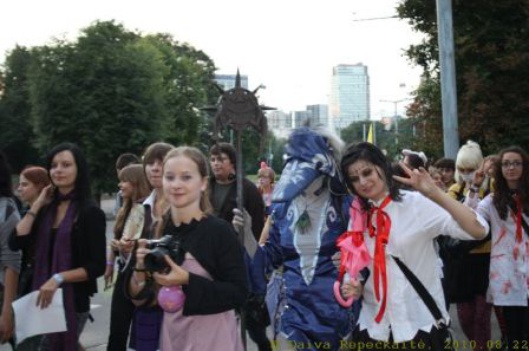 The three friends. When I asked the blue character what she was, I figured she was from a game. But her big blue beak made it difficult to hear the name...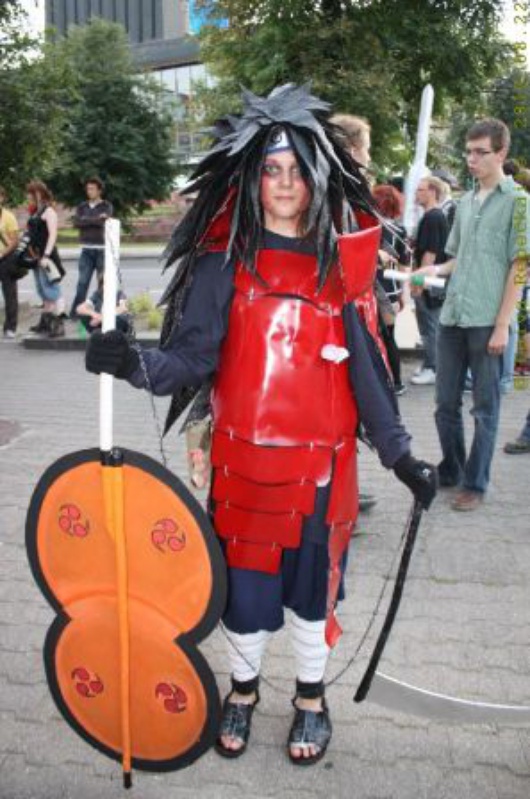 First place - this little devil from 'Naruto'. Super-short interview:
Wonderland: "Why exactly did you choose this character for the parade? What makes it special?"
Cosplayer: "I like evil characters, they're my favourite. And especially such cute ones. He is very evil though - pulled out his brother's eyes..." [see picture]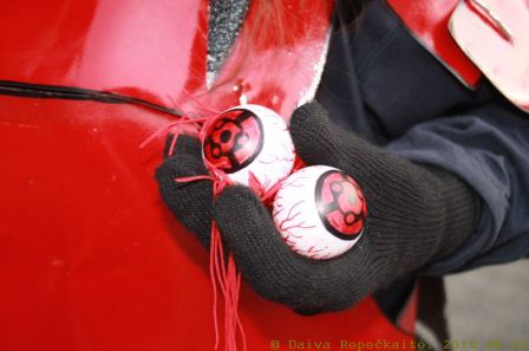 W: "What makes this character special? Why do you identify with him?"
C: "He was badly hurt by others in the beginning, and this is what made him so evil..."
I think it was a very interesting and grounded choice. Good luck to the Cosplayer!
The crowd walked down Vilniaus, Vokiečių and Pilies streets, surprising others. For a few minutes they posed at the City Hall, shouting 'Now Japan' - the name of the festival. Two concerned onlookers asked me later why these dressed-up people are shouting 'No Japan'. This is something the organisers might feel like taking into account for next year.
Overall, the event made people of Vilnius look and ask, what? why? and where from? As I was on the way home, I overheard people talking on the bus, "They don't beat up people in disguise, really." I guess it's also a tolerance test as well.