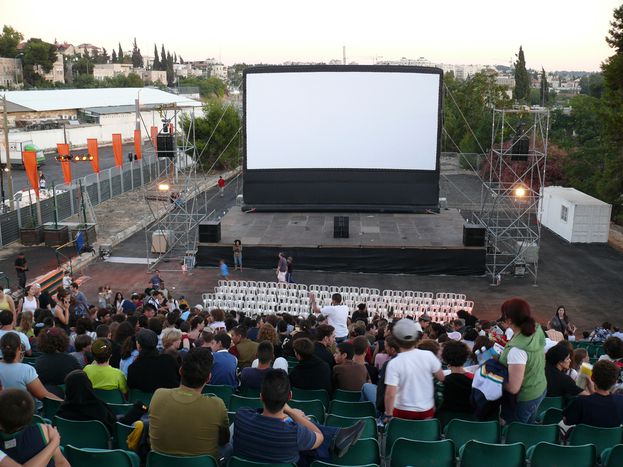 Co-Mix Multimedia Party at the International Film Festival in Jerusalem
Published on
On July 14, 2009, a Co-Mix Multimedia Event and Party of Israeli art, film, cartoon and music took place at Beit Ot-haMutzar in Jerusalem as part of the International Jerusalem Film Festival.
As international film dignitaries and fledgling directors and movie stars have flocked to Jerusalem Cinematheque for festive openings, viewer conversations and after parties, this city has been testing waters for becoming an it-city for a younger art-inclined crowd.
A silent Buster Keaton reel welcomed the partiers that were drawn to the event by its promise of art, music, film and participation. Banking on pure irresistibility of this enigmatic event, its organizers have gathered an audience hungry for local experimental art, rock-n-roll voices and night life. Four corners of the inner yard of the Israeli product quality authority, also doubling as Jerusalem's artists' house, were given over to black and white painting templates that visitors were invited to colour in with numbered chalks. A side space was dedicated to an art exhibition that took a page from Art Spiegelman's success with landing in the mainstream cultural audience attention field with his comic-book treatment of the Holocaust. The works on display ranged from rich and subdued reflection on childhood paraphernalia, children books and their postmodern appropriation to a series of comic book patterned close-ups of generic women and men. The latter raised a hat to the ground-breaking intervention in the field of contemporary art of Roy Lichtenstein who blew then conventional comic-book dialogues and visuals to the physical dimensions of old painting classics' canvases. Still another series of comic book sequences took to black humour to raise awareness of the aftermath of Art Spiegelman's success with Mickey-Mouse-ization of the atrocities of the WWII. Into the space thus opened entered another artist who explored less heavy shades of black humour with a transparent connotation of a frustrated artist with an unmistakeably German name. The exhibition was rounded off with sculptures portraying children toys gone pathetically monstrous in war-helmet shades of green, gray and brown. To them, pink and white installations of mass-produced Mickey Mouses in different stages of dismemberment and transformation provided a playful counter-point.
The twilight sky above the oriental inner yard met the falling night with a live performance of an Israeli rock band that played Israeli and Western numbers rivalling in their push and energy the original breakthrough in energy and performance that the historical rock-n-roll made on stages around the world. On the screen at one of the walls a live cartoon was introducing the singers and players, stying their world tour in Europe and America, and offering an avant-garde backdrop for their explosive performance.
The party thereafter brought Western, Middle Eastern and Eastern European tunes into a dynamic landscape of techno music that lasted well after midnight. A Soviet take on the Aladdin's fairly tale from the Arabian nights has provided a fittingly sly commentary to the urban and regional environs of the party where Orientalisms and Occidentalisms of manifold provenances were meeting it seems for centuries and millenia.
The Middle Eastern architecture, historical attires and traditional story-line of the film from the former Soviet Union were left to speak for themselves as its sound-track was replaced by rhythms that Israeli DJs sent into the night.
Pablo Markin is a post-doctoral fellow at the Center for German Studies at the European Forum of the Hebrew University of Jerusalem, Israel.