Climate is changing; are you ? The US, the EU and me
Published on
On September the 19th around 80 people gathered in the Art nouveau building of the Halles in Saint Géry to debate upon the need for a global response to tackle climate change and our responsibilities as citizen.
Guest speakers:
Catherine Witherspoon, Former Executive Officer of the California Air Resources Board Jos Delbeke, Director, European Commission, Directorate General Environment, Unit Climate Change Matthias Duwe, Director, Climate Action Network (CAN) Europe.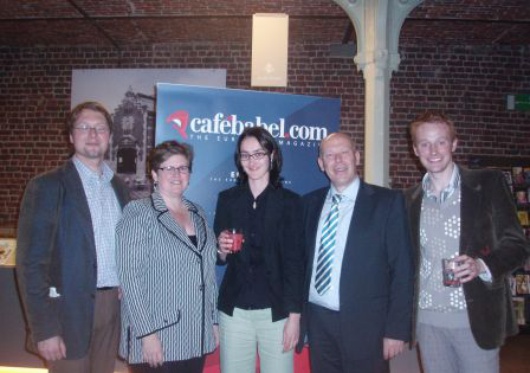 With the support of the US Mission to the EU
Speakers and audience engaged in an outspoken debate on post-Kyoto priorities, livestock farming, emission trading scheme, CO2 emission limit for cars, bio fuels and the role of consumers.
Mrs. Witherspoon made some strong statements: California is the tenth largest economy in the world and responsible for 25 percent of greenhouse gas emissions. California has a long tradition of strong environment regulations. Our State is driving United States' regulations on environment protection and on many other areas. But California still has the worst air pollution in the United States.
The turning point for everyone in the United States was Al Gore's movie, turning what had been known for 30 years into common, simple language and pictures. It makes it imperative for people who call themselves environmental leaders to step out.
I think every State in the world is in the grip of the power of energy companies. So citizen have to rise up and demand something different. Nothing is going to happen this year. We need a new President. We also need some more accidents and catastrophes to hit Americans up the side of the head so that they also feel threatened.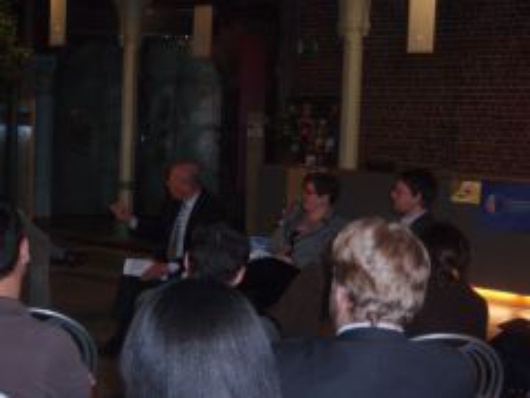 Speakers and audience then discussed the opportunity of informing the citizen, Mrs Witherspoon and Mr. Delbeke of the opinion that we are not yet ready to hear the whole truth, whereas Mr. Duwe fought for more transparency.
Ms. Witherspoon: There are a lot of things that we understand to be true about climate change that we don't talk about because it's too early in the process and it would alienate the people that we need to support the big building blocks. If while you're trying to get United States citizens to take seriously climate change and even think about people in other countries, and you said in the same breath "would you please stop eating meat, please stop flying, please by two pairs of shoes instead of ten", you would turn the people off you're trying to bring in.
So I think it's strategic, how to talk about it, and different organizations can carry the message better than government. It sounds too much like a nanny state, a police state, coming from us. But NGOs can talk about it, editorial writers in the paper can talk about it and change people without stopping momentum toward big governmental actions.
Mr. Delbeke: We are living in a democracy, thanks God, so you have to convince people. Having said that, there is a lot one can do.
Mr. Duwe: Definitely! CAN recently published a guide presenting some of the things you can do in your daily lives. I would say that the climate deny-er is on the retreat today and that there is overwhelming support. People are starting to understand that they can not live anymore as they used to.
The debate continued informally around a glass of cocktail "climatique"!
See video of the event