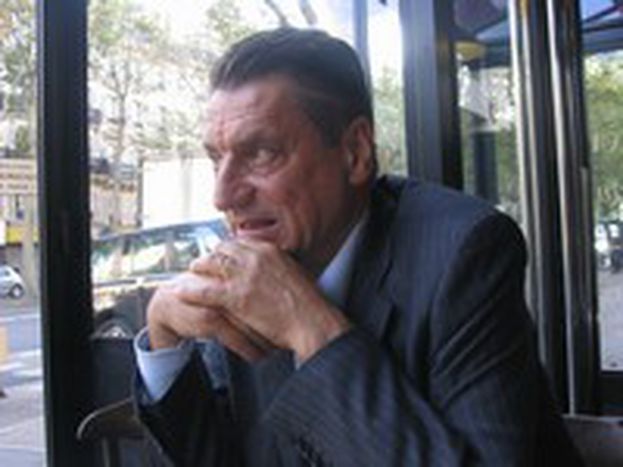 Claudio Magris – 'When Europe is one state'
Published on
Translation by:
leila reid
He wrote Danube in a café, and it's in a café that we meet the Triestine novelist, translator and very European intellectual
9.30 am. Paris lazily awakens as the cars whiz down the Boulevard Beaumarchais. In a café near the Bastille, we seat ourselves for coffee with Claudio Magris, 67. He has thick, impeccable grey hair and eyes as blue as the sea which laps up around his home city of Trieste. The elegant lines on his somewhat Beckettine face recall the roads he's travelled during his great journeys across our continent. His career began with the publication of his dissertation The Hapsburg Myth in Modern Austrian Literature (1963), which contributed to the resurgence in the popularity of central European literature.
I feel European but…
'I feel European, but for me, Europe is best described by a citation from Saint Augustin: When I don't ask myself what it is, I know what it is. When I ask myself, I no longer know. Today, European countries share the same problems and habits: money, unemployment, fashions and culture. In this sense, Magris can't wait until 'Europe is one state - maybe a federal one, but with a real parliament.' And this needs to happen at the earliest possible opportunity. Europe, unlike Oriental or American culture, maintains a 'peculiar relationship with the individual and the whole. It's a society in which the emphasis has always been placed on the individual, but not in an anarchic way.' Europe thrives on its cultural, historical, social and literary heritage which brings the individual to a 'progressive self-interest in which the 'I' also encompasses the community.'
'Polish Diet' syndrome
Magris' words flow in rapid succession like a fast flowing river, a little like his first book, Danube (1986). It is a sentimental diary written between Vienna, Bratislava, Budapest and Belgrade, which goes on as far as Dacia, as we get to know Eastern Europe, its characters and their stories. And this is how Magris, with great clarity, sharpens into vision the dangers and obstacles of the European project. 'More cohesion is needed. Europe currently risks the same problem as the ancient [Polish] noble assembly [or the 'Polish Diet', as the Italians call it], in which every noble had the power of veto. Until Europe tackles fundamental decisions on unanimity, it will remain impotent as it is subject to crossed vetoes.' This is precisely why Magris is convinced that tactically, it would have been better to find an agreement on the constitution between a few states. By allowing enlargement later, the 'danger of a 'Holy Roman Empire' in which the central authority remains weak' would have been avoided. With a slightly troubled look, Magris reflects on Eastern Europe's apparent reinvention of its identity, free from all their traditions and from communism, yet risking becoming 'a fifty-first American state. This is also a risk run by the European project,' he warns.
Cafés: a home from home
As he finishes his first croissant, I try to steer the conversation towards his beloved city of birth. 'I can't talk about Trieste any more!' he exclaims. His profound links to the city have at times been painted into humorous stereotypes; 'once a politician actually asked to find me sat at a table in a café as he gave a guided tour to an important foreign delegation!' But this is a symptom of the media-strong society in which we live. Magris is determined to continue loving the intricacies of the city, visiting its cafés and writing at their tables. 'I can't write at home, I get distracted. At the café I'm alone, there is no company. I'm anonymous but surrounded by other people, and that keeps me in contact with reality.'
Translation is the translator
Magris also finds this contact with others, with the multitude of identities, in translation. Sipping his coffee he remembers: 'written in my German textbook at university was the line 'translation is impossible but necessary'. Rather like life.' The novelist doesn't hesitate to underline the importance of the translator, defining him as 'co-author of the text'. Consider Vincenzo Monti's Italian translation of Homer; 'it influenced the development of the written language.' Magris speak of translation as the translator of some of the most important theatrical texts of the German tradition – Büchner, Kleist, Schnitzler – and as an author translated in twenty-five countries. Out of this double sensibility a need for strong contact with his translators is born: 'I have a great correspondence! Once the Dutch translator asked me 'what do you mean by "the uncertainty of the evening?'' Well, he says, clearly bemused, 'he got two full pages in response!'
Translated from Claudio Magris, «Quando l'Europa sarà uno Stato»