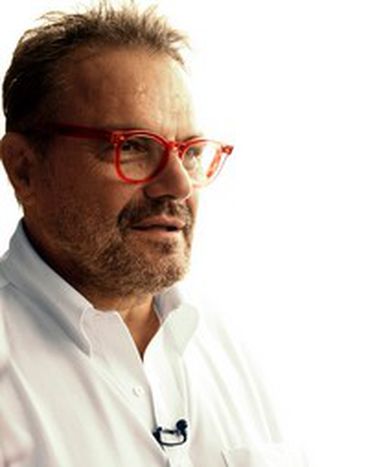 Censoring Oliviero Toscani
Published on
'In art transgression is a duty,' says the Italian photographer, author of the latest shock campaign with French anorexic model Isabelle Caro. 'Brussels don't want to know a thing about my European vision'
Acid-tongued, unconventional, self-confident: world-famous Italian photographer Oliviero Toscani made his name working for big name labels such as Chanel, Benetton, Fiorucci und Prénatal. As an artist in the world of advertising he renders reality drastically.
Are you an artist or an advertiser?
Artist. Marketing doesn't interest me. I am not here to sell something. I am here to take pictures.
What makes an image aesthetic?
The image has to correspond to what's going on in that moment of time, be a historical document of humanity. That's how big art is made. Those photographers who stop with aesthetic, form and composition are always the most run-of-the-mill, mediocre ones. There are beautiful war pictures, but is it beautiful to see war? Take the 9/ 11 pictures where the planes hit the World Trade Centre – no-one can call them 'ugly', but it is a pure aesthetical instance. I want to cross these borders.
What is transgression?
It's the duty of art. Creativity has to counteract rules. Subversion belongs to art. And without subversion, art can't call itself 'art'. The scale of values has to be destroyed and matters put into discussion. Uninterrupted. That's exactly where an artist's responsibility lies. Those who don't break rules aren't real artists. Take Caravaggio as an example – he painted pictures of Mary but he didn't believe in God. He was a sodomite and the models who sat for him to portray madonnas were prostitutes. Undoubtedly he didn't correspond to the moral values of his time. Art is simply the highest expression of communication, and has to push forward new ideas.
(Photo: Oliviero Toscani Studio)
In an interview for German online magazine 'Werben & Verkaufen' on 7 November, you said that human relationships are anorexic – what did you mean?
We live in a situation of social, political, spiritual and cultural anorexia. In anorexic relationships. The murder of the English Erasmus student in Perugia (killed on Halloween, with suspects including her American roommate and her Italian boyfriend), is a symptom of this. A reaction to this all-embracing social anorexia. To make yourself aware of this, all you need to do is spend half an hour in front of a television.
How important is attention to you in your field?
It's fundamental. An artist always wants attention. Picasso did not make history by coincidence. You're no artist if you don't leave any traces or impressions behind.
The billboard and magazine images of the French anorexic model Isabelle Caro, that you shot for fashion house No-lita in September 2007, certainly attracted a lot of attention. What did you want to convey through the images?
It's my job to make pictures. If you ask a shoemaker 'what kind of shoes do you actually want to make?', he will always answer 'I just want to make shoes, that's all.' Anorexia as a disease interested me, a disease I find socially interesting, and I wanted to show that in my pictures. I could have chosen any model – the whole world is full of anorexics.
Is it true that the image was banned in Italy?
No, absolutely not. There is an institute for self-discipline in advertising, which belongs to a body of advertisers, which decides what goes and what doesn't. They were the ones who banned this advert. But I don't belong to the club, nor to the clan, nor to their organisation. So they could only censor my work in their own magazines, but not in general. I can publish this picture in agencies who don't belong to this private organisation. Anyway a ban would come via the courts, not through them.
What is working in Europe like?
You can't generalise. Who is Europe? Sicilians or the Swedes? Europe has so many facets to it. It's an unbelievably interesting space, with its languages, which on one hand are a hindrance, and on the other hand are an enormous treasure. For example there are huge differences between France and Italy. France is a much more advanced country, not so problematic, with a serious leadership. We're just amateurs in comparison.
Is it true that you don't go to the cinema nor watch TV, to avoid the flood of images?
Yes. But television is omnipresent, even when you're trying not to watch it. It's like pollution. Even if you don't drive a car you are forced to smell its fumes. I try as best as possible to protect myself from this everyday attack of images.
What do you bring to the young people they participate in your workshops?
Ethics and aesthetics. How to develop their own talent. The capacity for analysis, criticism, passion and generosity. The fact that you don't seek consensus unlike those who seek it at any price. Consensus is not success and above all it is not culture. You have to do what you believe in.
How would you portray Europe in a campaign?
I was already asked to do a campaign in 2005, for the Austrian EU presidential semester (the first six months of 2006). I shot a series of naked children (see below) across a blank background, aged between four months and five years old. There were twenty-five representing the then twenty-five member states at the time. But then Brussels rejected it because the children weren't wearing nappies. But it's those who have power in Europe who are the paedophiles.
Listen to Toscani live
Test photo: Oliviero Toscani Studio
Translated from Oliviero Toscani e la censura: «Chi ha potere in Europa è pedofilo»