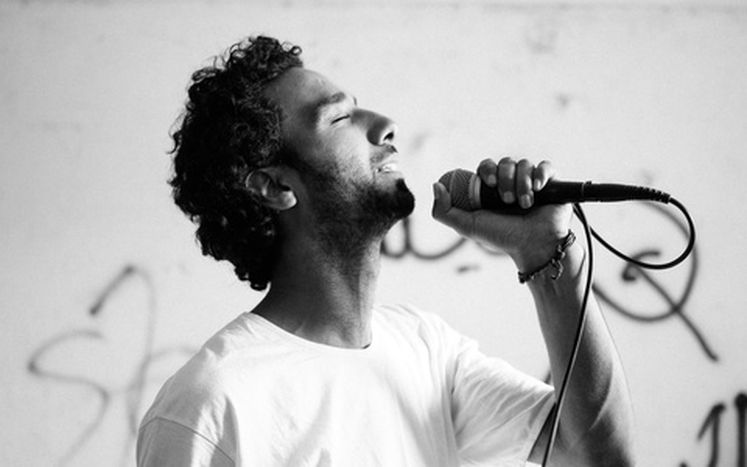 Casablanca's abbatoirs: the artists' factory on a knife-edge
Published on
In recent years, the old abbatoirs in Casablanca have been given a new life by artists, in the hopes of forming a creative cultural space that brings the arts and audience together. But the future of this place is now threatened, due to the lack of investment from the city. A reportage into the heart of this factory of artists struggling to promote Moroccan talent.
The colours of the graf­fiti painted on the walls of Casablanca's for­mer slaugh­ter­houses shape the very soul of this cul­tural space lo­cated in the heart of the work­ing-class neigh­bour­hood of Hay Mo­hammedi. Be­hind one of the old sta­bles, wrought iron screams under the elec­tric saw. Young peo­ple are forc­ing sparks from a huge metal struc­ture. It's the merry band that is cir­cus arts troupe Colokolo, mod­i­fy­ing the fu­ture café counter that will be the fin­ish­ing touch to their show's back­drop. In their "lab", a hangar re­fur­bished with what­ever there is on hand, the cir­cus artists take a break on cin­ema chairs from their on-stage ac­ro­bat­ics. Be­hind his mous­tache (in­spired by the rev­o­lu­tion­ary Za­p­ata), "Snoopy" ex­plains why he likes this place that, for him, rep­re­sents an ex­cel­lent way to de­velop and pop­u­larise cir­cus arts in Mo­rocco: "This is the only place we can ex­press our­selves. We can do more: aer­ial acts, work on scenery, things we couldn't do in the street or in cafés."
"WE'VE BEEN FIGHT­ING FOR YEARS, AND STILL NOTH­ING"
Con­sid­ered aban­doned, the abat­toirs, cov­er­ing sev­eral hectares, were closed in 2002, leav­ing the im­mense 1920s build­ings at the mercy of de­vel­op­ment pro­jects. But they hadn't counted on the de­ter­mi­na­tion of Casablanca's artists and other cul­tural play­ers, who de­cided to move into the build­ings to turn them into a space for urban and artis­tic cre­ations in 2009. Since then, the groups which today make up the col­lec­tive known as the Fab­rique Cul­turelle des An­ciens Abat­toirs de Casablanca (the Cul­tural Fac­tory at Casablanca's Old Slaugh­ter­houses) have brought the place to life, hold­ing fes­ti­vals and ac­tiv­i­ties reg­u­larly. But the col­lec­tive is strug­gling to get it off the ground as a fer­tile cre­ative space for Mo­roc­can art.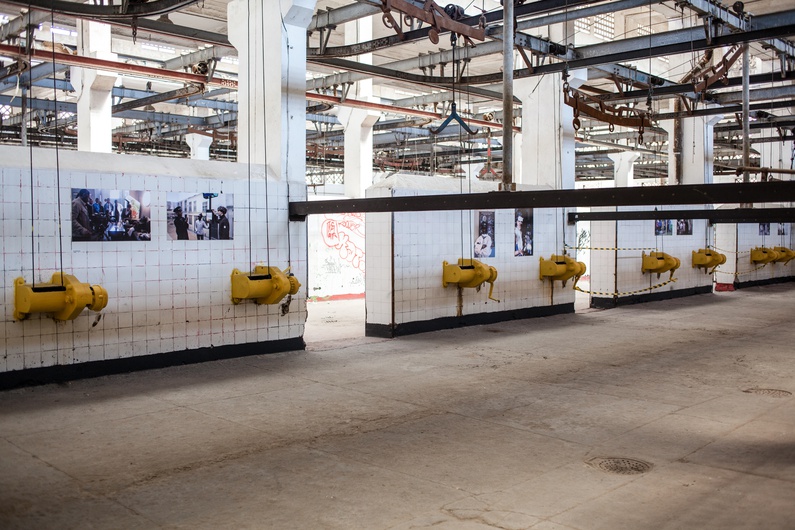 The build­ings are owned by the city of Casablanca, and al­though it was be­hind their con­ver­sion to a cul­ture space, it is drag­ging its feet when it comes to in­vest­ing in the pro­ject fur­ther. Al­though it doesn't recog­nise the Fab­rique Cul­turelle col­lec­tive, the city al­lows events to be or­gan­ised thanks to a con­ven­tion signed with one of its mem­bers: the her­itage safe­guard­ing as­so­ci­a­tion, Casamémoire. It acts as a mid­dle man be­tween the col­lec­tive and the city. The most re­cent con­ven­tion, which lasts for a year, se­cured fund­ing of a mil­lion dirhams (around €90,000). "We don't have enough to pay the debts that have built up and noth­ing left for the fu­ture. A year is only just enough time to de­cide on an artis­tic pro­ject," com­plains Ab­der­rahim Kas­sou, one of the col­lec­tive's co­or­di­na­tors. Com­mu­nity play­ers aren't hid­ing their an­noy­ance. "It's sap­ping our en­ergy. We've been fight­ing for years, and still noth­ing. We've had enough," says Mo­hamed Mer­hari, known as "Momo", one of the or­gan­is­ers of the Trem­plins fes­ti­val, which pro­motes young Mo­roc­can artists.
ECLEC­TICS IN THE RUINS
On an artis­tic level, the col­lec­tive wants to progress to the next stage. "Now we need to give the group some struc­ture to or­gan­ise qual­ity arts pro­gram­ming. We get a lot of qual­ity artists ask­ing for res­i­den­cies, but all we can offer is a camp­site be­cause we can't host them," Ab­der­rahim Kas­sou says sadly. To sur­vive in the cul­tural wilder­ness, the huge build­ing has to re­main stand­ing. One sec­tion has al­ready fallen into ruin and more and more spaces are shut off for safety rea­sons.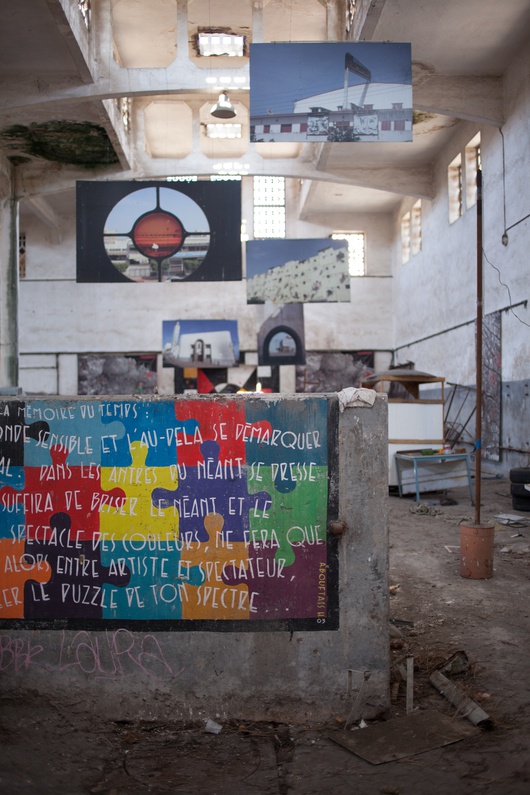 Lost in the vast­ness of these build­ings, dis­cov­er­ing l'Bat­war, as the abat­toirs are known, means meet­ing young skaters, lis­ten­ing to mu­si­cians prac­tis­ing in side rooms, and watch­ing a con­tem­po­rary dance bal­let all in the same day. The mix of art forms and au­di­ences has be­come a trade­mark of the Cul­ture Fac­tory. But the hopes placed in the abat­toirs seem to be firmly rooted in the past. The fu­ture is less cer­tain. The « Tran­scul­turelles » of 2009, which in­au­gu­rated the con­ver­sion of the for­mer abat­toirs, are en­graved in peo­ple's mem­o­ries. "It was won­der­ful. It showed the strength of the abat­toirs. They cre­ate a syn­ergy be­tween all the arts. There were in­tel­lec­tu­als, rich peo­ple, poor peo­ple... One of the ideas be­hind the abat­toirs was to de­moc­ra­tise cul­ture. It was a new breath of life, but it only came once," says Fatna El­bouih, a mem­ber of the col­lec­tive.
Fatna came to watch short films being shot on site. It's film­maker Michel Gondry's "am­a­teur film fac­tory" that brings the abat­toirs to life. The fa­mous French di­rec­tor set up his equip­ment and some scenery there. All the young vis­i­tors have to do now is film. Through ti­tles such as Mur­der in Paris, Abdel Sader Killed Us, and Search­ing for the Thief in the li­brary of films al­ready shot, young peo­ple are ex­press­ing them­selves. "There's a lot of vi­o­lence in what's been filmed. That's what most of the kids round here ex­pe­ri­ence," says Jean David, a pro­ducer liv­ing in Casablanca who co­or­di­nates the pro­ject on-site. "It's the only place in Mo­rocco where you can film with­out per­mis­sion. It's a place of in­cred­i­ble free­dom," he adds en­thu­si­as­ti­cally.
NO FU­TURE WITH­OUT THE CITY
Things were look­ing bright. But then some­thing came along and spoiled it. After the city re­fused per­mis­sion, a fes­ti­val planned for 20 Feb­ru­ary this year couldn't take place at the abat­toirs and had to seek refuge else­where. The rea­son: its pre­sumed link with the 20 Feb­ru­ary Move­ment, be­hind the Mo­roc­can up­ris­ing dur­ing the Arab Spring.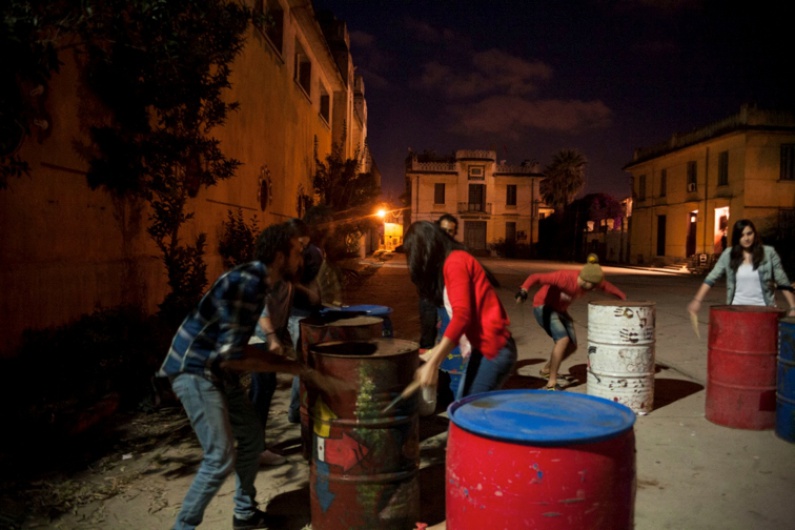 As night falls one Sat­ur­day evening, the air res­onates with the sound of pound­ing drums be­tween the abat­toir walls. Cy­clody, a bar­rel-play­ing per­cus­sion group, plays beats in­spired by Gnawa and Chaabi, tra­di­tional Mo­roc­can music. "We took bar­rels we found in the street to make music. Here, you can open up and go wild ar­tis­ti­cally. The idea is to un­wind at the end of the week, but through cre­at­ing some­thing," ex­plains Soufi­ane Benkhas­sala, one of the group's mem­bers. Al­though Mo­rocco doesn't want for tal­ent and cre­ativ­ity, the coun­try is suf­fer­ing acutely from a lack of cul­tural poli­cies to sup­port and pro­mote Mo­roc­can artists. A job for the fac­tory?
THIS AR­TI­CLE IS PART OF A SPE­CIAL CAFEBA­BEL EDI­TION ON CASABLANCA CAR­RIED OUT AS PART OF THE EU­ROMED RE­PORTER PRO­JECT, INI­TI­ATED BY CAFEBA­BEL IN PART­NER­SHIP WITH I-WATCH, SEARCH FOR COM­MON GROUND AND THE ANNA LINDH FOUN­DA­TION. YOU CAN FIND ALL THE AR­TI­CLES ON THIS SUB­JECT ON THE FRONT PAGE OF THE MAG­A­ZINE.


Translated from L'Batwar à Casablanca : fabrique fragile d'artistes