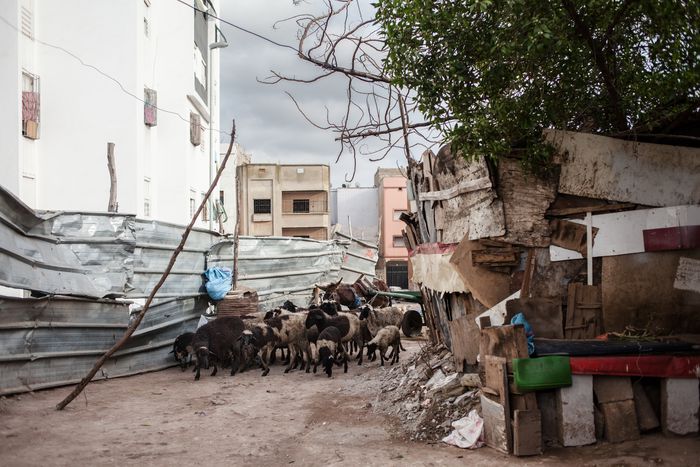 Casablanca: La Grande Illusion
Published on
Sidi Moumen is one of Casablanca's 500 shanty towns. The slum produced the five suicide bombers who launched the deadliest terrorist attacks in Morocco's history. Most Casablancans will never set foot there. But Cafébabel paid Sidi Moumen a visit to speak to the people, see how they're faring today, find out what the future holds and see Sidi Moumen in the context of Casablanca as a whole
'Sidi Moumen...c'est grave, Mon­sieur', the pre­vi­ously cheer­ful taxi dri­ver gloomily in­tones above the noise of screech­ing tires, as if the pure men­tion of the in­fa­mous dis­trict was enough to burst our joy­ful bub­ble in the cramped Fiat Uno.
The place most Casablan­cans never go
De­spite mod­ern, shiny trams that glide in from the cen­tre, many Casablan­cans never ven­ture to the sprawl­ing outer dis­trict and re­gard it lit­tle bet­ter than a leper colony. But things are chang­ing: one of the Arab world's most am­bi­tious plans of poverty re­duc­tion and slum clear­ance is tak­ing place in Sidi Moumen. And why? Be­cause, to use the local par­lance, of 'what hap­pened'.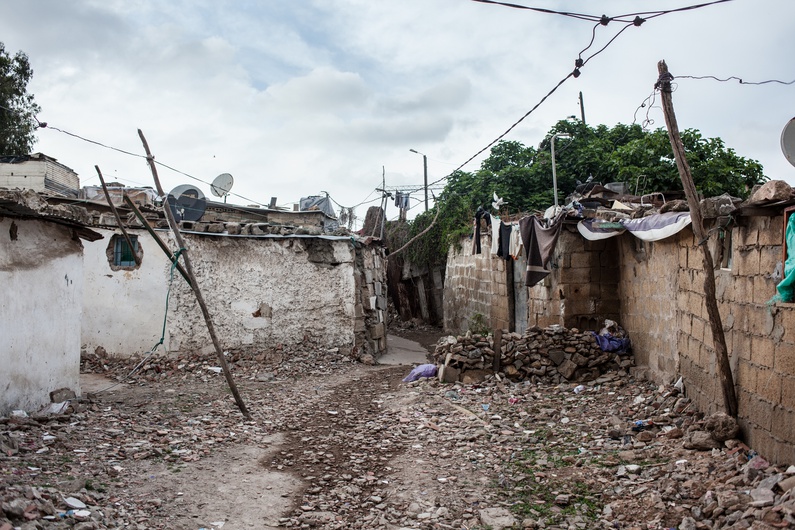 May 16, 2003. Din­ers feast on paella at the pop­u­lar down­town 'Cafe de Es­pana' as a man runs in and det­o­nates a bomb strapped to his chest. Four oth­ers were busy tar­get­ing other lo­ca­tions across the city in Mo­rocco's dead­liest ter­ror­ist at­tack in his­tory, killing 45 and in­jur­ing over 100. Ear­lier that morn­ing, all the young killers had left their homes in the slums of Sidi Moumen.
Turn­ing things around
The poor neigh­bour­hood be­came syn­ony­mous with ex­trem­ism but also brought an in­flux of so­cial pro­jects to the area, with Sidi Moumen Cul­tural Cen­tre stand­ing out like a bea­con. The giant in­con­gru­ous yel­low school bus out­side 'from Har­ris­burg, Penn­syl­va­nia' is just the first hint of the im­por­tance of out­side fund­ing for the first so­cial cen­tre of its kind in all Mo­rocco.
Cater­ing for over 300 local youth from the slum areas, the fa­cil­ity pro­vides lan­guage classes, a li­brary with 5,000 books, mu­si­cal in­stru­ments, com­put­ers, sports and a host of other other ac­tiv­i­ties. When I ar­rive, a tal­ent show is in progress, with chil­dren Djing, danc­ing and per­form­ing slam po­etry. At the front row sits founder Boubker Mazoz, a life­long com­mu­nity or­gan­iser and, with his sil­ver hair and thin mous­tache, a replica of Omar Sharif in Dr. Zhivago.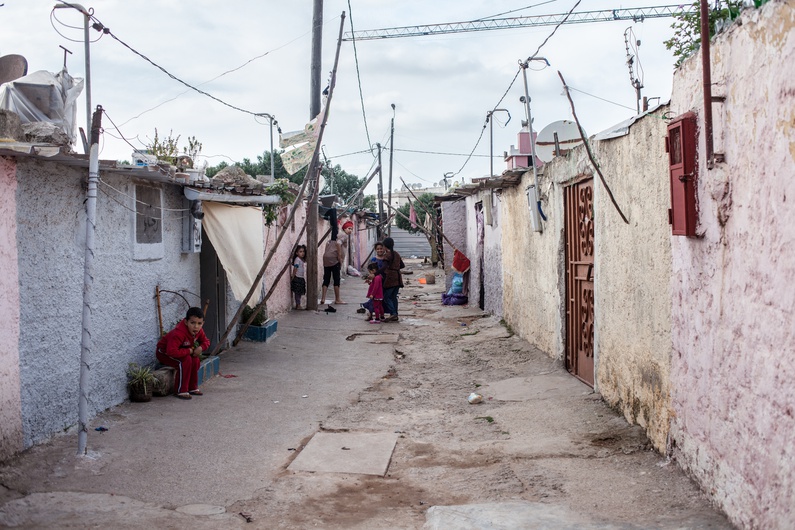 With seem­ingly end­less con­tacts around the world, Boubker is in a per­pet­ual state of fundrais­ing, in lieu of any state sup­port.
"Ba­si­cally I be­came a pro­fes­sional beg­gar." Boubker grins. Be­hind him a book­case creaks under the weight of awards and ho­n­ours bear­ing his name.
"NGOs came, do­nated things, left and noth­ing changed. Even I used to come here and de­liver school satchels but they sold them all. So, I de­cided to stay."
Many of the staff them­selves grew up in the chal­leng­ing area and un­der­stand only too well the value of re­main­ing in­side the com­mu­nity and lead­ing by ex­am­ple. The cen­tre's work has even in­spired sim­i­lar pro­jects in Casablanca's sis­ter city of Chicago.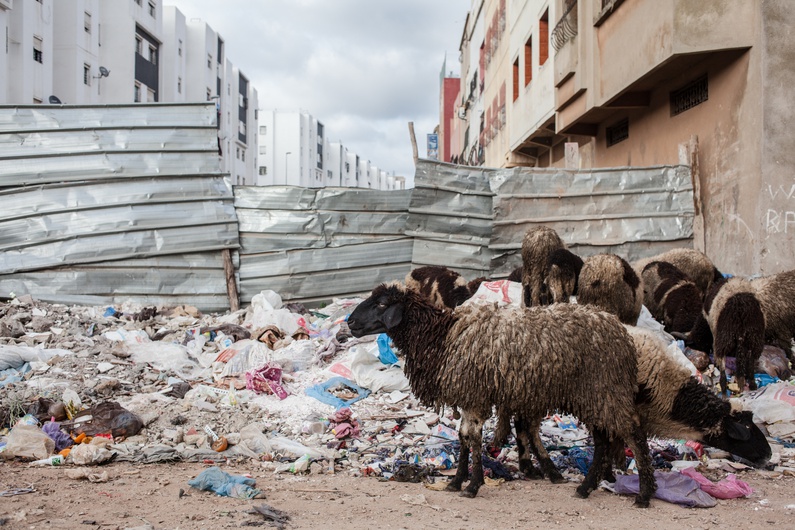 De­spite gov­ern­ment claims of 'sig­nif­i­cant progress' in slum clear­ance, there are still an es­ti­mated 111, 500 fam­i­lies crammed into over 500 hun­dred shanty towns in Casablanca alone, haunt­ing the coun­try par­tic­u­larly in the wake of the Arab Spring, which failed to take root in the king­dom. If such a rev­o­lu­tion were to occur, places like Sidi Moumen would be the cru­cible, though much has changed since the bomb­ings.
"An ac­cu­mu­la­tion of frus­tra­tion"
"There is no rad­i­cal Islam here, there is in­jus­tice, poverty and mar­gin­al­i­sa­tion. A crim­i­nal is a rad­i­cal isn't he?" Boubker says. "When you have some­one that doesn't feel like a cit­i­zen, like noth­ing in their city is for them or their fam­ily, you have an ac­cu­mu­la­tion of frus­tra­tion. You don't break some­thing that be­longs to you."
Ac­com­pa­nied by Mo­hammed Aaitouna from the cen­tre, and Mokhtar and Ab­der­ah­mane – two local se­cu­rity guards – we walk around the cor­ner be­fore being con­fronted with the Al Man­zah slum. Over­looked by five-storey apart­ments, fam­i­lies here are squeezed into a head-height rab­bit war­ren of wood and sheet metal. The path is at times so nar­row we are forced to walk sin­gle file, brush­ing past the oc­ca­sional vine over­head. An old man walks past with a don­key-pulled cart sell­ing bread; a small econ­omy op­er­ates here and some have me­nial jobs out­side. Many are un­em­ployed and il­lit­er­ate. In Al Man­zah, peo­ple's frailty is laid bare, and we weave through the camp briskly so as not to ruf­fle feath­ers. On the other side, fi­nally out in the open, past a moun­tain of garbage that seems to vi­brate with odour, kids pose for pho­tos like rap­pers and yell out to us as we de­part, 'bonne chance, mes amis!'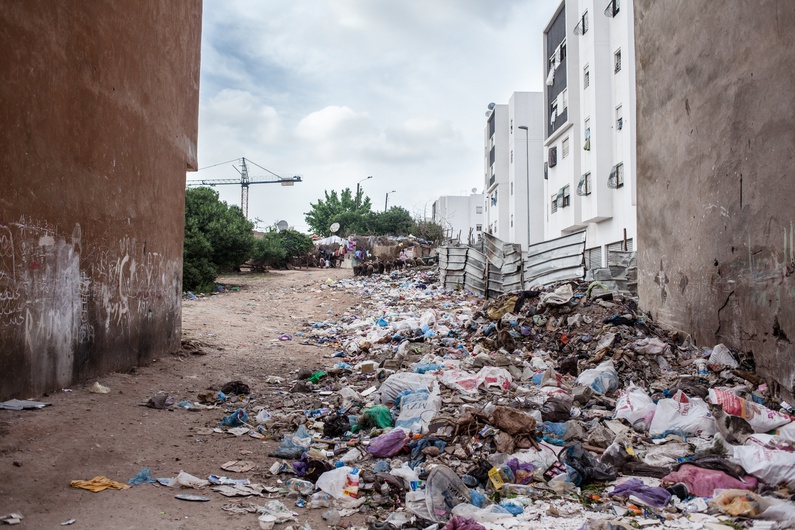 In the Ainfa dis­trict, Casablanca's 'Bev­er­ley Hills', clean, palm tree-lined streets show­case sump­tu­ous linen-white vil­las lead­ing to the Cor­niche. Here, by the crash­ing waves, tow­ers the Has­san II mosque, the sec­ond largest in the world after Mecca. Every Mo­roc­can cit­i­zen was forced to con­tribute fi­nan­cially to­wards its con­struc­tion, in­clud­ing the slum-dwellers dis­placed in the build­ing process. A few hun­dred me­tres along the shore, the fa­mil­iar mish­mash of tin roofs poke above a two metre white­washed wall that wraps around the 'bidonville' – a French colo­nial term for shanty town that sup­pos­edly orig­i­nated in Casablanca. Such sights are com­mon in the city, often re­ferred to as 'walls of shame', and may serve as a metaphor for so­ci­ety's at­ti­tude to­wards the bal­loon­ing mass of the urban des­ti­tute. Out of sight, out of mind.
But how about the hip­sters?
Some of Mo­rocco's wealthy night-owls, who writhe to deep house at chic seafront venues where bot­tles of Cham­pagne sell for nearly €1000 (in a coun­try with a GDP per capita of €2100, ac­cord­ing to the World Bank), take a Dar­win­ian ap­proach. A young en­tre­pre­neur sniffs:
"You need poor peo­ple, you need rich peo­ple – that's the con­di­tion for the sta­bil­ity of the coun­try. As long as the peo­ple don't die of star­va­tion, Mo­rocco is doing the right thing."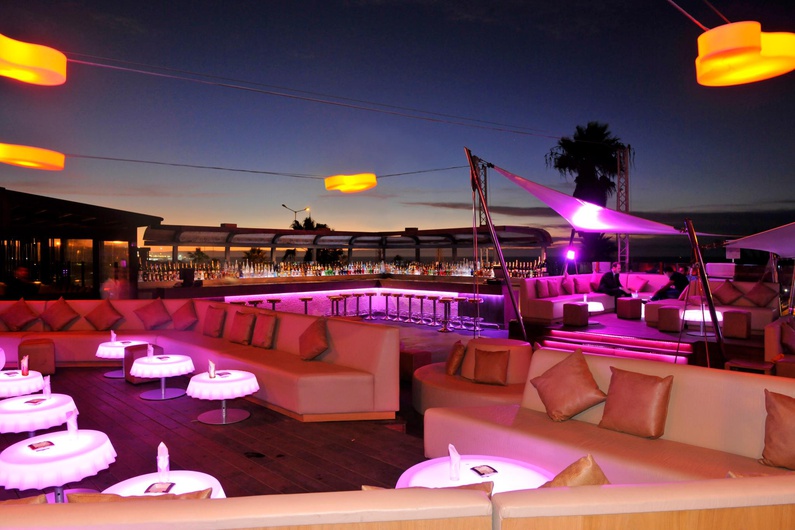 As well as the biggest mosque and the largest slums in Africa, Casablanca also hosts the biggest shop­ping cen­tre in the con­ti­nent, ex­cit­ingly named 'Mo­rocco Mall'. In here, dresses come with €900 price tags and vis­i­tors can scuba dive with trop­i­cal fish in the aquar­ium. From a bal­cony of one of the ex­or­bi­tantly ex­pen­sive restau­rants, we spy a small is­land by the shore and ap­proach it.
Tooth­less old ladies sit on the bridge of the is­land bang­ing drums and play­ing Chaabi music, call­ing us 'voyeurs!' when we pass. After a small maze of al­leys and gloomy box-like shacks, we reach a rocky out­crop and the great ex­panse of the At­lantic. Fam­i­lies and cou­ples pose for pho­tos whilst goats and chick­ens mooch around a small pen. I naively think that the an­i­mals are here for chil­dren to play with. I am later in­formed that their slashed throats and spilt blood are a nec­es­sary part of the sac­ri­fice to Abdel Rah­man, a revered saint whose final rest­ing place is be­lieved to be here.
"They used to mock the sick that came here to be healed," our Mo­roc­can jour­nal­ist col­league re­marks be­fore ges­tur­ing to the Mo­rocco Mall loom­ing like an ar­madillo's shell in the dis­tance, "but now they are the sick ones."
This ar­ti­cle is part of the Eu­romed Re­porter pro­ject, con­ducted in part­ner­ship with I WATCH and Search For Com­mong Ground and sup­ported by the Foun­da­tion Anna Lindh.