Cafébabel's birthday bash: 15 years of Europe in Real Life
Published on
This month, cafébabel turns 15. Our director reflects on a decade and a half of nostalgia – typing on an old-fashioned computer and dressed in a snazzy cafébabel t-shirt – and comes to the conclusion that we couldn't have done it without all of you.​
In 2001, a team of Erasmus students hoped to dream big: they were moved to create the first European media. It was long before the era of Facebook, back when emails were only checked twice a week.
In room number 304 of the "Institut d'Etudes politiques" in Strasbourg, after several hours spent struggling with Dreamweaver, we hit the final enter key of an oversized computer and brought cafébabel to life. A dozen articles were published in 4 languages. It feels good to remember the old good days when cafébabel was a student project, that today has turned into a professional website.
Back in 2003 I created, along with Adriano Farano and Simon Loubris, the first professional newsroom in Paris, which is known today by all Babelians under the not-so-cute name of "La RCE" (Rédaction centrale européenne). Today, we are still in Paris (though not in the same office), and rely on a team of 12 full time staff, sporting nifty corporate t-shirts on big occasions.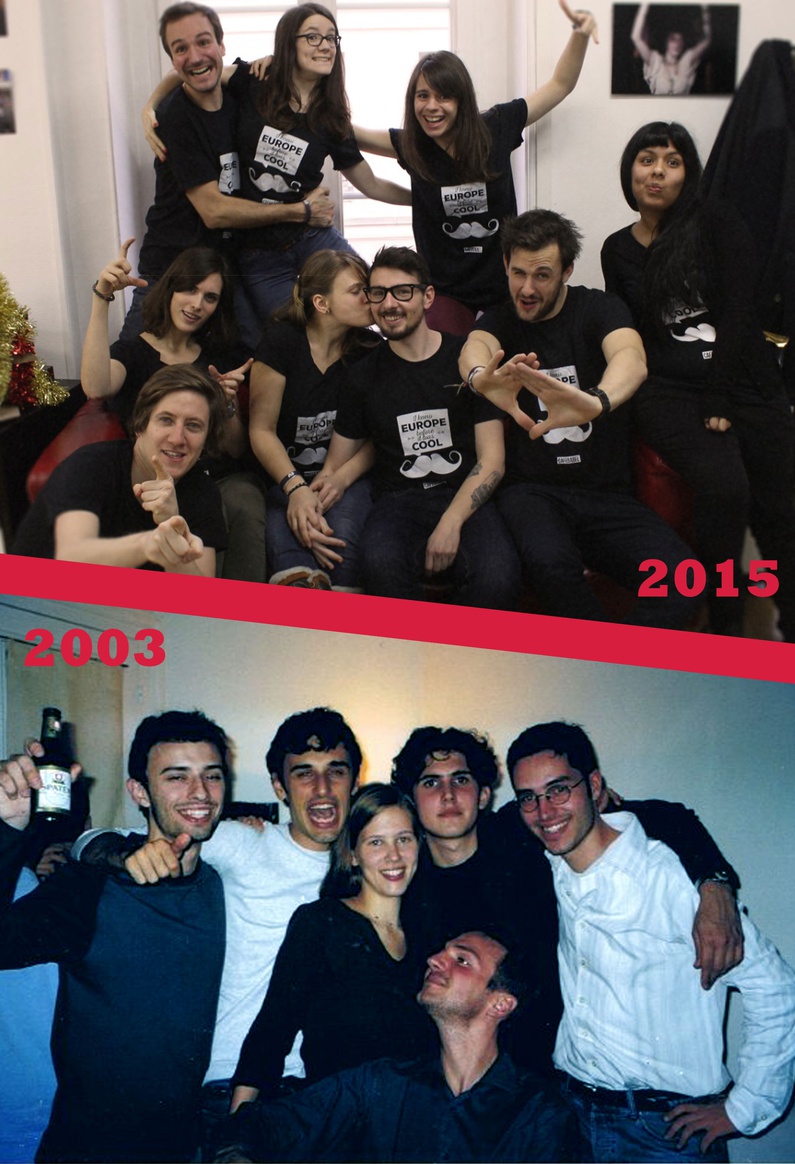 We started work in 4 languages – French, Italian, Spanish and English – you read that right, there was no German! It was 2004 before we expanded to include it as a fifth language (endlich!), shortly followed by a Catalan version (unfortunately suspended in 2008), and finally a Polish version in 2006.
Cafébabel – the story of a European media expanding thanks to a vivid network of (nowadays) 20 local teams across Europe. From Seville to Vilnius, from Brussels to Istanbul; we now count 1,500 contributors and publish almost 4,000 articles per year!
Of course, this would NEVER have been possible without the commitment of an amazing network of volunteers from all over Europe and beyond. Translators, authors, photographers, filmmakers, local team members, staff and friends – you made cafébabel what it is today!
For our 15th anniversary, we are preparing some surprises: a "gonzo" video guiding you through the history of the cafébabel adventure, and the launch of a crowdfunding campaign for a book (a real book! Made of paper and everything!), which gathers the best feature reports and photography ever published on cafébabel, whilst reflecting on the vision of the Erasmus generation over the last 15 years.
So happy 15th anniversary to our contributors and to our readers! And happy birthday cafébabel!