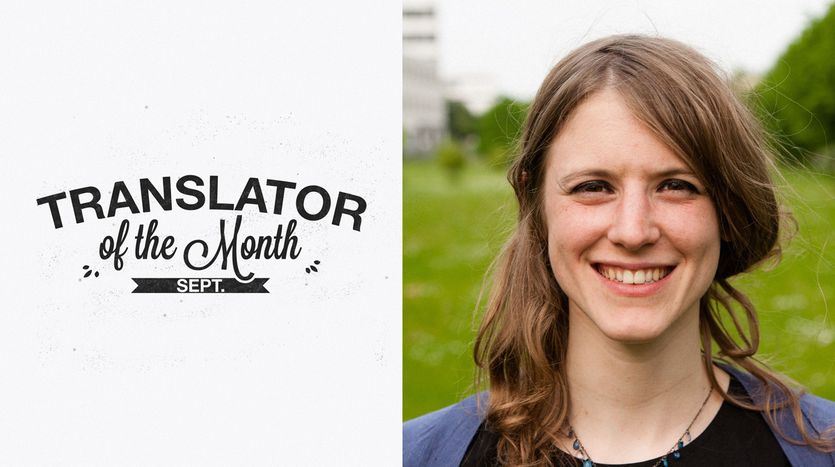 Cafébabel Translator of the Month: Lucie Chamlian
Published on
Translation by:
Danny S.
She can do it in both directs, whether from German to French or vice versa - translating, of course! The French-German Lucie broke all records this month, publishing 10 texts in a stroke of translator's frenzy. Thanks to Lucie from northern Germany, we're a little more informed about organ trafficking in Kosovo and right extremists in Hungary. 
cafébabel: How has your adopted home changed you?
Lucie Chamlian: I've always got an umbrella with me (laughs).
cafébabel: The phrase, that's currently motivating you? 
Lucie Chamlian: Tame the animal!
cafébabel: Name three countries, where you could lead a better life than where you live now (and why)
Lucie Chamlian: Spain, or more specifically Andalusia, for it's milder and sunnier weather. France for its table culture, but I'm sure there are a lot of other countries that I'm not aware of yet, that have a similarly gregarious food culture. And thirdly, a region: Wales for its amazing landscapes and areas without reception. 
cafébabel: If you had the option of having dual citizenship, which countries would you choose?
Lucie Chamlian: Well, I already have dual citizenship. But as a vision for the future, I'd rather that citizenship were unnecessary. 
cafébabel: What book, movie, or music is currently on your nightstand?
Lucie Chamlian: The works of Michel Foucault.  
cafébabel: Do you have any tips for Emma Watson?
Lucie Chamlian: My gut feeling says yes: The label, or affairs of 'feminism' shouldn't be taken out of context, nor should it be isolated from other social struggles that are for freedom and that are against oppression.
cafébabel: Where can one usually meet you on a Friday night?
Lucie Chamlian: What a question! PhD students know neither weekends nor Friday nights.
cafébabel: Is it better to know a lot about a few topics, or not as much about a lot of topics?  
Lucie Chamlian: Neither. It's all about the right balance between a very detailed and deep knowledge and having a grasp of a wider and more general knowledge.
cafébabel: Now's YOUR Oscar moment! Who would you like to thank?
Lucie Chamlian: I think the app "The best answers to interview questions".
Get to know Lucie better on her profile.
Translated from cafébabel-Übersetzerin des Monats: Lucie Chamlian