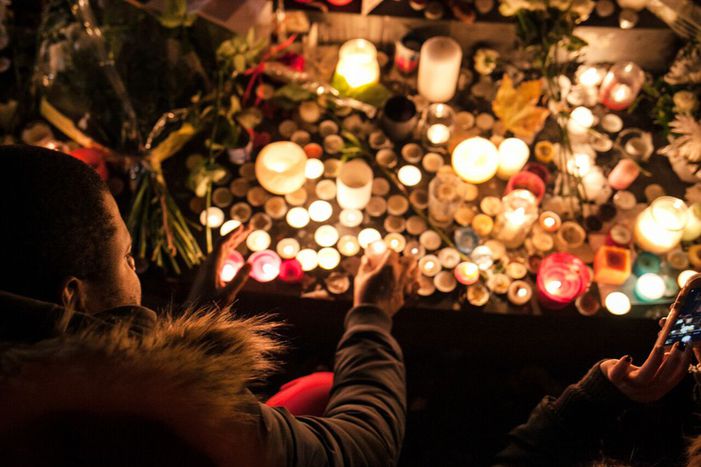 Cafébabel Editorial: Last Friday, it was Europe's youth who wept
Published on
Following the attacks of the 13th of November, it is our Paris that has been affected. Not the Paris of gaudy national monuments, of overpriced department stores, of tourist streets we never visit, but the Paris of our own neighbourhoods. Where we, young Europeans, live, love, and spend evenings with friends. Where we work. Where we make our home.
More than 129 dead to mourn, a state of emergency declared in France, a political class that asserts that France is at "war", the disquieting sight of tricolore flags inundating our Facebook walls... In the cafébabel newsroom this Monday morning, our heads were feeling heavy after this long and painful hangover of a weekend.
For the Paris that has been wounded, rocked at its very core, is our Paris, a little bit of our Europe. It's Babelian Paris, the Paris of our Meet My Hood series. The Paris of summer drinks between friends along the Canal Saint-Martin, of old familiar bars along the rue de Charonne, hosting the whole array of humanity, where kebab houses share the street with the latest à la mode restaurants, of the concert halls of République that draw artists and fans from all over the world. It is also the Paris beyond the périphérique,  of the Stade de France, of sports matchs and other large scale events. It's multicultural Paris, progressive Paris – sometimes irritating when it becomes too bourgeois and intellectual – but always a Paris that keeps on moving, the Paris of cafébabel that brings us young people from all over Europe. It is the Paris that we love, and precisely that which the Islamist terrorists hate.
An attack on the youth?
It has therefore deeply affected our hearts and minds. We are left with this macabre feeling, agonised at having been the target of these attacks. The young people – for many of them were young – who died under a hail of bullets last Friday evening, they could have been us, and those who did perish were often, alas, friends of friends. This attack, which would have been even more devastating if the terrorists had not been prevented from entering the Stade du France in Saint-Denis, has become an attack against our generation.
In targeting Charlie Hebdo in January 2015, the terrorists wanted to "avenge the prophet" and attack the freedom of the press and the freedom of expression. They wanted to cleave a hole in society between Muslims and secularists. In attacking places of everyday Parisian life, it's our lifestyles that they seek to prevent. They succeeded in sowing panic, in marking our spirits, but they will not succeed in making us renounce our values or in dampening our lust for life.
Despite all this – like London, Beirut, Madrid, Tunis, Oslo and Istanbul before it – Paris will emerge an even stronger symbol for young Europeans living in a world of freedom: carefree, creative and tolerant.
At cafébabel we want to illustrate the diversity of a generation that no longer recognises borders. To highlight their openness about the world, their tolerance, their desire to live together. We want to position this discourse of dialogue and democracy against that of violence, blood and religious obfuscation. It is to the young people of Europe that we speak and we give them our word: the terrorists will not win. They will not divide us. They will not destroy our joie de vivre.
Translated from Editorial - Ce vendredi 13 novembre, c'est la jeunesse européenne qui pleure