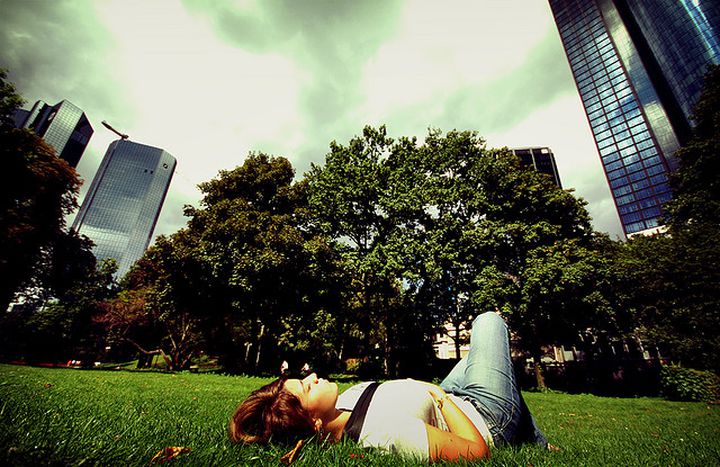 'Cafe Fix' and social workers on Frankfurt's drug streets
Published on
In the shadows of the skyscrapers of Frankfurt's banks, the area around the main train station sees the highest concentration of drug abuse and prostitution. But some people are trying to make a difference by helping and listening rather than judging
'I arrived here ten years ago. I worked on the streets with drug addicts and prostitutes in Berlin and Hamburg. I thought that I had seen it all; then I moved to Frankfurt.' For social workers, the 'Bahnhofsviertel' ('train station neighbourhood') is what you immediately associate above all with Frankfurt. The area surrounding the train station is a rectangle of main roads and home to an extremely high concentration of drug addicts and prostitutes, and the whole microcosm that accompanies their lifestyles.
Frankfurt mimes Dutch and Swiss city solutions
Alongside Amsterdam, Hamburg and Zurich, Frankfurt was among the European cities which was most interested in the influx of drugs (and consequently, the spread of HIV) during the 1980s, but it was also one of the first to come up with a new way to deal with the problems related to drug dependence. Zurich chose to administer the so-called 'state heroin' in a controlled manner, with a drug liberalisation policy in 1996. Amsterdam opted for a policy of tolerance towards soft drugs and of prevention in schools. Today it has a smaller percentage of soft and hard drug users that any of the 'zero tolerance' countries. Meanwhile, as little as fifteen years ago, a drug addict in Germany had to arrange an appointment with a social worker in order to receive help, and usually he would have to wait weeks before attending. However after the first pilot projects were launched, there is now a well-developed scheme for help, assistance and advice, founded on the efforts of the street workers. Its key values are trust and discretion. Social workers are bound by silence. They cannot reveal the personal data of the individuals they help, nor can they under any circumstances report them to the police. These are the rules of the street, in order to build trust and to establish the most frank relationship possible between social worker and drug user.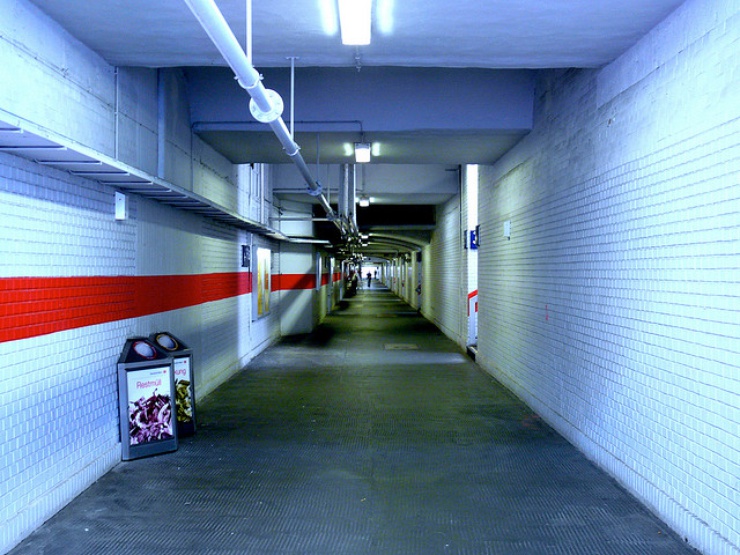 Veronika is a volunteer in a town in her native Czech Republic, and works in a centre which also deals with young drug addicts. She looks at our hosts astonished, and initially blames our precarious simultaneous translation between German, English and Czech. 'But I have to report them! I'm obliged to inform the police if I come across someone who's pushing drugs!' she tells the German workers, who shake their heads. Trust comes before all else. 'Sometimes a policeman will tell me that fundamentally we're doing the same job,' says J., sporting a shaved head and tattoos. He has worked on the streets of the Bahnhofsviertel for fifteen years. 'I reply to him that that's not true, that our jobs are completely different.' There is an official meeting between the organisations, social workers and the police every month, to analyse and resolve the problems.
Visiting Café Fix
Café Fix opened in 1990 and offers hot meals at nominal prices (€1, 50) as well as the opportunity to take shelter, sit down and get oneself in off the streets. As I walk through I observe its customers, drug addicts, who are sprawled out on tables, curled up or slowly walking, hunched over, looking thin and drawn from their addictions and completely lacking in strength. In a booth surrounded by anti-riot glass which looks out on the street, one social worker is taking away used syringes and distributing new ones in sealed packages. One used syringe for a new one. Frankfurt has been the first place to experiment with the idea of giving out clean syringes in order to stem the diffusion of HIV and Hepatitis C. Café Fix is on the ground floor of a building on Mosel street (Moselstraße) with various levels above it where other services are offered: as well as general advisory services, there is a medical facility with a number of well-equipped consultation rooms. At the disposition of the centre's visitors there is a second-hand clothes store and a room with showers and personal hygiene products. There is also a room for the administration of methadone and other substances for those who have started replacement therapy.
'We don't allow any dealing or exchange of substances here. They have to already have the drug with them'
In another building we visit a 'fix room' which is open every day between 11am and 11pm. It has fifteen places, a waiting room and five workers on duty at any given time. Two people guard the door, one supervises the actual room and two more man the front desk. 'The first time you come here you have to register and show your documents,' the manager tells us. 'Every time a visitor comes back, we look him up on the computer system. He shows us the drugs which he has with him and we give him the kit and let him inject in the room.' The kit contains a syringe, disinfectant, cotton wool, a small spoon and other objects useful for preparing the dose. 'We don't allow any dealing or exchange of substances here. They have to already have the drug with them.' So there's no 'state heroin' - just an attempt to create hygienic conditions which are better than those on the street.
As we watch the coming and going of drug addicts, prostitutes, social workers and other people, a long Mercedes with blacked-out windows passes in front of us. Raising our gaze, we see the Main Tower and the skyscrapers of Frankfurt; we are in the financial heart of Europe, and the European central bank is but a stone's throw away. 'Most of our visitors have no job, no qualifications, never finished school and came from poverty,' explains J., without ever raising his eyes from the street. 'When they arrive in Bahnhofsviertel they've already been through it all. Our oldest visitors are 60 or 65 years old. But there aren't many people that age. Don't think that they're the only drug users in Frankfurt. There are plenty of people who make important decisions every day in their jobs, and they do it under the influence of drugs.' It can't be easy to be a social worker in Bahnhofsviertel. The streets are violent, there's lots of work to do and resources are always lacking. Satisfaction and success are not the order of the day, because the road to becoming clean is not an easy one to follow. We ask J. if anyone manages it. 'Some do,' he says.
In an ideal world, we wouldn't need fix rooms. Indeed, we wouldn't have to fight drug addiction either. But this is the real world, and its face is Bahnhofsviertel. Whoever thinks that the fix rooms are some form of moral justification which allows drug addicts to continue shooting up on state subsidies should come and see the place themselves, and understand that there's no need to create an excuse. Drug addiction is an illness. It takes much more to fight it than will power alone.
Images: main (cc) Samuel Rönnqvist/ official website; in-text (cc) Nils Bremer/ all courtesy of Flickr
Translated from Droghe pesanti a Francoforte: il vaccino è per strada