Burned out at the German christmas market
Published on
Hallelujah: it's that time again. In towns large and small across Germany people crowd the Christmas markets, year in year out. It is an infinite loop featuring wood carving, 'smoker-men' incense burners from the Ore Mountains, jewellery, candles, junk, junk and more junk

(Photo: ©le méchant garçon/ Flickr)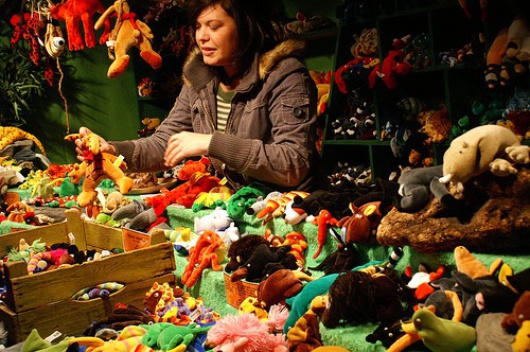 I am a 23 year old student from Netphen. Netphen is a village in South Westphalia, which calls itself a town. It is very close to Siegen, the self-dubbed 'province full of life.' I want to start a Masters in London next autumn, so I need money. A lot of money. For that reason I've been working for the past week on a stall at the Siegen Christmas Market. Seven days a week, nine hours a day. Regardless of how cold it is. Regardless if it's rainy, windy, snowing or hailing, I sit there wrapped up, perched on a stool in my market stall with an electric heater by my feet, and sell expensive junk and wooden jewellery.
(Photo: ©Tim Ellis/ Flickr)
O du Fröhliche - Oh thou joyful day
The beautiful things I sell are so expensive that hardly anyone buys them. I get bored so I knit socks. Like that, I get paid to make Christmas presents. Knitting with frozen hands is slow work, which induced one pensioner to say to me, 'Knitting that slowly you'll never finish. You're a beginner, I see.' And while one middle aged lady was going into raptures about the stacks of soft toys, her friend bleated 'Wow! This is so kitsch! How can they even sell this?' Some youths – with varying degrees of midriff on display, depending on the weather: 'Hey have you seen her? I wouldn't want to do that! Look, she's even knitting!' Evidently it seems that some people are of the opinion that market sellers must be really badly off if they have to do this job.
And they make no big secret of it.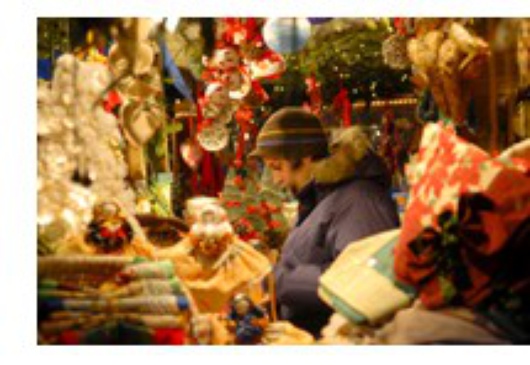 'You can tell you're cold, just by looking at you!,' a lady commented recently. 'I wouldn't want to be in your position!' 'Well," I respond, 'I've got a small heater and plenty of tea. It's ok really. In saying this I think I have given the impression that what I'm doing isn't so bad. The lady isn't two metres away before I hear her add, 'The poor bastards! Just think if you had to do that job...' Do people really think that we don't just work in these wooden huts, but live in them too, and after the market is over return to the forest to live out our days making the wooden jewellery we're selling?
Ihr Kinderlein kommet - Ye children come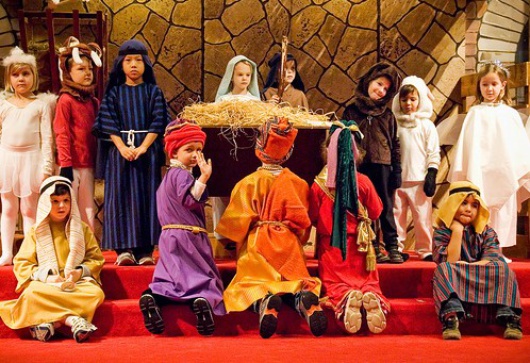 If I'm not reading or knitting I observe the goings-on outside and at the other stands. At the stall opposite there was a Christmas quiz for children yesterday. As far as I can remember, we had Religious Education (RE) lessons at primary school. Compulsory for all. I'm no bible expert, but I know the basics at least. It seems the children who were eagerly competing opposite me didn't even have the basics of the Christmas story straight. '... And where was Jesus born?' 'In Jerusalem!' 'Yes.. almost. With an N...' 'Na-za...' '???' 'Na-za-rrr...' 'Nazareth!' 'Yes, good. And what was Jesus' father's job?' 'A builder!' one girl quickly calls out, before her friend can answer.
(Photo: ©Stuck in Customs/ Flickr)
In the distance, like every evening, the live music booms out. Today there's folk music. I try to concentrate on my stitches and the smell of toasted almonds that wafts over to me from the right. I don't quite succeed though. 'Ho-ome! Da-da-da-daaa!' At least the real audio bombardment doesn't start until later.
Salvation
It is a quarter past six. I finish in two hours. Despite my rolled up woolly socks I can't feel my toes anymore. At this point you see more and more people with mugs of Glühwein (mulled wine). I'd really fancy a Glühwein too, but no one thinks to offer me one. Why should they anyway ... I am ignored, unheard, and idiotically chatted up from the side a few more times. Then I can go home. I'll be here tomorrow. And the day after. And the day after that again. As for London – as the song goes, Vorfreude schönste Freude ('Anticipation, greatest joy.')
In-text photos: Kram (leméchantgarçon/ Flickr), Christmas market (Tim Ellis/ Flickr), Suffer with me (Hubert Grüner/istock), (Stuck in Customs/ Flickr)
Translated from 'Alle Jahre wieder'