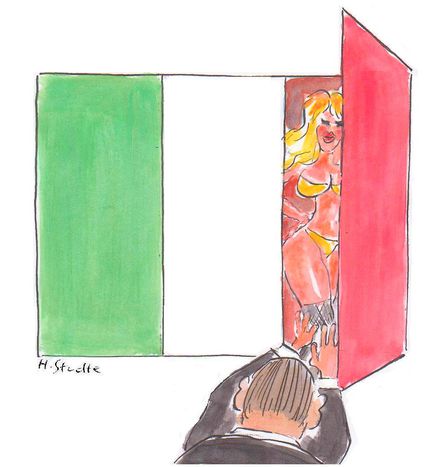 Bunga bunga: European hanky panky guide for Mr. Berlusconi
Published on
The Italian fairytale has caused waves across Europe. We Italians can be proud to have exported a word out there amidst our Ferraris and mozzarella. The prime minister has revived the myth of the dying Italian stallion with a term Colonel Gadafi loaned to him, from 'female harem', for his orgies. Berlusconi stands trial for abuse of office on 6 April in Milan
When Germans party big, they call it the rambazamba. And you can be that if rambazamba is on the agenda, Italian prime minister Silvio Berlusconi is never too far. As French tradition dictates, it would be a prelude to a bit of frotti frotta (from the French verb frotter or 'to rub'). That's really the least of things to do, so why stop when it's so good? Every child now knows that this kind of festivity ends in bunga bunga – enough! Silvio Berlusoni knows how to organise a tidy rambazamba. The three 'I's in Italian are always there as part of the fun in every Berlusconi party: impresa (economy), informatica (information technology) and inglese (English), where a fourth 'I' can easily be added - imene (hymen)!
There's also 'I' for innocente (innocent), as was Ruby the Moroccan (or was she Egyptian? Or maybe half-half). When Ruby the Heart Stealer, real name Karima el Mahroug, was arrested by the Italian police or Carabinieri in May 2010, it was a phone call from Berlusconi that set her free. Authorities were told that Ruby was related to the now-fallen Egyptian president Hosni Mubarak and the prime minister's dentist, politician Nicole Minetti, took her under her wing. Ruby was seventeen when she first started to go to events – bunga bunga inclusive – at his eighteenth-century villa outside Milan, the Villa San Martino in Arcore.
Who can forget the first young lingerie model whose name cropped up in connection with Berlusconi, Noemi Letizia, who was eighteen when 'Papi' attended her birthday party in 2009, which inadvertently led to his divorce from his long-suffering wife Veronica Lario? Berlusconi can have everything, they just have to be young and beautiful. Who was it who said that the Italian Stallion was dead? Ruby is a young African girl and it's by rubbing, er, shoulders with Gaddafi that he's done so well; Ruby has gone on to expose details about the bunga bunga parties to the justice system, which have led to a trial for Berlusconi on 6 April.
But in case a European girl were one day preferable, we've compiled a list of bunga bunga alternatives. A French girl could crac crac with you, although Carla Bruni is not available (for the moment), and across the Channel you could count on a bit of hanky panky, we're sure (thank George Bernard Shaw for that one). A Spanish girl could get up to a little naca naca with you, whilst a Polish girl could join you for some puk puk before you continued on your way to see Mr Putin. The most fun could arguably be had in Germany for a bit of ficki ficki…how responsive might Angela Merkel be to a bit of that, we wonder.
In the meanwhile I will copy and paste this article about television presenter and journalist duo Emilio Fede and Lele Mora, who are accused of procuring the girls for bunga bunga parties, and I say this to you all: Europe, have pity on us.
Illustrations: © Henning Studte/studte-cartoon.de; (cc) francesco elisei LI/ Flickr
Translated from Bunga bunga: farlo in Europa con Silvio