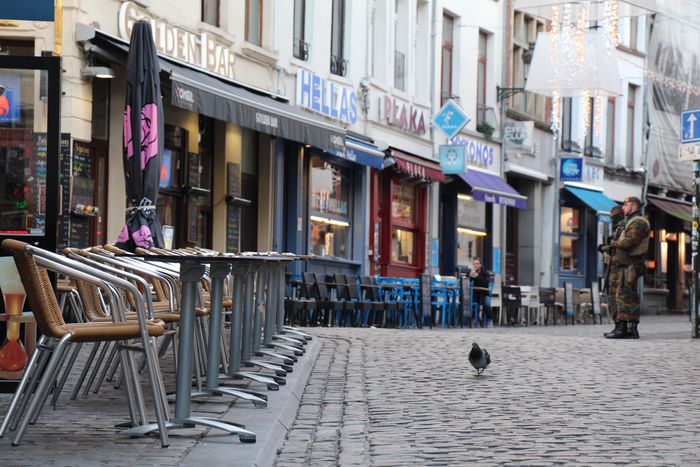 Brussels: The "jihadi town" turned "ghost town" (2/2) 
Published on
The second part of an article chronicling the prevailing atmosphere in Brussels during the recent lockdown, the "jihadi capital of Europe" turned ghost town.
This is the second article in a two part series. Did you miss the first part? Click here. 
Saturday the 21st of November
In the early hours of the morning, the government raises the alarm: concert venues, theatres, shopping centres, nurseries, the metro, schools, sports halls and tourist attractions are to be closed down. The terror alert is raised to its highest level: 4 out of 4. The tone has been set: "Stay home and don't panic."
People's fear is palpable, but so is their annoyance. "They're really pissing us off!" people write defiantly on social networks, "They can't expect us to stop living! What are we going to do tonight?"
We want to snub the terrorists by saying "No! Nobody will take our freedom!" At the same time we're scoffing at them by pretending we're "resistance fighters", or a bunch of "revolutionaries", just because we drink a beer. We are dressed up for a wild Saturday night: "Tonight we're off, it's going to be mad!" Jules had warned that afternoon.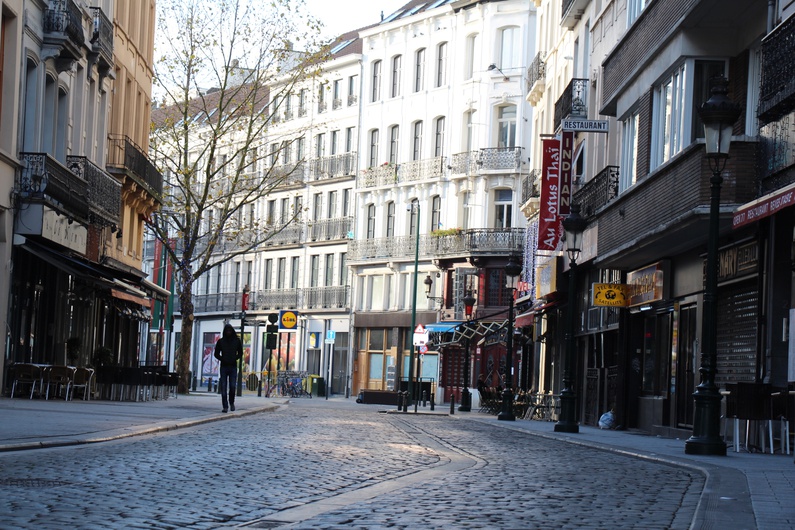 The news comes well before it is time for the aperitif: in order to comply with security measures, all bars, restaurants and nightclubs will close. It's only then we begin to hesitate. We would love to go out, to be like the Parisians and their #tousenterrasse hashtag ("everybody on the terrace"), but is this really prudent? 
"I'm relieved they're closed tonight, I wasn't too keen on going to work," whispers Pierre-Patrice who works in a restaurant right in the city centre. 
"Last night at work, I told myself that if terrorists turned up I would hide behind a bin," says Alice half-jokingly. As for me, at work they tell me which way I should run to escape, "just in case."
Little by little, the European capital turns into a ghost town. The only people left on the streets are those armed to the teeth and driving armoured vehicles, or journalists armed with their cameras. With our eyes glued to television screens, we see the empty streets we walk every day and tell ourselves that things will be better tomorrow, that we will fill the terraces once again, clinking our beer glasses even though it's only 8 degrees.
Sunday the 22th of November
By Sunday evening we will have quickly become disillusioned, as we watch Prime Minister Charles Michel on TV stating that the level-4 alert will be maintained through Monday - the capital will be locked down by fear at least another 24 hours. Never before has a situation like this existed in Brussels, in Belgium, or in Europe.
We get the feeling that we've regained a bit of ground, begun to win our own small victory, when at 8pm the media tells us that a big operation is under way in the old city centre. Inhabitants are being asked to stay indoors, away from their windows. The police ask the media to stop sharing information on the ongoing operations so they may be carried out successfully.
We keep our promise: in order to induce confusion, the media and web users play a game of Belgian surrealism, bombarding social networks with lolcats armed with the hashtag #BrusselsLockDown and plenty of puns: "niveau cat' à Bruxelles," "Inchat'alla," "La chat-ria bruxelloise". Yes, we shut ourselves in, but at least we had a good laugh.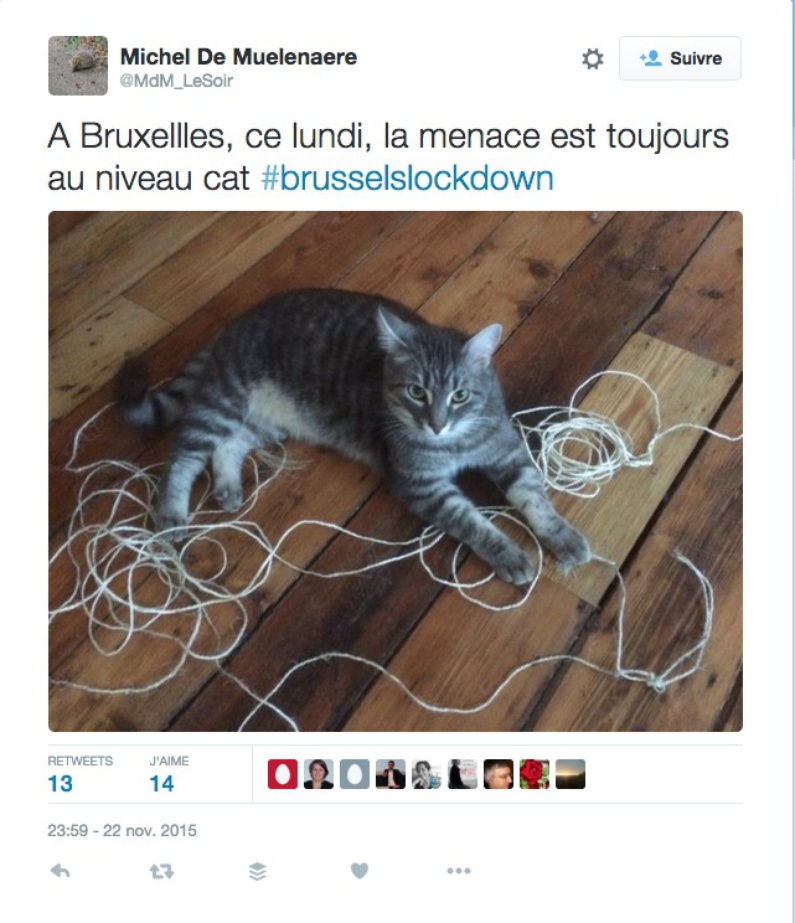 Monday the 23th of November
The old city centre is gloomy on Monday morning. Soldiers are standing guard in Grand-Place and the adjoining streets. Onlookers gather on the Anspach Boulevard to watch the armoured vehicles. The echoes of police sirens resound all over the city. The metro gates are closed. Foreign journalists take their places beside Manneken Pis for a quick news flash, while signs reading "for security reasons, we are closed until further notice" are displayed just about everywhere.
The only people who seem to find this funny are tourists taking selfies in front of military vehicles. On the few buses that are running, the level-4 alert is the main subject of conversation: "In any case, they cannot let this go on forever. Three days, that's okay, but shops can't stay closed all week!" or "They've got nothing, they haven't even found any explosives and, on top of that, they let Salah slip. If they're going to lock us down, they could at least catch them!"
The whole of Brussels is waiting impatiently to be told that this time, this is it, we've got them, you can now go back to your normal lives, thank you and have a good Monday! Alas, the level-4 alert will be maintained all week until next Monday. Schools will reopen on Wednesday, so will the metro. Everything else remains very vague: we are left asking a million questions, the people of Brussels remain hostages to a situation which, while understandable for a weekend, is unsustainable in the long run.
When the prime minister announced that the level-4 alert would be maintained until next week, at work they told me that it was "a historic night". I have done some research: a historic moment was when the United States made peace with Cuba (or the other way around, if you prefer), another was the fall of the Berlin Wall, the Armistice, or the French Revolution - these are things we celebrate. It is hard to believe that one day we will celebrate the week of the #BrusselsLockDown. Be it in Brussels, Belgium, or the rest of Europe.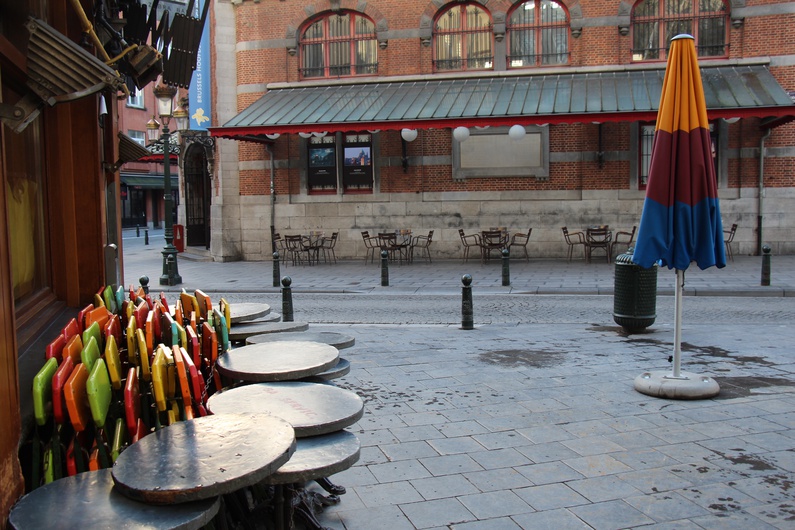 ---
This article was published by our local team at cafébabel Brussels.
Translated from BXL : la « ville-djihadiste » devient « ville-morte » (2/2)