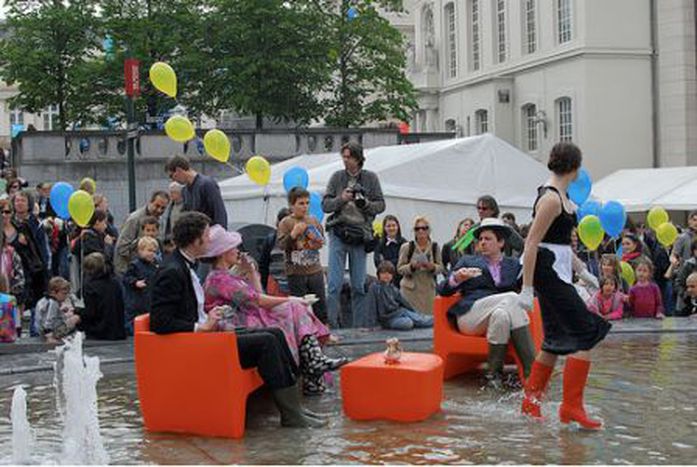 Brussels' Communities gather under the shade of the Iris
Published on
Article by Désirée Ketabchi Translation by Joan Manuel Lanfranco Pari Photo : © martin_vmorris / Flickr During his opening speech for the Iris Festival (Fête de l'Iris/Irisfeest), Brussels Capital Region Minister-President Charles Piqué described Brussels as an example of good understanding between Belgium's major communities: Flemish and French-speaking.
The Iris Festival, which took place on Saturday the 8th and Sunday the 9th of May, offered several concerts, street activities and spectacles in a festive and pacific atmosphere.
On Sunday I decided to spend my afternoon at the Iris Festival. I took a look at the programme on internet, there's a wide offer: bike tours, concerts, urban aperitifs, there's something for everyone! This reflects well the idea of this cosmopolitan city that I got used to: a city with a human scale, always lively and in constant movement.
I start with a walk to the Brussels' Parliament, open to the public for the occasion. I'm heading to the Mont des Arts/Kunstberg, and I see right away that everybody is going in the same direction as me! The people is quite varied, I meet people more or less from all ages, also tourists, who have the chance of discovering Brussels in this festive weekend. The streets are busy and lively. Descending to the Parliament I stop to see the streets performances.
To visit an historic building still carries a certain fascination for me. I ride the double staircase and I get to the Mirror Room, whose windows overlook a small garden. The room echoes with classical music, I find myself imagining a ball of the 18th century. Then I mount on the terrace, which offers a wonderful view.
After completing the tour of the Parliament, I head to the Place du Musée/Museumplein, destination: 'Piknik électronique'. Here, the public is much less varied, nothing but youngsters between 20 and 30 years old, sitting on the grass that covers the square. The atmosphere is pleasant: people talk, drink and dance to electronic music. No quarrels, nobody gets upset with their neighbour, they enjoy the weekend, you can even forget that it's Sunday and tomorrow we will go to work…
On the Place Royale/Koningsplein, the urban aperitif competes with the 'Piknik électronique'. Same jovial atmosphere here, a little more of comfort for those who want to sit at a table or enjoy a deckchair.
My evening ends with a concert in the Place des Palais/Paleizenplein. I never thought of this place for a concert, but I must say that it is perfectly suitable for this kind of events. I discover a French music band that I didn't know, Nouvelle Vague, which covers famous songs in bossa nova version. The concert ends at 11 PM, I'm sad that the day is over, it's Sunday, the weekend has finished and we must prepare for a new week that begins.