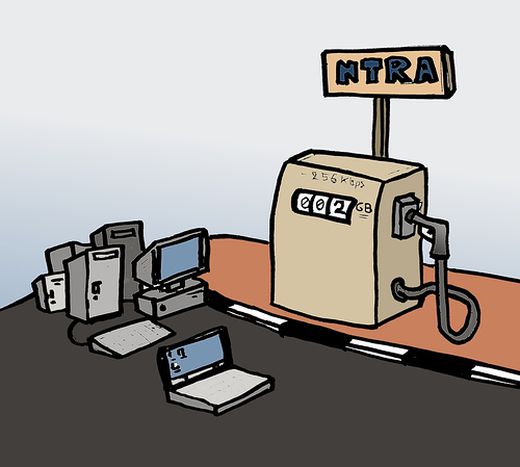 Broadband Denmark
Published on
Translation by:
David Robinson
Is the grass always greener on the other side? If we're talking about a telephone connection at 10MB, and if the 'other side' is the neighbouring counties in the eurozone, then it's possible that the proverb is not so accurate after all
'Assymetric Digital Subscriber Line' or ADSL technology, whereby data is transmitted asymmetrically over the telephone, was developed less than ten years ago, but is already a daily reality. Above all in Europe: according to figures released by the Organisation for Economic Co-operation and Development (OECD) in June 2007, eight out of the ten countries with the highest levels of access to broadband are European – with Denmark topping the list. 
Eight out of the ten countries with the highest levels of access to broadband are European
Since the end of the nineties, the European telecommunications market has been going through deregulation. Previous state monopolies (incumbents) have been opened to competition, and have been either completely or partially privatised. Although they usually continue to dominate the market, competition has forced them to lower prices. 
In Europe, these companies are fairly homogenous, despite differences in income, which fall in a margin of between 30 and 60 euros (£24 - 47) per month. However differences emerge if we take the offers of the most representative companies as a benchmark. 
Offers of less than 35 euros (£28) per month can be found in counties such as Portugal, France, Greece, Belgium, Italy or Finland. The Dutch take the trophy with an average connection charge of 29.70 euros (£23).
Germans, Austrians, and Belgians find themselves at the top of the monthly charges list. Spain too, with an average of 43.50 euros (£34). So, the most expensive incumbents are Spanish (Telefónica –47.65 euros per month or £38) and Austrian (Telekom Austria –49.90 euros per month or £39). I wonder, is the green, green grass on the other side being sprayed with a special kind of fertiliser?!
10 ADSL Megas
GERMANY: Deutsche Telekom's 'Call & Surf Comfort mit Standard-Anschluss' - 39.95 euros (£32) per month 
AUSTRIA: Telekom Austria's 'ADSL 16384/ 1024' - 49.90 euros (£39) per month
BELGIUM: Belgacom - 35.95 euros (£28) per month
SPAIN : Telefónica's 'Duo Adsl 10 Megas and national calls' - 19.90 euros (£16 for three months), 56.90 euros (£45) per month thereafter
FINLAND: Cisco Long Reach Ethernet 10/10 Mbit – 39.50 (£31) euros per month
FRANCE : Free 10 Megas for 29.90 (£24) euros per month. New 10 Megas at 34.90 euros (£28) per month
GREECE: OTE Conn-x: 1024/256 kbps: 16.95 euros (£13) per month, + 15 euros (£12) per month for line rental
IRELAND : Acces Telecom - 49.99 euros (£40) per month. BT Ireland - 35 euros (£28) per month
ITALY : Tiscali - 34.95 euros (£28) per month
HOLLAND: Orange: 20000/1024 kbit/s for 19.95 (£15) euros per month, which becomes 23.95 euros (£19) per month after 12 months
Compuserve: 0480/1024 kbit/s for 14.95 euros (£12), which becomes 29.95 (£24) euros per month after 12 months
PORTUGAL : Telecom – Sonaecom - 34.90 (£28) euros
Translated from ADSL en Europa: velocidad y precios asimétricos