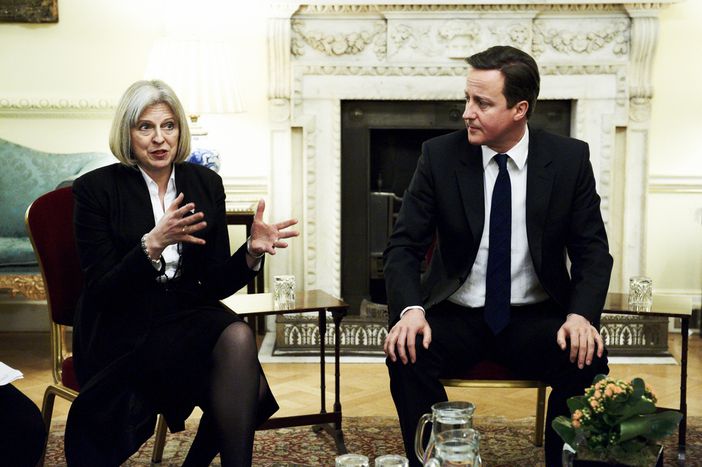 Britain reinforces measures against terrorism
Published on
After a public debate on reducing immigration in the UK, which has divided many politicians, British Home Secretary, Theresa May, announced the expansion of police powers in order to deal with the threat of terrorism.
First, Cameron wanted to close all UK's borders in order to stop the entrance of new immigrants, initiative extremely criticized by the Chancellor Angela Merkel who warned him of trying to act against the fundamental principles of free movement of the Union. Recently, and under a new framework, Britain has decided to strengthen its police force as a reaction to the several extremists that are coming back from Syria and Iraq. According to UK's authorities, the danger is now greater than ever before and the country has to be prepared for everything.
Following the regular governmental process, a new counter-terrorism bill was sent to the Parliament. "When the security and intelligence agencies tell us that the threat we face is now more dangerous than at any time before or since 9/11 we should take notice," British Home Secretary told an audience in London.
A step towards a surveillance system?
After the announcement of this protective decision, a suicide bomber attacked a British Embassy vehicle in Kabul, on the 27th of November, the latest explosion in a rising violence campaign in Afghanistan's capital, the authorities said. Moreover, according to the Scotland Yard, two men were detained at separate residential addresses in south-east London. One was arrested on suspicion of being concerned in the preparation or instigation of acts of terrorism. The other was arrested on suspicion of conspiracy to possess and provide fraudulent documents. Later, another two men were arrested just two days before Remembrance Sunday, suspects of plotting an attack on British soil.
As a terrorist attack might be looming, Britain decided it is time for enhanced security measures which are expected to give police the power to seize personal identification of suspects, making stronger the online scrutiny. UK officials are concerned about British militants returning with experience from fighting in the Middle Eastern states and carrying out terrorist attacks in Britain. Nevertheless, the UK is one of the countries that entirely support Al-Qaeda-linked groups fighting the Syrian government.
This expansion of police powers comes in a moment of political divergence inside the UK, and despite the threat of terrorism being a dreadful reality, it's well possible that Cameron has used this serious threat in order to control his political boat. By announcing an expansion of judiciary powers to curb a possible terrorist attack, Cameron is already opening way to the implementation of a surveillance system. Is the curb on immigration the next step?