Brexit means identity crisis for Britons
Published on
They are young, they are beautiful, they love to travel, and they love discovering what Europe has to offer. The only problem is that they are British. As a consequence of Brexit, they may soon lose the privileges inherent in EU citizenship. Is this just a formality, or a real identity crisis? We met with some young people, who believe that being European is more than a few stars on a passport.
"The right to vote and participate in local and European elections. The right to not be discriminated against. Freedom of movement across the EU..." Laura is all too familiar with the concept of European citizenship. Originally from Oxford, the 24-year-old Briton now lives in Paris where she is doing a master's degree in European Affairs. Although she can cite the rights that one has as a European citizen, she prefers to define being European as: "the sense of a European community, one of unity. In my view, it mirrors a reality where everyone works together for the greater good." 
A passionate supporter of the European project, Laura voted for the United Kingdom to remain in the European Union in last June's referendum. For her and for all British citizens, Brexit heralds the end of their European citizenship, which is only granted to nationals of EU member states. It is an opportunity for many to reconsider their vision of a concept that is often misunderstood, which is sadly neglected by those concerned.
The little things
The concept of European citizenship dates back to the 1 January 1992, with the signing of The Maastricht Treaty. Although it was very vague to begin with, the legal status of EU citizens has seen many changes. Today, it includes both economic and political rights (to vote in local and European elections, to take part in citizen's initiatives, to have legal safeguards, etc.). Yet beyond this list of protocols, a European citizenship also draws its advantage from unique and personal experiences. 
Madeleine is a perfect example of someone who benefitted from these experiences. At 21, her English roots have grown past her nation's borders; she has seen a great deal of the continent having lived her life in two other member states. At first, she lived in Florence and later worked as an au-pair in Puglia, Italy. She then moved to Bourges in central France where she taught English. For Madeleine, having a European citizenship means she can make new, exciting discoveries about different cultures and find pleasure in the small things. "Those cultural sites in Florence, the magnificent coast of Puglia, the festival in Bourges and of course my flatmate's crusted camembert," she says, reminiscing. "I voted remain, and now I worry that Brexit will limit my chances of living and working abroad." 
Changing a lifestyle
Between complex legal jardon lies an essential aspect of being European that Madeleine and a large majority of young Britons cling to: the freedom of movement. She sees the right to live in any member state as a benchmark of the European project. For some people, this aspect goes beyond travelling. It means that citizens have the opportunity for a fresh start, a way to get a taste of a new lifestyle. 
"The first time I went to France I did an internship at a startup in Paris," Sarah, 24, tells us. "Even if my choosing France was a bit random, the experience in itself was a revelation. Now, I take every chance I get to visit the country." Originally from Halifax, a town in the north of England largely affected by unemployment, Sarah was shocked by the contrast between these two places. However, beyond the economic disparities, she found most differences in the daily routines of those living in these cities. "I feel much less stressed here, the rhythm is slower than in England. In France, they take at least one hour to eat lunch! You can take your time, and that makes me happy." Lucy, who has lived in Berlin for three years, tells us that: "I liked Germany from the moment that I arrived. I have a real affinity with the language and my personality fits with the mannerisms of the German people. Berlin forced me to slow down, taught me to savour life experiences and indulge in my passion for history. German people taught me to reconcile myself with the past in a productive and progressive way." 
Does a European citizenship really allow people to change their lifestyles? One thing is for certain: the freedom of movement allows people to discover other cultures from within. Local dialects, fetishised beer brands, or even frequented supermarket chains are all elements of a country that can be discovered by European citizens.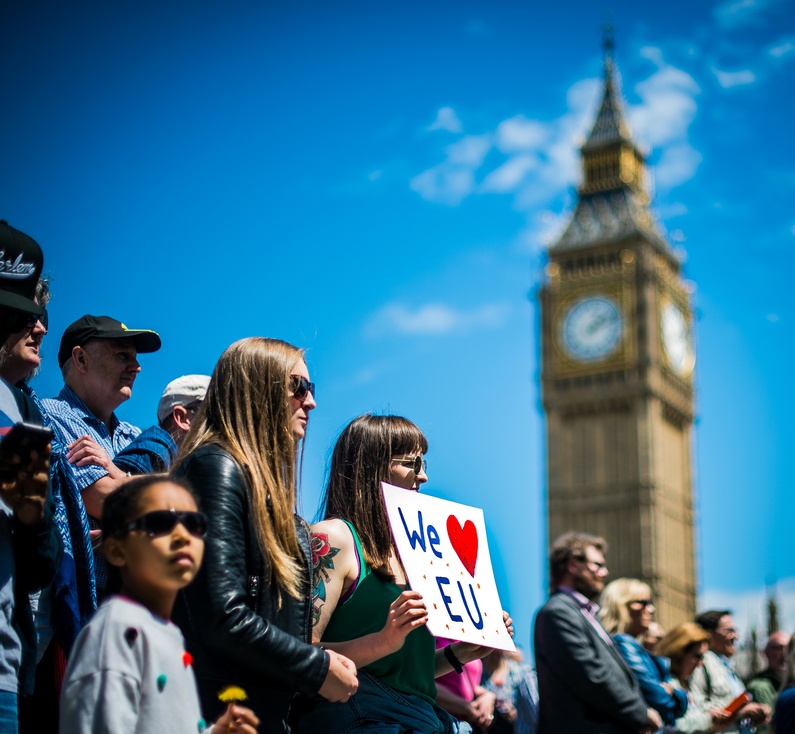 European citizenship for sale?
This all has to do with the genetic make-up of the European project. Its objective: to provide a sense of community by bringing European citizens together. But if Brexit suggests a rejection of the EU, it has also simultaneously revealed the true nature of European unity. "I feel solidarity with people of my age, from other European countries," claims Bradley, a 22-year-old Londoner who has worked in Vienna for three months. "Through my studies in London and my job in Austria, I have been able to meet many young people, many of whom became close friends of mine. Today, I am sad that my government plans to undermine these relationships." 
Solidarity, a sense of belonging... are we in the process of creating a European people? This question is still largely debated; European citizenship and the European reality are only availble to a specific category of the population. Yet, the 'European being' is alive and kicking in our interviewees. They admit to having a European identity that goes beyond the practical benefits. "Travelling through all these countries, speaking foreign languages... I feel more European than I do English!" Sarah admits. "To think that I will soon have to ask for this citizenship, to reclaim it, is weird to me." 
What's more, Brexit means the end of a dream for British-Europeans. Though negotiations on the UK leaving the EU have barely began, it's clear that the notion of European citizenship will be a contested subject. In November 2016, a deputy from Luxembourg called Charles Goerens proposed the idea of an 'associate citizenship' which would enable Brits to keep some European rights. Many of our interviewees were sceptical about this proposition. "I would be very happy to keep my European citizenship," Laura admits. "However, an associate citizenship would go against its legitimacy. Britons would have to pay for it, which means there is a price on European citizenship. The idea is great but it has come too late. The vote has been cast and the UK has nothing to propose." 
For the time being, the dossier will remain in suspense until the general elections take place 8 June in the UK. Prime Minister Theresa May has shocked the UK along with the rest of the EU with her decisions up until now. Rallying a conservative majority to vote for her, her Brexit negotiations will detemine the future of the European citizenship for the British people. Yet, with or without Theresa May, Laura claims that: "Losing my European citizenship would only mean that I'm no longer European. I will continue to be a part of this same cultural and social community." 
Translated from Brexit : ô drame citoyen