Brexit: In Guinness veritas
Published on
Translation by:
Odile Michely
In December last year, Theresa May announced she wanted to avoid a hard border between Northern Ireland and the UK at all costs. This marked phase one of the negotiations, but has raised many Irish eyebrows. Relations between Northern Ireland, Ireland and the UK are hanging by a thread. So we headed to Irish pubs in Brussels to talk to Irish expats, because we've heard enough from heads of state. 
The 'Good Friday' or 'Belfast' agreement, signed in 1998 by Northern Irish defence forces, put an end to thirty years of bloody clashes. It stated that the Republic of Ireland would waive its territorial claims on the Northern part of the island, and that each individual born in Northern Ireland has the right to identify as British or Irish. The agreement also paved the way for a common mobility zone to be established, allowing people, goods and services to move freely between the borders on both parts of the island. This was a crucial pact that is now being challenged by Brexit, which is putting Northern Ireland in a vulnerable position. If the on-going negotiations with the EU lead to a hard Brexit or a no-deal situation, Northern Ireland risks facing a hard border, which would have serious economic, political and security repercussions. I thought that these tensions would be a source of concern for Irish people, so I went to find Irish expats in Brussels in their natural habitat: pubs.
"I don't care"
I met up with the Cafébabel team next to the Schuman roundabout, in the heart of Brussel's 'European neighbourhood'. We headed to the first Irish pub on our list that an Irish friend recommended to us called "The Old Oak". Lost in the craze of European institutions, I imagined an Irish pub with an Irish name but no real soul or personality. Much to my surprise, the place was rather cosy. It was like we were in a Galway pub; there were Irish pennants attached to the walls and overwhelming dark wooden beams all along the ceiling. I take a seat and as the waitress approaches me I ask myself one question: "Irish or not Irish?" Bingo: I notice she has a south Irish accent. Reassured, we all order a round of Guinness to get in the mood.
I take advantage of my second order to call out to the person I think is manager. Tony has been living in Belgium for nine years and comes from a small town close to Dublin. Brexit doesn't seem to faze him: "I think that Europeans don't understand the impact that this will have on the daily lives of Irish people. They have a tendency to overestimate it." This statement shocks me, as I was expecting to hear the complete opposite. 
In digging a little, I came to understand that this mind state is founded on an uncertain certainty. "I don't know what's going to happen but it's clear that the North will become a strange country. I think that there will still be an open border," Tony explains.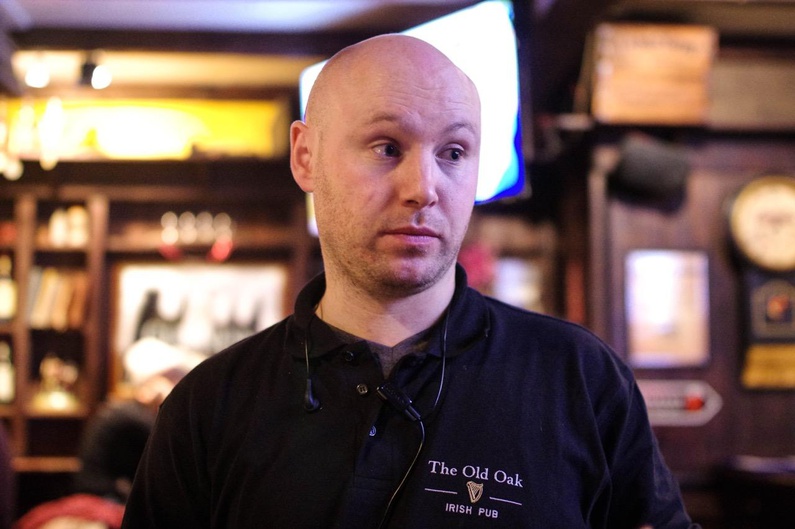 Steven, the bartender, doesn't seem any more moved by the ongoing negotiations. While organising the glasses and taking orders from the waitress, he warns us that he doesn't have much to say. When we ask him what he thinks about the potential impact Brexit will have on Ireland, he answers with a terse: "I don't care." Without explaining his sentiment, I quickly understand that the interview is over and he turns his attention to another customer to take their order.
I admit I was confused. I didn't expect to learn something about Brexit in a pub, but I thought that Irish people – being geographically and historically so close to the UK – would at least have a more informed opinion than me. My third attempt was with Phoebe, the waitress. She seems more concerned. Her boyfriend is British, and has been working in Spain for 15 years. He decided to apply for a Spanish passport, because "you never know". She is equally as worried for her family in Ireland; one of her aunts crosses the Northern Irish border daily, and she doesn't know how Brexit will affect her. What we take from the conversation is that Irish people sometimes feel as though they have lost control of their own fate.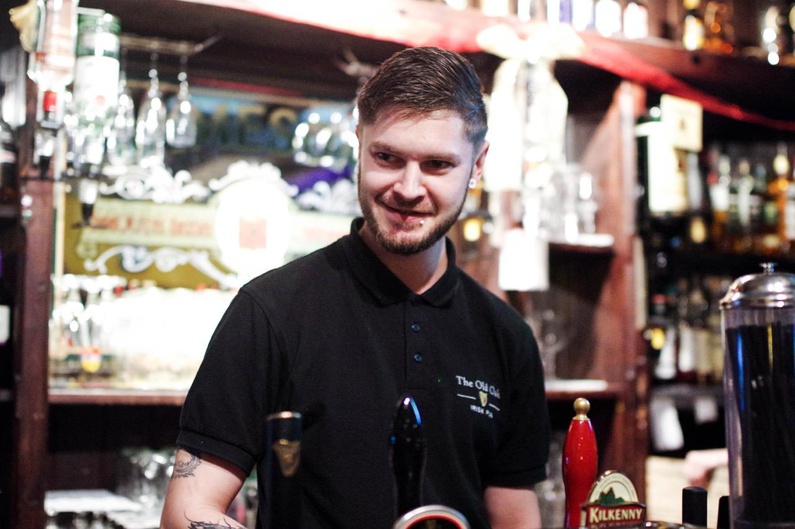 "Every four days, there was a bomb or shootings"
We've finished our beers and we have interviewed all the Irish people present in this pub, without seeing things more clearly. It's time to explore a new tavern. Some streets farther we find the the "Coolock". Smaller and less fancy, its regular clients don't resemble the eurocrats found in the Old Oak. Curious looks seem to follow us as we walk into the pub, and small posters decorating the walls don't give us the warmest welcome either: "Don't ask the bartender for credit, you will be disappointed", "The bartender is always right, even when he is wrong". In other words, it's a pub for regulars. For the sake of the experience, I ask the bartender for another Guinness and whether or not he has a moment to answer a few questions. While we wait for our order, we notice a group of young men speaking in accents we are beginning to recognise. One of them agrees to speak with us.
Phil comes from Dublin. He's been a headhunter in Brussels for six years, and criticises those who voted in favour of Brexit. "We live in a world of ignorance where people are too lazy to stay informed," he admits. The tone has been set. He doesn't necessarily think that Brexit will affect people in the south of Ireland, but feels sorry for people from Northern Ireland, a majority of which voted to remain in the EU. He hopes that the negotiations won't result in a hard border, especially given that alcohol could become more expensive. "About four years ago, the pound was low and people used to drive from Cork in their camper vans, returning with hundreds of litres of alcohol," he explains. Anecdotes aside, he fears that certain tensions will resurface around the Northern Irish border. "We won't talk about it spontaneously, but if you ask us the question, Irish people are really worried." Our time spent in the Coolock was not in vain. I finally start to understand what's at stake when it comes to a potential new, hard border.
Pub crawl
Glancing at my watch, I see that the evening is well under way, and I still have to find someone from Northern Ireland. I wave my hand to the bartender. He nods his head, pours himself a beer and comes to take a seat with us. With wide shoulders, a bushy beard and a somewhat gruff air to him, Darragh is stereotypically Irish. He used to live in Dublin and has been a bartender in Brussels for several years. Contrary to what we've just heard, he spontaneously starts speaking about what Brexit means for Ireland. "It's an opportunity for Ireland, now, because the US is going to be turning its money towards us," he predicts. Darragh is old enough to remember the months of terror and the attacks that adorned the North-Irish conflict. "I remember seeing that, three or four times a week in the news, there had been a bomb or shootings. Young people don't remember. But the feeling is still there. If they put up a hard border with checks and controls, it's going to resurface," he says, regrettably.
It's quite a gloomy picture Daarragh paints, even if he knows that it's hard to predict how things will end. As I thank him for his answers, he turns to ask me the same question: "And you, what do you think of Brexit?" A little surprised by this turnaround, I blabber some generality about the British faux pas. We laugh for a few minutes, but it's time we continue what has turned into a pub crawl. My last question will be: "Do you know any Northern Irish people around here?" After a moment of reflection, he tells me to go to a bar-restaurant at the end of the street. Full of hope, we set out to the "Wild-Geese".
That's where we meet Paddy. The place is less typical, much more polished. Luckily, Paddy comes from Northern Ireland and agrees to speak to us. He has lived in Belgium for seven years, and grew up in Belfast. He is profoundly saddened by Brexit. "It was shocking, it was a national suicide. I think that those who voted had all the necessary information on the consequences of their vote," the bartender explains, and continues: "It hasn't really impacted my life directly but it's traumatising. Especially for all the young people who voted against Brexit because they wanted to work and have experiences in Europe." Between two beers, he admits being scared of the problems and tensions that will arise if a hard border finally gets put in place: "Free movement is very important to those living on either side of the border. I have a nationalist past, I don't really recognise the state of Northern Ireland and I don't really recognise the border," the 40-year-old explains.
At the end of all these encounters, I understand that Irish people feel a little dispossessed of their right to decide. In any case, things can change in a heartbeat, and the voice that still sticks in my head until today is when an English man said: "Hurry up writing your article, because it's not going to happen." Not much has changed since, except for Theresa May promising that no hard border will be put in place…
---
Silvia Giacon and Isaure Magnien also contributed to this article.
Translated from Brexit : in Guinness veritas