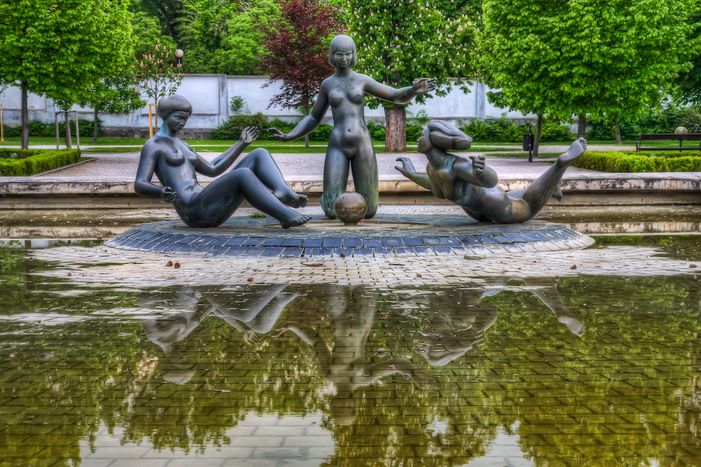 Bratislava: I am my own Master
Published on
The mas­ter of their own fu­ture. The eco­nomic boom of Bratislava is all about the women. The daugh­ters of the last gen­er­a­tion born under com­mu­nism are the real pro­tag­o­nists of the eco­nomic and so­cial re­nais­sance of the Slo­vak cap­i­tal. They all share the same phi­los­o­phy: I am my own mas­ter. 
Simona is wearing red nail polish. Impeccable and fresh. Eyeliner around her eyes. And dressed in a fireman's uniform. She's a volunteer. Because here, in Bratislava, "it's a job only for men." But she could not care less; she already has a job, and she manages quite well on her own. The rain is coming down hard on the asphalt at the station in Dúbravka, in the periphery of the Slovak capital. 
Simona Lhotová is the leader of a group of recruited high school girls, who do exercises in fire and security after class. In a month's time they will be one of the teams in pink to try their luck in a challenge against the other three stations in the city. It's a game, but also a change to really test their skills. At the age of 25, Simona is the only supplier of technical equipment for firefighters in the whole country. Starting with her first deal three years ago — a commission of 25,000 euros — she has done it all on her on, with a spark of passion in her eyes, and an economics degree in her pocket. Today, her portolio includes 30 clients. "I always wanted my own business," she admits. Her philosophy is shared by an entire generation, choosing to remake the Republic of Slovakia, barely an adult after the peaceful breakaway from the Czech Republic in 1993.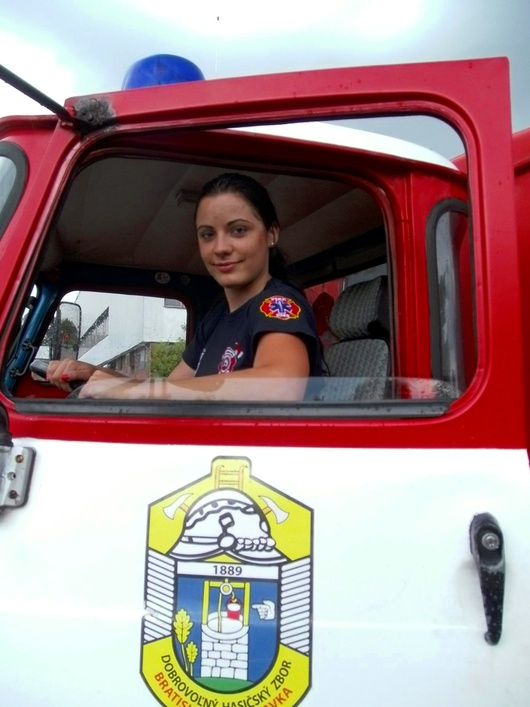 According to many, the newly elected President Andrej Kiska, elected in June, is "the first to not have any ties to communism." What do you know, even he is an entrepreneur. Bratislava now has the face of Simona; but also that of Ivica, a 27-year-old author and copywriter; or Luica, architect and interior designer; or Tamara, a mother and entrepreneur at 30. All of them are women and all of them young. The common denominator is a small business started from scratch and the will to be the master of their own lives. And, obviously, all the obstacles they've encountered along the way.
"Couldn't You Find a Normal Job?"
But the biggest obstacle is an invisible one. "We grew up in a communist country. They taught us only how to get a job, to become an employee," explains Tamara Osad'anová. She lost her position as an English teacher when she became pregnant. But two years ago, she started Bruncher, a breakfast catering business for breakfast meetings. Behind Bruncher is a website created in nine months. "Another pregnancy," jokes Tamara, carried out with the help of The Spot. Officially, it calls itself a 'coworking platform', but in reality, it serves as an open space for brainstorming, education and practising the art of business planning, as well as finding capital and investors. In just two years, more than 100 start-ups have grown out of The Spot.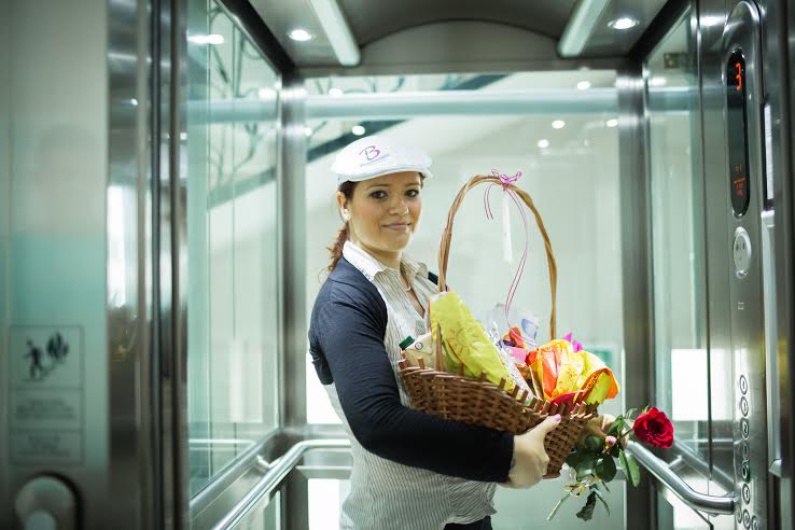 The bureaucracy also poses substantial challenges. "5000 euros just to start a company. And for me to pay 1000 euros for an employee, I'd have to spend at least 1800, with taxes and social costs," complains Tamara. "The banks also don't want to give loans to small projects." But Tamara still managed to make it. Just like Ivica Ďuricová. When she opened her agency Adlervia, her parents asked her — just as Tamara's did — "couldn't you just find a normal job?"
When she first put her agency's plate up on her postbox, some of her neighbours avoided her for a while. "For the children of the last regime, the entrepreneurs were all corrupt." But Ivica didn't give up. She writes web content and creates online advertisements for 300 small clients. At the age of 19, she opened her own language school. Since then, she's published two books on economics and her latest, a mystery novel, is about to be released. "I don't want anybody but myself as my boss." Maybe that's why, three years ago, she took Ján Solík up on his proposal to start Yeas in Bratislava. They created it from nothing, this association of young entrepreneurs, which connects 200 young Slovak entrepreneurs and helps with consulting, education and selects which projects to present to potential investors. They call them 'business angels.' "There is capital available, but not all the projects are ready for that step yet. We've received 300 proposals in the past three years and only 20 have been good enough to attract investors."
"when you hit rock bottom you can only go up"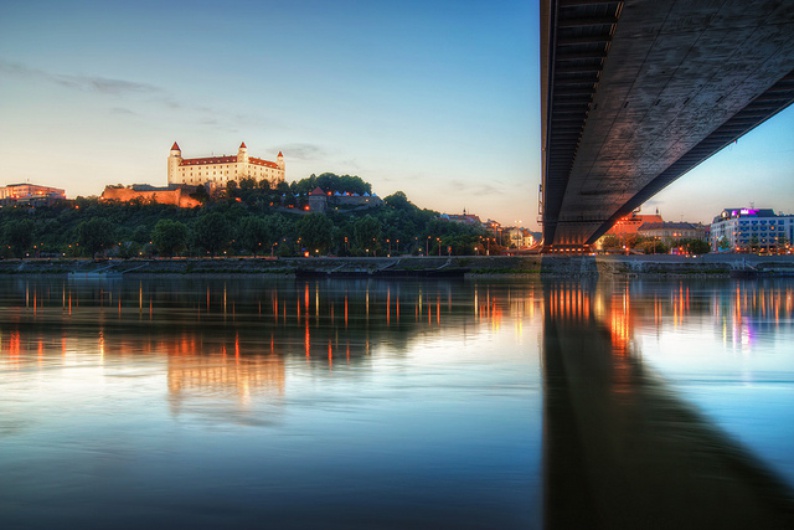 Compared to the amount of people still employed by the major companies, like Volkswagen (9400 employees), Bratislava is still a city of few, but brave and dynamic entrepreneurs. According to the OSCE, youth unemployment in Bratislava was 17.7% in 2012, while the rest of the country suffered with 30%. More than 6000 new businesses were started that same year, according to TwinEntrepreneurs, and 34% of the new businesses have at least one women in the management team. In order to raise the female quota, the EU has contributed with funding through initiatives like Regionfemme, which organises seminars, consulting and help for start-ups. More than 2000 entrepreneurs and managers from Bratislava and Vienna have been involved in the project over the last four years. 
Luica Haquel, an architect, is one of them. She just returned from Paris, where she received a Masters in Urban Studies and where she had a bright future ahead of her. "I still chose Bratislava. I had to go back to my roots in order to become a great architect." She opened her own design studio in 2008. "It was difficult. The big companies get all the advantages here". The turning point came in 2012, when- in a moment of economic and professional crisis- Luica started going into interior design project, applying feng shui. "I had to hit rock bottom to know that it could only get better", she explains on the banks of the Danube.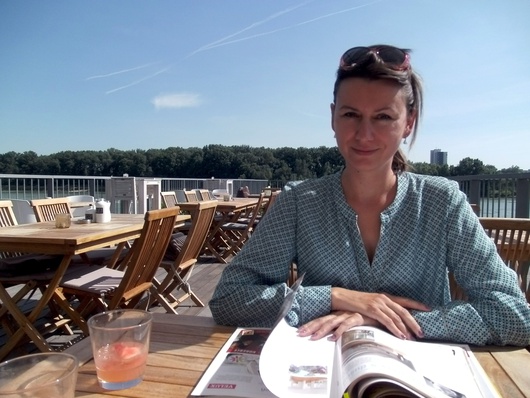 The panorama of Bratislava is mirrored in her sunglasses, both the contemporary commercial centre Eurovea and the Novy Most Bridge, an enduring symbol of communist modernity, between the castle and palaces of Habsburgian elegance. "People are really motivated here: we know that we are capable of doing things that were impossible during the communist era. This motivates me and pushes me to climb every obstacle in order to become the best in Europe at what I do."  It is all a matter of perspective. And Luica, Ivica, Tamara and Simona are doing their best to share theirs with Bratislava and the new Slovakia. 
This article is part of the special "EUTOPIA: Time to vote" edition project, dedicated to bratislava. The project is sponsored by the European commission, the french ministry of foreign affairs, the hippicrène foundation and the evens foundation. 

Translated from A Bratislava non avrò altro padrone all'infuori di me