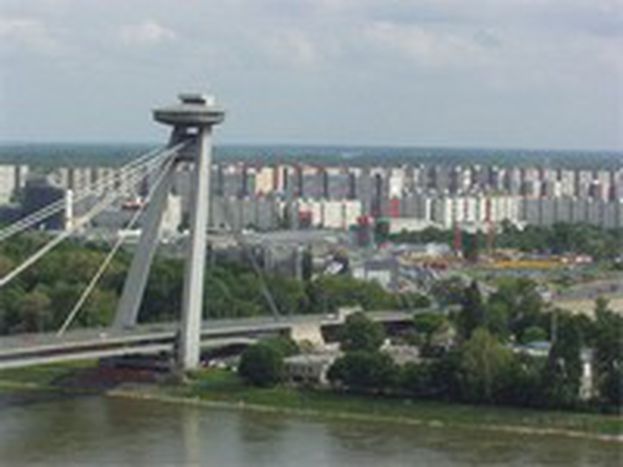 Bratislava, an emerging butterfly
Published on
Bratislava's communist past, although evident in its rickety transport system, is quickly being overcome to reveal a vibrant and welcoming city.
What if you were offered the chance to study or work in Bratislava for a year? Would you be interested in going? Chances are that you have heard very little about Bratislava, or even Slovakia.
Changing times
When I first moved to Bratislava three years ago from California, I knew next to nothing about the city but one thing was very obvious on my arrival: Bratislava was in the midst of a great metamorphosis. Whatever it once had been or whatever it had looked like, the scaffolding in front of buildings, the street work and construction sites all spoke of a city that is looking to create its place alongside other magnificent European capitals; not just aesthetically but also politically.
Like many people, I knew Bratislava was the capital of a former communist country and was curious to see how much its communist past had influenced present day Bratislava. In the quaint old centre of town, with its winding streets and brightly painted buildings, there are few obvious reminders of these times. That is until you try to stroll up to the city's castle and are faced with traversing a communist-built dual carriageway. Once on top of the hill, where the castle is perched, the view clearly demonstrates the two sides to the city. On the one, there is the old town and its surroundings, on the other, a mass of concrete, sky-scraping tower blocks which house the majority of Bratislava's population.
Enthusiasm for the future
Although there is no overt nostalgia for the days under communism, and most are satisfied to forget and move on, many of the older generation will remind you that life under communism wasn't all that bad. The political and economic changes Slovakia is experiencing are particularly hard for them as moving past communism has happened rapidly. The longer I lived in Bratislava, I realised that the enthusiasm for change and growth was reflected in its people. Many Slovaks are keen to widen their education and experiences through travelling abroad, to study foreign languages and to demonstrate that the people are tolerant and eager to create business opportunities in Slovakia. As the metamorphosis continues, so does the confidence that Bratislava is taking its place among other capitals of the European Union. It's this enthusiasm to change for the better that makes Bratislava a great place to live.
PRACTICAL INFORMATION
Language
Slovak is challenging, particularly if you don't have any prior knowledge of a Slavic language. For a place where you can speak English, try The Dubliner Irish Pub in the Old Town.
Universities
Bratislava houses Comenius University, the Slovak Technical University and the University of Economics. Comenius offers the best Slovak language courses: The Institute for Language and Academic Preparation for Foreign Students (Šoltésovej 4).
An original place
Galéria Duna is a dance club located in what was once an underground nuclear fallout shelter (Radlinského 11).
To do
Walk through the historic Old Town and find a restaurant that serves bryndzove halusky, the national dish of Slovakia which consists of boiled dumplings topped with sheep's cheese and bacon. It's delicious, really!
Not to do
Pay in euros. Some of the larger chain stores and restaurants accept euros in Bratislava but you'll likely be overcharged. Best to exchange your euros for Slovak crowns at a bank.
Accomodation
Costs for a studio or a one-room flat range from 8,000-10,000Sk crowns (200-260 euros) a month. See www.reality.sk for ads.