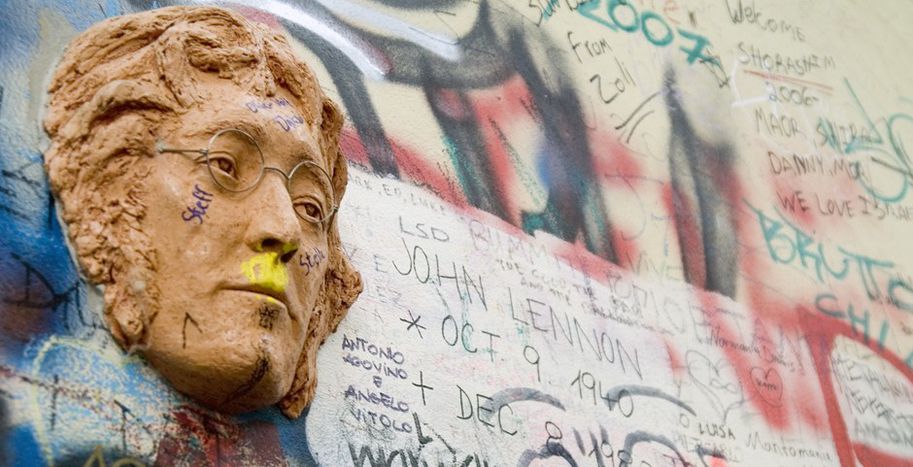 Brand Lennon: 70 years on and still very much alive
Published on
Translation by:
Elaine Jordan
'I can see myself in an Irish village, swimming in a river, sleeping outdoors, playing darts.' John Lennon would have been 70 years old on 9 October. Yet in a way he is 70, because no man who has died is more alive than Lennon. On that 8 December 1980, when Mark David Chapman shot him dead in New York, Lennon's persona took on a new dimension
The Lennon brand sells a lifestyle, a way of free thinking; revolutionary but pacifist. Just like others before him, such as Elvis Presley, James Dean and Bob Marley, Lennon has posthumously become an icon for businesses, cars, sports trainers as well as for thousands upon thousands of items of clothing. His wife and sons have been running the Lennon empire since his death. But would Lennon have wanted all this? Yoko Ono and her son have responded defensively to criticisms from various journalists, former band mates and other artists. 'We are not doing this for the money. I just wanted to keep my father's image alive with the public, and television is a way of reaching young people.' Well, mission accomplished, if that was their intention. The only dead thing about Lennon, is Lennon himself.
What sort of person would John Lennon have become? Opinions are divided. The late George Harrison believed that the singer would by today have moved into a different field. 'His talent was starting to wane and he was becoming more interested in other areas of life. He was a loving family man, able to write sweet love songs but missing that revolutionary drive of before.' Noel Gallagher from Oasis sees him as an avant-garde. 'Lennon was always 20 years ahead of his time and even today he would have been 20 years ahead.'
The best thing and worst thing, is that we will never know what might have happened; what sort of person he might have become. What we do know is who he was and who he was turned into by family and those close to him. Come what may, there will be countless parties to celebrate his 70th birthday.
On 1 and 2 October his widow Yoko Ono celebrated Lennon's memory in style at the Orpheum Theatre, Los Angeles. Who better to put on a show than Lady Gaga. With the We Are Plastic Ono Band she managed to send the crowd wild. The other thing that wowed the crowd was John Lennon's piano, brought on stage as part of the choreography of the songs.
Of all the birthday plans, the one that stands out most is the relaunch of the ex-Beatle's records after he split from the Fab Four. As well as the sale of eight digitally remastered cds, there are also jamming sessions from the original recording. Of course, in addition to the planned marketing tributes, a charity concert has also been scheduled for 12 November at New York's Beacon Theatre. Guests will include Jackson Browne, Patti Smith, Cyndi Lauper, Aimee Mann and Shelby Lynne. The proceeds will go to the Playing for Change Foundation, an organisation that promotes peace through music. For their part, former members of Lennon's first band, The Quarrymen, will celebrate his life with sixteen gigs across the United States.
On 9 October Yoko Ono is going to Iceland to open the Imagine Peace Tower on Videy Island; another monument to peace and the memory of Lennon will be unveiled in Liverpool by his first wife Cynthia and their son Julian. Across the Atlantic, showing on large screens throughout the USA, will be the Lennon NYC documentary.
Lennon lives on, he lives on everywhere throughout the world, on CD players for teenagers, on vinyl for his more retro followers, on t-shirts, cups, folders, badges and posters from every city. Even though I am sure the old fans will join in the celebrations, perhaps for them, Lennon will no longer be the 'Beatle' they once worshipped and cried over during his heyday.
Happy Birthday John.
Translated from 70 años: Lennon (y su marca) sigue vivo