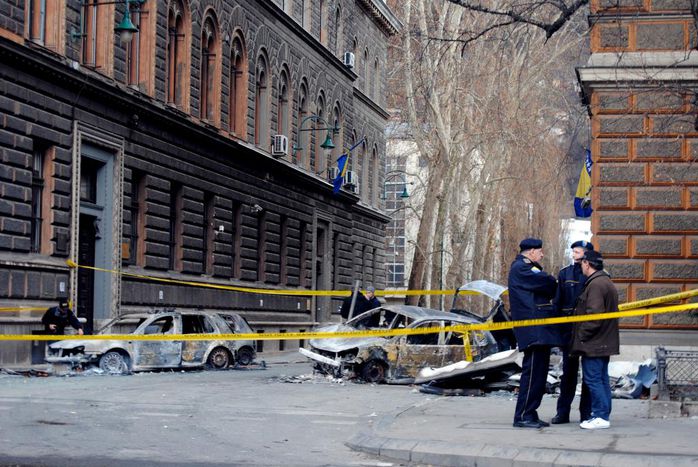 Bosnian uprising awakes over the immense difference between rich and poor
Published on
A hun­gry man is an angry man. He who sows mis­ery, reaps anger. These are the yes­ter­day writ­ten graf­fiti on Sara­jevo's burned gov­ern­ment and pres­i­dency build­ings. Fri­day's vi­o­lent protests ended up by burn­ing build­ings of the gov­ern­ments in many Bosn­ian cities, such as Tuzla, Zenica, Mostar and Sara­jevo. Pro­test­ers also burned the build­ings of the eth­nic Bosniak and Croa­t­ian po­lit­i­cal par­ties in Mostar. This was done to­gether by Bosni­aks and Croats, who do not be­lieve in eth­nic di­vi­sion any­more, who are hun­gry, un­em­ployed and tired of empty promises.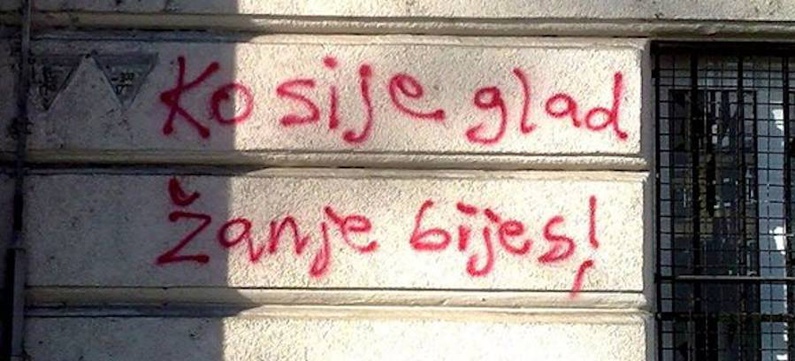 Bosn­ian pro­test­ers were mainly work­ers and un­em­ployed youth, but today they are mainly pre­sented in Bosn­ian media as "hooli­gans who de­stroyed cul­tural mon­u­ments"., Politi­cians try to di­vide the na­tion again through their media, those who are pro vi­o­lence and those against vi­o­lence, and they suc­ceed in it. Sur­vey on the biggest Bosn­ian news por­tal Klix.​ba says at this mo­ment that there are 6547 peo­ple who jus­tify yes­ter­day's vi­o­lence and 5206 that don't. In for­eign media no­body writes about hooli­gans, all of them re­port about over­all dis­sat­is­fac­tion, un­em­ploy­ment, cor­rup­tion and hunger. Those who de­stroyed the build­ings yes­ter­day are all un­em­ployed youth, cheated work­ers and peo­ple with no fu­ture. Their bad fu­ture is being pro­duced in the gov­ern­ment build­ings for ages. Last two decades au­thor­i­ties taught us to hate, taught us to bribe, taught us to keep silent, never say­ing any­thing against them­selves and al­ways di­rect­ing to those who are sup­pos­edly a dif­fer­ent na­tion. That's the Bosn­ian pre­sent sit­u­a­tion. We are learned to hate and learned to de­stroy, noth­ing else than that. 50% of us are dis­em­pow­ered and robbed by those who sit in these burned build­ings. Other 50% got their po­si­tions there, mainly through cor­rupted ways, with­out proper job pro­ce­dures, with­out proper ten­ders and only thanks to rel­a­tives' con­nec­tion, po­lit­i­cal par­ties' obe­di­ence and other cor­rup­tive be­hav­iour.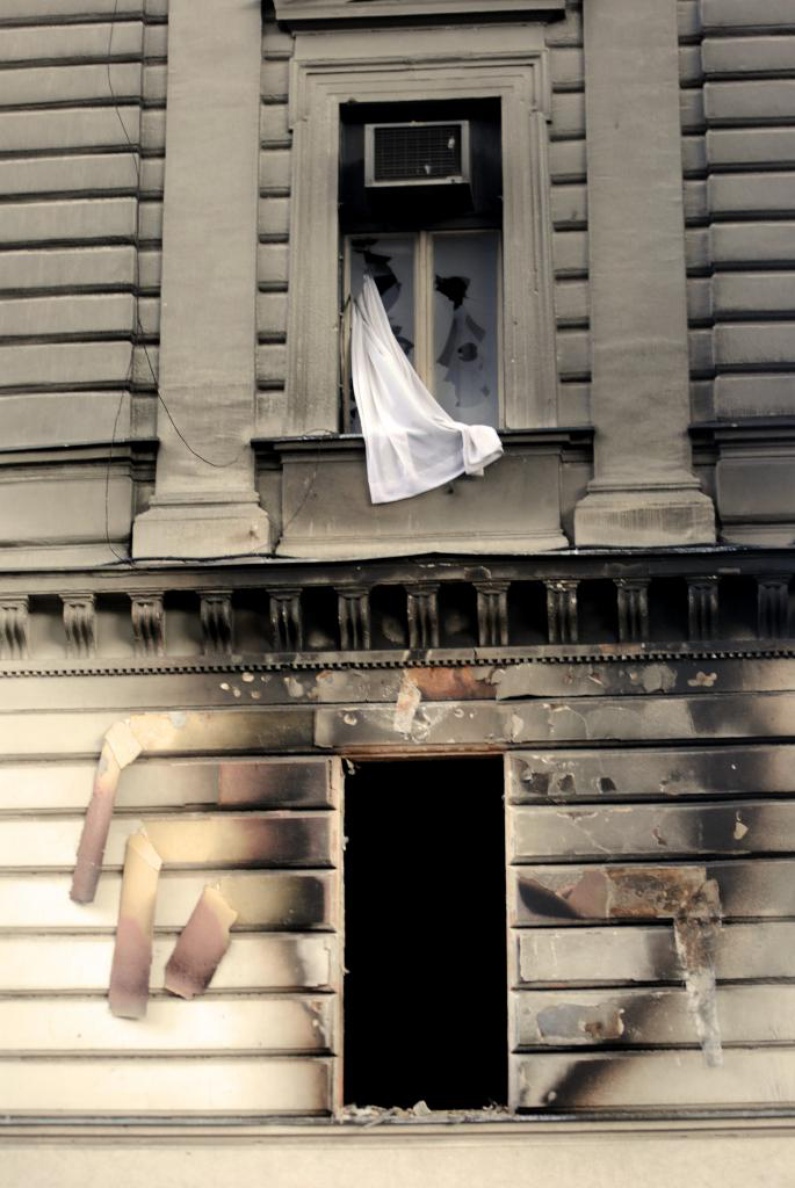 Bad pri­va­ti­za­tions and no re­spon­si­bil­ity for them
When Sara­jevo's Gov­ern­ment build­ing was on fire, my mom was across the street, look­ing at it and cry­ing. At the same time she is 62 and re­tired after 40 years of work­ing, but is still tak­ing care of a friends' kid, be­cause her pen­sion of 160 € is not even enough for the house over­heads. After the war, in 1996, com­pany Ma­gros where she worked re­mained in good con­di­tions and could have con­tin­ued work­ing, own­ing four shop­ping malls in the city cen­tre and loads of other fa­cil­i­ties. Un­for­tu­nately, thanks to gov­ern­ment thieves Ma­gros doesn't exist any­more, along with many other com­pa­nies that used to be in state own­er­ship. Bad pri­va­ti­za­tion took place all over the coun­try and many of their em­ploy­ees even died wait­ing for jus­tice. No­body was ever sued or processed for these pri­va­ti­za­tions, and no­body even shed a tear for these com­pa­nies. There has been no will­ing gov­ern­ment to pro­tect these work­ers over the last 17 years. There'd been hun­dreds, even thou­sands of peace­ful protests after the war and none of them suc­ceeded. The Fri­day's vi­o­lent protests are just a sign that peo­ple are com­pletely fed up with pre­sent ways of gov­ern­ment dis­func­tion­ing. They have noth­ing to lose, noth­ing to care about, noth­ing to be busy with in­stead of de­stroy­ing. My mom just re­mem­bered the war, but later on she re­al­ized that peo­ple in these build­ings share re­spon­si­bil­ity for our bad past, cat­a­strophic pre­sent and prob­a­bly even worse fu­ture.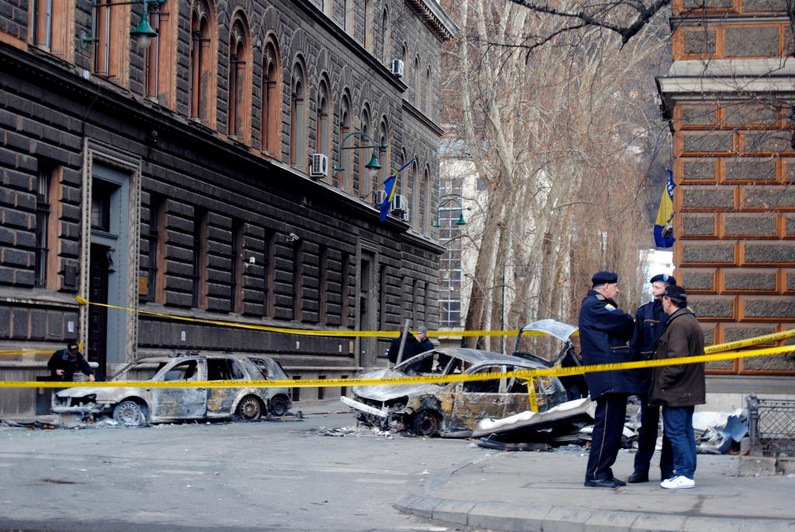 35 year olds who never worked and still live at par­ents
Those who are named as hooli­gans are ei­ther cheated work­ers, or young­sters in their twen­ties or thir­ties, born in 80s and 90s and have never had a proper job, never felt state re­spon­si­bil­ity and never met nor­mal life con­di­tions. Many of them still live at par­ents' houses and can­not even think about found­ing fam­i­lies, be­cause of re­sources' lack and with­out any pos­i­tive life per­spec­tive. None of them feels sorry for the build­ings that are sym­bols of peren­nial rob­bery within the state's in­sti­tu­tions. My friend who was protest­ing yes­ter­day told me that at the be­gin­ning he shed some tears for the mu­nic­i­pal­ity build­ing (which was col­lat­eral dam­age in the end), but when he re­mem­bered all the fixed ten­ders while he worked there, he stopped feel­ing sorry. An­other one told me, after he came back from the protests, that he only feels sorry that Syn­di­cate's build­ing wasn't de­stroyed, be­cause that's also a sym­bol of cor­rup­tion and po­lit­i­cal obe­di­ence. Bosn­ian Trade Union, even though there are al­most a half un­em­ployed pop­u­la­tion, never or­ga­nized any se­ri­ous protests, never fought for work­ers' rights and never re­spected or­di­nary peo­ple. Syn­di­cate mem­bers were on the po­lit­i­cal par­ties' payslips and never had a proper rea­son to stop obey­ing them. 
The sit­u­a­tion is so se­ri­ously bad that even though we sur­vived the war, we still don't have a proper fire­men's be­cause some­one stole the money for it. Gov­ern­ment cuts teach­ers' salaries, they cut stu­dent ex­penses, cut fire­men ex­penses, but they never cut their own salaries, which are the high­est in the re­gion, higher even than in EU mem­ber state Croa­tia, and twice as higher than in Ser­bia. To in­sure so­cial peace, au­thor­i­ties keep tak­ing loans from the IMF, and don't in­vest that money in fac­to­ries, but for their own salaries, which is a non-sense, known only in The Balkans.
After these protests, noth­ing will be the same any­more. What will be the so­lu­tion for the fu­ture, no­body pre­cisely knows. Pro­test­ers don't have a leader and didn't form pre­cise aims. Peo­ple men­tion ad­min­is­tra­tion re­duc­tion, nul­li­fi­ca­tion of the Bosn­ian can­tons and many other dif­fer­ent things. Will it hap­pen or not, we'll see in the com­ing months, but the fact is that Bosn­ian or­di­nary peo­ple will not suf­fer any­more by keep­ing silent. Two can­ton gov­ern­ments fell yes­ter­day. Sara­jevo Can­ton gov­ern­ment fell few min­utes ago. The next one is en­tity gov­ern­ment. Let's hope for new elec­tions and more se­ri­ous ap­proach to state af­fairs after this. There are plenty so­lu­tions for im­prove­ment. Maybe cypri­sa­tion is one of them, in the eth­ni­cally di­vided state, where peo­ple are hun­gry but still love their na­tional sym­bols. He, who doesn't want to join Bosn­ian South Cyprus, can also stay at North. But with the 80 € pen­sion and cult of prime min­is­ter Milo­rad Dodik, who also suf­fers watch­ing Sochi Olympic Games. Maybe this is his last trip.