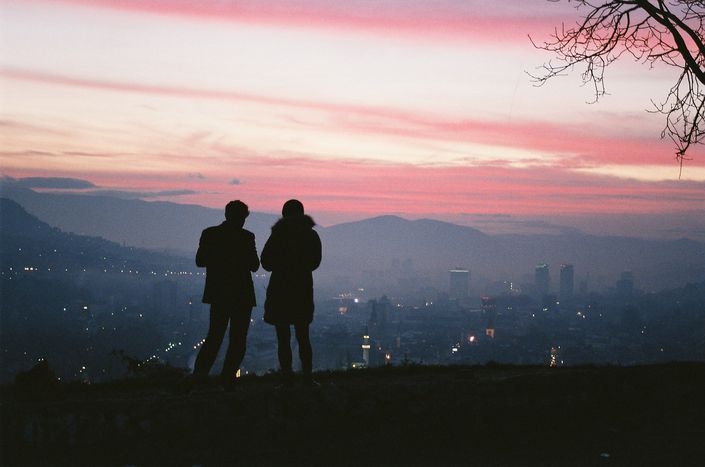 Bosnia: Young people with the courage to stay
Published on
Two decades after the war that tore their country apart, citizens of Bosnia and Herzegovina are still hoping to join the European Union. It's a dream that some don't wait for, as several thousands flee to the West in hope of a better life. While others, less conformist, choose to stay in order to rebuild what has been lost. 
Sarajevo, November 2017. Sitting on a bench by a café tucked away in the Ottoman neighbourhood, Tarik calmly drinks his Bosnian coffee, "kind of like Turkish coffee but better," he explains. At the start of this sunny afternoon, the far away call for the Dhuhr prayer can be heard. Earlier that day, the Sarajevo Cathedral bells were ringing. 22 years after the end of the war that destroyed Bosnia and Herzegovina and caused more than 100,000 deaths, the country is still healing from its wounds. "When the war broke out in 1992, I was supposed to go there. Luckily our Croatian neighbour who was Catholic hid us in her house," recalls Tarik, whose Muslim family was nearly killed, like many other faiths. The city still has scars from this period, just like the apartment buildings in West Sarajevo that are riddles with bullet holes.
Outside the café on Ferhadija Street, Tarik walks by the museum of crimes against humanity, which opened a little over a year ago. A student and aspiring engineer, he is pursuing a master's degree at the University of Sarajevo. "I would really like to stay in Bosnia and build my life here. Even if I could go to Germany, I don't really want to immigrate like most people here dream of doing," he explains. Tarik's opinion is uncommon for a young Bosnian man; most young people actually dream of fleeing to the European Union.
"A major national concern"
Peter Van Der Auweraert doesn't disagree: "The problem in Bosnia is that it's mostly Bosnians who go to the European Union to work." From the headquarters of the International Organisation for Migration (IOM), the coordinator for the Western Balkans adds that "150,000 people have left over the last four years; it's a major national concern." The forty-year-old, in charge of the question of migration in B&H, Serbia, Macedonia and Montenegro, deplores that the population is fleeing to the EU, of which B&H has been a candidate for membership since 2016.
Beyond the unemployment rate rising above 20%, young people point especially to the lack of economic prospects: "With my engineering degree, I could find work here, but that's an exception," explains Tarik. He would have liked to be a journalist, but he knows very well that few professions would allow him to get a job in his country. Not that it matters, you could add, because what continues to scare people the most in Bosnia and Herzegovina is the resurgence of tensions between the three religious denominations that form the federation (50.7% are Muslim, 30.7% are Orthodox and 15.2% are Catholic according to the French ministry of foreign affairs, ed.). These religious divisions respectively correspond to the ethnic divisions between Bosnians, Serbians and Croatians. Since the war in the 1990s, the country has lost one inhabitant out of five, or 19.3% of its population. In 2016, Bosnia and Herzegovina had a population of 3,531,159 inhabitants compared to about 4.4 million in 1991, a year before the conflict broke out.
"The war was not a war on religion. That was just used by politicians to serve their own interests," explains Father Hrvoje Vranjes, a Catholic representative at the Interreligious Council of Bosnia and Herzegovina, founded in 1997. The members of this institution, composed of representatives from Muslim, Orthodox, Catholic, and Jewish religions, worry about the persistent tensions between the different communities. For them, as people who are starting an interreligious dialogue, politicians use religion and stir up tensions inherited from the war for their personal interests. "No one wants to relive the war, so everyone would rather leave," explains Tarik. Whether younger or a little older, they each try their luck at going to the European Union — Germany in particular — especially when some of their family members are already settled abroad. In 2015, the German government put in place a set of rules designed to regulate people immigrating from the Balkans ­– proof of this race to new horizons. According to the document, only 22,000 Bosnians will be permitted to work there until 2020.
Trafficking, transit, and Baby Revolution
While waiting to enter the EU, Bosnia and Herzegovina has settled as being a "crossing point" for its own inhabitants as well as for those looking for a way into the Union. Since the closure of the "migrants' route" in 2016, which has seen more than one million refugees fleeing misery and war, B&H has become an alternative route for attempts to enter the EU. Between 2016 and 2017, the transit of illegal migrants through the country has risen by 350% according to statistics from the IOM, which takes a census of the migratory flow in the region.
However, since obtaining its status as an official candidate for EU membership on September 20th, 2016, B&H struck a sort of deal with Europe. If the Bosnian government wants to offer its immigrants the possibility to move around the Schengen area (for a maximum duration of three months, ed.), it will have to implement everything so that the state plays its part in border and illegal immigration control which, according to Amela Efendic, director of the International Forum for Solidarity - Emmaüs, it's having trouble doing. "Bosnia is used by traffickers as a transit country to the EU, and this human trafficking is more and more difficult to detect," she explains. "The police don't have the resources to stop all this trafficking, whereas you simply have to step out onto the streets to see children forced into begging."
Like Tarik, many young people say they are tired of having to fight against their country's bureaucratic machine, for which each change in administrative status (residence, work) is barely made in time. Even Tarik, who invested time in the Sarajevo municipality, has decided to distance himself from politics: "Everything is so complicated and decentralised that, regardless of the public function, there's no impact in changing things."
In addition to being divided into two federations (The Federation of Bosnia and Republika Sprska, ed.), Bosnia and Herzegovina is also ultra-decentralised, being lead by three presidents. There is one president for each population (Croatians, Bosnians, Serbian), with just as many governments, parliaments and administrations connected to them. An administrative imbroglio initially designed to guarantee that everyone was represented but which, in fact, complicates and wears out the daily lives of citizens. For example, in February 2013, a disagreement between the entities made it impossible for new-borns to obtain a national identification number and, therefore, identity papers. Huge protests were organised by the name "Baby Revolution". And this is just one example among many of the daily complications citizens are faced with.
The courage to stay
Weaving through the bazaar-like shops on the little streets in the Ottoman neighbourhood in Sarajevo, Tarik is on his way for a meeting with his participatory youth magazine, Preventeen. He is the editor of this magazine, which is distributed for free in B&H schools, and the young Bosnian is taking part in a project that aims to raise students' awareness to all sorts of addictions. "This topic is vital. It's important to invest in young Bosnians because they are the country's future," he states. The Catholic priest Simo Marsic, who is head of the pastoral youth centre in Sarajevo involved in interreligious dialogue, shares Tarik's opinion. "We want to help young people build a future here, even if it's hard. These young people are then going to work in the political and economic fields. They will be the pillars of the future society." These opportunities remain limited, though, given the current unemployment rate of over 20%, particularly among young people lacking job opportunities.
If many want to leave Bosnia, others want to come back. This is the case for the young Father Pavle Mijovic, theology teacher at the Catholic University of Sarajevo. When he was eight years old, his family fled the war and took refuge in Croatia where he pursued his studies before training as a priest in Rome. "While I was in Rome, an offer to teach in Sarajevo, my hometown, came up. I knew that if the lord called me to B&H, it was to do something there," he explains. Very invested in the dialogue between the different religions (Catholic, Muslim, Orthodox) in B&H, he started a school in partner with the three theological universities in Sarajevo in interreligious and peace studies. This way, he hopes to lay a stone in the rebuilding of his home country. An undertaking that Tarik will take just as much part in after he has earned his engineering degree. "And if I left, I know I'd never find a café like this anywhere else," he concludes with a smile.
---
Want to write for Cafébabel? Submit your ideas here.   
Translated from Bosnie : ces jeunes qui rêvaient d'Europe