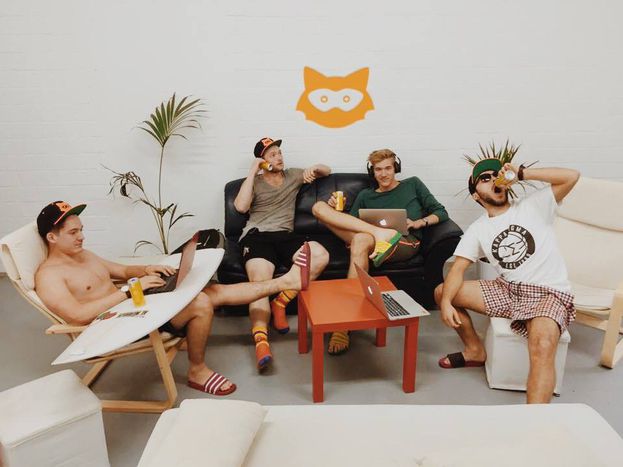 Bored in class? Swap yawning for Jodeling
Published on
The latest social media game to hit our smartphones, Jodel lets you find out what everyone else on campus is thinking – all in real time.
We've all been there: your lecturer's incessant drone is threatening to send you to sleep yet again, and you rummage around in your pocket to find your smartphone to keep yourself entertained. "If this vegetarianism and veganism stuff keeps going, one day I'm going to end up standing outside with the smokers to eat my sausages," jokes one of the anonymous student users of this online campus community.
The Jodel app is a kind of anonymous WhatsApp group that lets you chat with those in your immediate vicinity. You can bitch with strangers about the lecture you're in, for example, or simply chill out and chat about nothing in particular. Internet eggheads will doubtless have already heard about the app from the USA, where it goes by the name Yik Yak. Since 2014, however, German and German-speaking students abroad have been Jodeling to their hearts' content.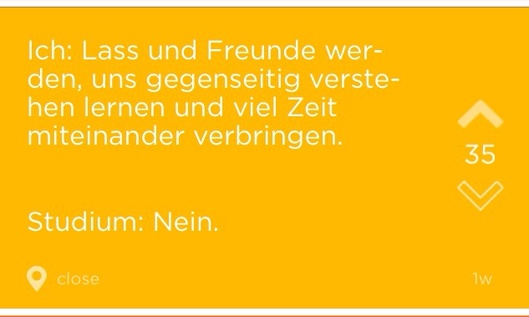 Thoughts about studying | Me: Let's be friends – get to know each other, spend some time together.  Course curriculum: No. (cc)jodel
The mind behind this new breed of organised time-wasting is that of Alessio Avellan Borgmeyer, a student at RWTH Aachen University. The 24-year old came up with the idea during a semester in California. At the time, he was still working on an app called TellM, which allowed users to share secrets with their own contacts. User anonymity has been of paramount importance to him since the very beginning, and the same applies now to Jodel. "It's important to us that the content comes before the user", explains Alexander Lineswitsch, PR and product manager at Jodel, over the phone.
The app is financed by venture capital from a number of sources, including Atlantic Labs, which supports SoundCloud and GoEuro, Global Founders Capital, which has invested in Facebook, LinkedIn, trivago and Jimdo, and Tenderloin Ventures. All of these have contributed to making Jodel's success a reality.
A growing success
Pithy conversation, anonymity, a group mentality – Jodel embodies everything the Internet represents, yet its marketing process takes place offline. Colourful flyers promoting the new app for Android and iOS are distributed in lecture theatres, and they're having the desired effect: keen Jodelers can now be found in Sweden, Norway, Denmark, Finland, Switzerland and Spain. Around 900,000 users have already become part of this anonymous community experience, and it's only a matter of time before more bored students throughout Europe become hooked as well.

Jodelahuitiiiiiiiiiiiiiiii - I'm bored | (cc)jodel/facebook
Early one morning, I embark on my first distraction mission and try out Jodel whilst at uni. Not that I'm condoning such behaviour – be sure to pay attention in class, all of you. Within just a few minutes, a little orange raccoon appears on my screen and asks me if I've fallen down a crevasse. With some trepidation, I turn on my location services. Only by doing so can I find out whether anyone else nearby is logged on and is also dozing off in class.
I have to admit, Jodel is pretty fun. It offers rapid, brief, more or less real-time conversation, not to mention welcome distraction from the daily grind at uni. It also takes procrastination to a whole new level – something its users might have mixed feelings about admitting.
Once upon a time in the Alps
Anonymity: a blessing or a curse?
What also makes the app interesting is that users remain anonymous. They've kept the interface simple: white text on a colourful background. Jodelers can chat about their ideas, their worries and problems, about love and life, and if a user happens to feel lonely, they can ask if anyone fancies going for a beer.
Users can show whether they like one another's posts using an up and down voting system. The most popular are known as the "loudest Jodels" and are deemed to be most worthy of discussion.
This voting system also acts as a control system. The downside to the app's anonymity emerged when an attack threat was posted via Jodel in Sweden. However, content that users consider abusive or offensive quickly disappears from the newsfeed due to the negative feedback it receives, or else it can be reported. If this is insufficient, the user responsible can also be blocked from the app.

Observations on Jodel | Viennese philosophy in one word: #weshallsee | jodel
Who needs credits when you've got karma?
As a reward for being a diligent voter, users can collect karma points. What exactly these points do remains to be seen, but while you're watching with delight as your karma level goes up, don't expect your uni credits to do the same. "What goes around, comes around," is how Linewitsch describes the app's reward system for its loyal users. Watch this space.
Jodel is perfectly suited to our communication-obsessed society – a less inhibited version of platforms like Facebook or Twitter where every single train of thought is recorded and every day-to-day anecdote is dolled up with amusing hashtags. There's also something rather comforting about the anonymity aspect. And when you're privy to the unfiltered thoughts of unseen individuals around you, you can't help but feel a little less alone.
Translated from Studenten-App: Schläfst du noch oder jodelst du schon?