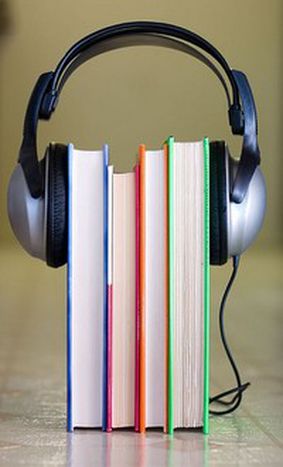 Books have ears
Published on
As the London Book Fair 2007 takes place on 16-18 April, we look at the increasing popularity of the European audio book market
Increasingly, your fellow European commuter is likely to be listening to an audio book as reading the latest Harry Potter or Steven King paperback! Audio books have come a long way from being just the preserve of the visually impaired to a popular alternative way, to enjoy a good book. The range of audio books available to the European public is growing at a fast rate, from passionate love stories to science fiction. Listeners are also finding new ways to use audio books from learning a language to as an aid to relaxation.
This is not surprising, given that the European audio book market continues to grow at 20% a year, according to Penelope Liechti from BBC Audio Books. Currently, there is no recognised European bestseller list. Nicolas Soames of Naxos Audio Books describes the market as being 'too unpredictable.' This is due, in part, to language, culture and taste differences between countries. There is also the matter of data collection. Market research companies like AC Nielsen are currently working to overcome these difficulties.
Expanding market
Britain and Germany are Europe's largest audio book markets. In the UK alone, the British Audio Book Publishing Association (APA) records sales for 2006 of £71.4 million. In Germany, sales for 2005 were €100 million, according to Marc Sieper of the Borsenverein des Deutschen Buchhandels (BDB).
As Europe's leading audio books markets begin to mature, both German and British publishers are seeking new customers elsewhere in Europe. Currently, Eastern Europe is seeing high growth rates, especially in states without established domestic audio book industries of their own. Publishers have found it harder to penetrate the Southern European market, who 'still regard audio books largely as the preserve of the visually impaired,' observes Barry Clark from APA.
Audio books are becoming increasingly popular, especially amongst computer literate adults. Listening to their favourite diet, self-help or business audio book is a fashionable way to hide their interest in the printed word. Even foreign language learners are catered for. Publishers also provide streaming text for customers to read whilst listening to their audio book on their PC or Smartphone.
New technology
New technology has helped aid the growth of the European audio book market. The internet has made life easier for both consumers and publishers. Now publishers like Naxos can deal directly with their customers, without having to establish a chain of expensive bookshops across Europe, nor maintain huge warehouses of stock.
Your local bookshop simply does not have the space to store what is now available to order over the web or download to the customer's MP3Player. But bookstores are fighting back in Germany. Sieper says that German publishers are proposing to establish a network of download stations in bookstores, petrol stations and supermarkets. Customers will soon simply be able to download their book onto a memory stick.
Despite the rise of the MP3 player, CDs still continue to dominate the market. It is now possible to buy MP3 formatted CDs that can store for example, the unabridged version of Tolstoy's War and Peace on one MP3 formatted CD, rather than the 12 CDs previously required.
For those seeking to download their audio books, the choice is restricted by the brand of MP3 player the purchaser has. If its an Apple I-Pod, choice is limited to what is available to buy from ITunes. This is a range largely catering for American rather than European tastes.
Pirate problems
Piracy and market rights are seen as a big problem by many publishers. Internet access from anywhere in Europe just complicates matters. Retailers like ITunes are using Digital Rights Software (DRM) to overcome these problems. For the European consumers this has led to new inconveniences. Use of DRM means publishers can restrict which version of their audio book is downloaded and discriminate between countries over prices. For example, a German customer can be prevented from buying the same audio book for a cheaper price in Belgium. This price discrimination has led the European Commission to launch an investigation into such practices.
Many academics are concerned that the increasing popularity of audio books could be promoting illiteracy. However, Liechti argues that this is a 'growing market. We get new customers without cannibalising the market share in conventional books.'
Perhaps the main complaint about audio book users is that some selfish users tend to play the volume of their MP3 players too loud! Vivienne Micheal of Deafness Research UK says that, 'a generation ago we would see people going deaf in their sixties or seventies. We're now seeing more people going deaf in their forties, which is very worrying.' Meanwhile Soames predicts future growth will be in 'unabridged downloads in all category areas.'
Naxos' European top five audio book sales
1. King Arthur and the Knights of the Round Table, Benedict Flynn
2. Just So Stories: The Voice of the Buddha, Rudyard Kipling
- Kafka on the Shore, Haruki Murakami unabridged)
3. Pride and Prejudice, Jane Austen
4. Tales from the Greek Legends, Edward Ferrie
5. Waiting for Godot (unabridged), Samuel Beckett