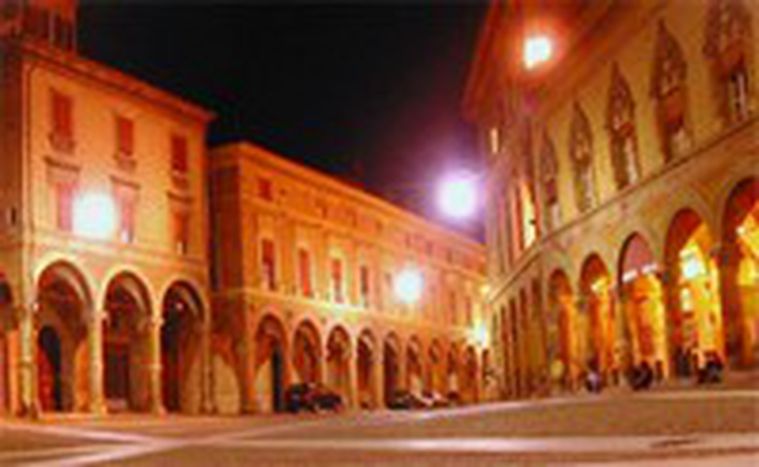 Bologna, more than just spaghetti
Published on
From leopard-skin clad youths to pasta inspired by the Gods, living in Bologna means discovering all the wonderful eccentricities of Europe's oldest university town.
The first thing that struck me about Bologna was the sheer bustle of its 400,000 industrious inhabitants going about their daily business. In London people hurry over grey and leaden pavements, under grey and leaden skies. The Bolognese stroll or bike through ancient cobbled streets. They slip into bars for cappuccino e brioche, stand chatting at the counter then speed along their way, be-sunglassed and beautiful.
Mink coats and tortellini
The Bolognese are renowned for being the fussiest dressers in Italy, and their bizarre tastes inspire delight and dismay in equal measure. The rules are simple. If over 35 and it's winter, never be seen without a full-length Gucci mink and matching hat for your 5pm passeggiata around the piazza, or any short trip on the bus. If under 35, leather or leopard-skin is acceptable and worn with equal frequency.
Like clothes, the Bolognese take food very seriously indeed. Don't ask for cheese with anything fishy or for 'Bolognese sauce'. Shame on you – that's ragù. The town is particularly famous for its tortellini, which were brought into being by the Gods. Legend has it that Mars, Bacchus and Venus were staying at an inn in Castelfranco where they had gathered to intervene between warring Bolognese families. The inn-keeper bade them goodnight, but couldn't resist creeping back to peep at Venus through the keyhole to her bedroom. But his impudence was punished. On being struck by the sight of her heavenly bellybutton, he was doomed to helplessly recreate that divine image in pasta for the rest of his days.
Which coffee to drink?
Bologna is a university town – indeed it is home to the oldest university in Europe - but students and young people in general don't drink in the way northern Europeans do. Instead, they drive their cars or motorini around and go for coffee and ice-cream. Don't be mistaken for a tourist by drinking cappuccino after 11am, which the Bolognese think is crazy because they were made to be frothy and compliment breakfast brioche. Strong, black espresso was created to be drunk after food, or for a quick caffeine pick-me-up. Which is why people drink them standing up at the bar, like vodka shots.
Speaking of alcohol, around 6ish, when the university is out and people start to leave work, friends will go to bars or cafés to find aperitivi. The best bars and osterie serve Prosecco (Italian champagne) with nibbles for around €3 per head. The oldest is the Osteria del Sole. You might be thrown out if the owner doesn't like you, but you can bring your own food. But where as once Italians wouldn't dream of drinking without eating, now downing pints in one of the city's eight Irish pubs is molto cool. After a night out, it is not unusual to have traffic-jams around the main ring-road of Bologna at 2am as people head from the out-of-town clubs to the late-night cafes and gelaterie (ice-cream shops). Ice-cream is another of Bologna's specialities, and whether it's fruit-flavoured or creamy, freshly churned gelato will undoubtedly become part of your daily routine.
Whether studying or working in Bologna, one thing you must take the time to do is sit in Piazza Maggiore. During the daytime you can see the once-handsome hairy guy in leathers, playing his electric guitar. The well-dressed and the down-at-heel all cycle through the piazza, and the people-watching is great. On summer nights they put up huge screens and show free black & white films, while at New Year the town brings on dancers, singers, gymnasts, and giant-inflatable-bubble walkers with fireworks to perform. On other nights the baristi play football when their bars have closed. I've slept in that piazza, drunk Mojitos, eaten chestnuts and simply stared into space. I love it. Hope you do too.
PRACTICAL INFORMATION
Language
The Cultura Italiana offers great classes in the centre of town. The town runs Italian lessons at reduced rates, but you need to organise these in person at the ISI Istituzione dei Servizi per L'Immigrazione (via Drapperie, 6 tel: 051 233 338).
Universities
The University of Bologna is the oldest in Europe and has enormous influence on the town. Many departments operate museums which are open to the public by request and are well worth the trip to get inside the walls of these fabulous buildings.
An original place
Villa Serena (via della Barca, 1 tel:051 615 6789), is a 3-story villa just outside town that has cinema and fine arts upstairs; live bands in the basement; and DJs, dancing and tables and chairs spilling outside into the surrounding woodland on the ground floor. It opens from the early evening until late.
To Do
If you've been bewitched by the crisp mountain air, why not hire your own truffle-pig and see if you can root out some black-gold of your own? Call 0721 796 741 or email sorsauro@tin.it to find out about snuffling out some truffles.
Not to do
Try and walk straight into a teaching job in a private school. There are more than 30 private foreign-language schools in and around Bologna, but competition is fierce. Some of the smaller ones might help you out, but will they pay you what they promise to?
Accommodation
The Bussola/Centro Erasmus can help you to find a shared flat or a room with a family. It's on via Zamboni, 16 erasmus@alma.unibo.it tel: 051 229 264.