#blueborder is Cafébabel's brand new cross-border project. Meet the team
Published on
Blue Border (#blueborder) is Cafébabel's brand new cross-border and collaborative editorial project. 10 journalists report from 5 Mediterranean islands to highlight the aspirations and fears of younger generations.
A vast, blue amount of water surrounds them. The Mediterranean Sea embraces five islands that are located at the geographical margins of the European continent: Crete, Corsica, Cyprus, Malta and Sicily.
How does it feel to live there? How distant is the rest of Europe? How do islanders deal with their own identities, and what are they looking forward to? How real is the perception of being delimited by a blue … border?
What is #blueborder?
A new exciting and unique reportage project is up and running at Cafébabel.
Conceived by Cafébabel Berlin and supported by Babel International, Allianz Kulturstiftung and the French-German Youth Office, #blueborder is another cross-border editorial project that follows the path and success of previous ones, such as Balkans & Beyond, Beyond '91 and Borderline.
Five teams of cross-border journalists and photographers will explore societal and generational issues on the afore mentioned islands. As a result, their reportage and multimedia stories will unveil challenges, dreams, feelings and struggles of young people living in a "border context".
A #blueborder exhibition will travel to the cities of Chemnitz, Marseille, Brussels and Palermo
As #blueborder's communication officer Francesco Barbati puts it: «This project aims at portraying given communities that live and struggle on five European islands. We want to bring awareness of their lives to other peripheral realities across the Old Continent».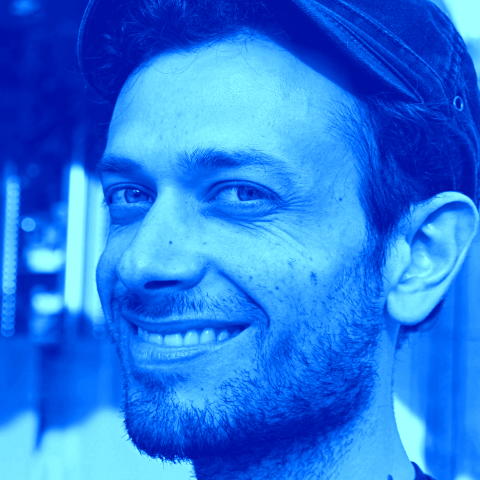 Francesco Barbati, communication officer #blueborder
However, #blueborder's goal reach beyond the latter. Alongside the reportage, an itinerant exhibition will be organised during the first half of 2020. The exhibition will be set up in the cities of Chemnitz, Marseille, Brussels and Palermo. According to Barbati, «our world has never been so interconnected as nowadays. Our private and public identities are fluid, they constantly shift to offline and/or online modality».
As of February 2020, we will keep you updated on how #blueborder unfolds via our Facebook page. Meanwhile, please meet the #blueborder staff.
The staff
In this collective interview, Sébastien Vannier (director), Prune Antoine (editor-in-chief), Christiane Lötsch (event manager), Johan Giraud (graphics and web development), Stefano Lippiello (administration), Alexander Damiano Ricci (translation coordinator) and Francesco Barbati (communication officer) discuss their expectations vis à vis #blueborder, but also relative to the role of journalism in reporting on the marginalisation of the youth across Europe.
What are your expectations for this new project?
SV: To bring people together: it has always been the basic idea behind a cross-border project like this one. Yet, gathering journalists from different countries to work together, is not as easy as we might think. Secondarily, our aim is bringing their stories to the general audience and to four European cities.
PA: To put it concisely: good stories and nice people.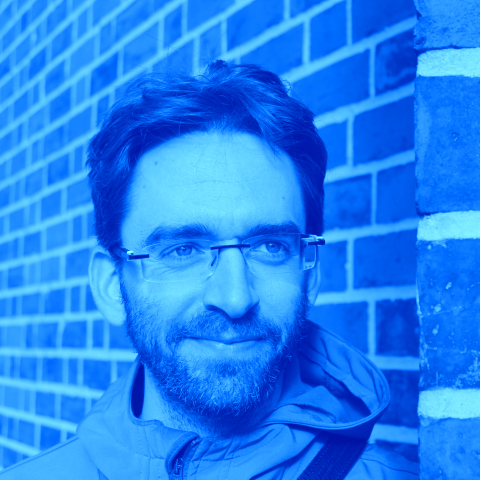 Sébastien Vannier, director #blueborder
CL: I'm really curious about the photographs' take, and how they will deal with the topics of the feature reports. I also hope that the exhibitions that will be organised in the cities of Marseille, Palermo, Chemnitz and Brussels will have an impact on the local population.
JG: Inspiring stories told by fresh journalists and mainly touching and incisive stories, illustrated by beautiful photographs.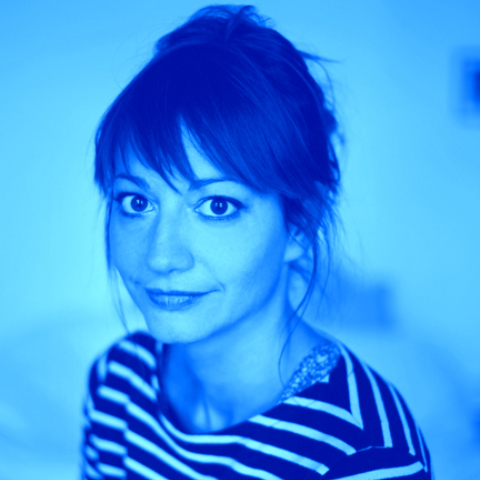 Prune Antoine, editor-in-chief #blueborder
SL: Good pictures, new stories (either unheard of, or fresh angles).
ADR: Casting a different light on the spots that we consciously or unconsciously associate with either the migrant crisis - take Sicily or Malta - or, almost, geopolitical news - Cyprus.
Do you have any particular connection with the islands involved in #blueborder? If not, how do you feel related to them?
SV: For their long history and strategic location, I believe these islands are fascinating. Actually, the mere fact of living on an island, is a story worth to be told.
«The mere fact of living on an island, is a story worth to be told»
PA: To many of us, these five islands mean "holidays" (blue sea, incredible light). But actually they are also the last border of the European Union. Therefore there is also a less sunny-funny side to them.
CL: I have been to Cyprus once - and couldn't believe that the Capital, Nicosia, is still divided by a wall. Just as it used to be in Berlin, my hometown, 30 years ago.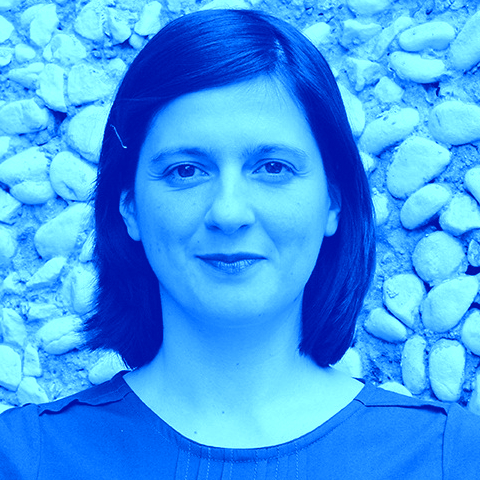 Christiane Lötsch, event manager #blueborder
JG: I don't. But I feel connected for being European.
SL: Islands are like a small universe a part from the rest of us. That is why they are so interesting. When I think about these islands, surrounded by the sea, I feel very imaginative, almost dreamy. Yet, I don't have any special connection to any of the project's islands.
ADR: Over the past few years, I have met people living on these islands. Therefore, I don't have any personal connection, but friendships. Of course, every now and then it happens to spend holidays in Sicily. Other than that, I believe that these islands are somehow part of our common history as Europeans. They were much more central in economic and political terms in past epochs.
The marginalization, exclusion and fragmentation of the youth are some of the crucial social issues European societies face nowadays. How are these problems affecting young people's dreams and lives?
PA: When you feel excluded, you don't live, you don't love. Hopefully dreaming is the only option left.
The baby-boomer generation and the generation X have traveled freely across Europe and the globe. And today we notice - way too late - that our global heritage to the next generation will be catastrophic.
SV: The feeling of being discriminated and margnialised as youth exists (and has existed), I think, for every generation. But, in my eyes, there is a new level to this problem nowadays, in the light of climate change. The baby-boomer generation and the generation X, have traveled freely across Europe and the globe. And today we notice - way too late - that our global heritage to the next generation will be catastrophic.
CL: The dynamic of exclusion and fragmentation within our societies is taking place as well in Eastern Germany. And you can clearly observe to which extent the political, economical and social marginalization of a part of the population can have long term effects, not only on older but also on second and third generations.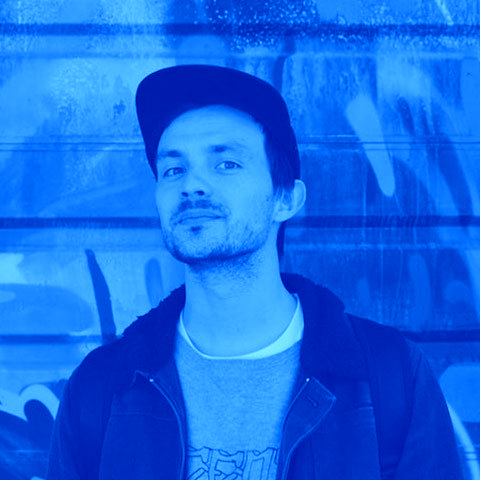 Johan Giraud, graphics and web-development #blueborder
JG: I think that the job market is changing for young people. As a consequence, new ways of thinking arise. We just design and live our lives differently compared to the past.
SL: I have a rather negative perspective: I believe these social issues might either shrink the space of potential innovative solutions, thus leading to individual stagnation as well, or transform themselves into social anger, therefore leading to violent actions.
ADR: Marginalisation, exclusion and fragmentation are major social trends affecting the development of our generation. Nevertheless, I believe that these issues become a social problem most of all when they don't lead to any collective action. As years go by, I realise that our generation is turning its back on collective action as a means to fight marginalisation, exclusion and fragmentation. I would like to see a counter-movement in this sense.
Cafébabel has constantly spurred the development of cross-border teams of journalists and photographers. How important is it to spread this type of journalism within the European media landscape?
SV: There are a few opportunities for journalists to work on a cross-border project. And we are proud that the Cafébabel leads in this specific sector. Nevertheless, setting up these projects. Yet, I believe it is important to bring on these activities: they are one of the main answers to the current crisis in the media sector. My motto is: better-quality contents, multimedia formats and cross-border journalistic partnerships.
PA: After Balkans&Beyond, Beyond91, Borderline and Sisters of Europe, #blueborder is the fifth cross-border project over the past five years that I coordinated. I am very proud of what we achieved all together. I love to scout and recruit a new generation of European journos and photographers, to discuss and also, from time to time, have a constructive little argument about how a good story should look like and why. I believe it is very cool to engage in a process that eventually overcomes "cultural misunderstandings", so to speak.
We need to develop a European-wide public opinion alongside the national one
On top of that, dealing with people (and, more specifically, with so many different nationalities and profiles) implies managing a whole range of new thrilling editorial dynamics. For different factors (economical problems, lack of creativity and vision, a tendency to not look beyond their own nose), national media across Europe are either losing influence, or collapsing. Sometimes, they desperately seek new models/approaches. Cross-border stories/projects are injecting a dose of diversity (of subjectivity, of perspectives, of angles) into the profession. This is exactly what journalism needs to answer its current crisis of trust.
CL: To collaborate more and more is the only way to save the project of European integration, also beyond the media landscape. Of course, love does the rest!
Stefano Lippiello, administrative officer #blueborder
JG: I think this way of working is pretty unique. And it brings up new questions and debates, everytime.
SL: It is very important both from an institutional perspective, as these projects bridge an innovative way European fragmented mediaspheres, but, also, from a social standpoint: thanks to projects like #blueborder, real people get together to do real stuff.
ADR: It is very important indeed. Most of all for those countries who are, in terms of journalistic profession, historically less keen on partnering up with colleagues across borders, and, more generally, on taking care of political dynamics abroad. For sure, Italy is one of the latter.
Culture and journalism are effective in fostering solidarity and empathy - what role could #blueborder possibly play in this sense?
SV: Through the exhibitions, we intend to open up a discussion about European identities in different European cities. Well-researched reports and touching pictures are a very good starting point to foster dialogue.
PA: If we were able to depict as honestly as possible those island-specific populations and local realities, and to create a sense of community within our audience, I would be very proud of that.
«blueborder could create connections between communities where we haven't spotted them yet»
CL: I believe that pictures can be really powerful. They can leave behind an emotional trace that makes people feel responsible for something other than themsleves. I am convinced that by looking at the pictures of the #blueborder project, and by discussing what the topics at the haert of the latter, we will certainly have an impact on our audience.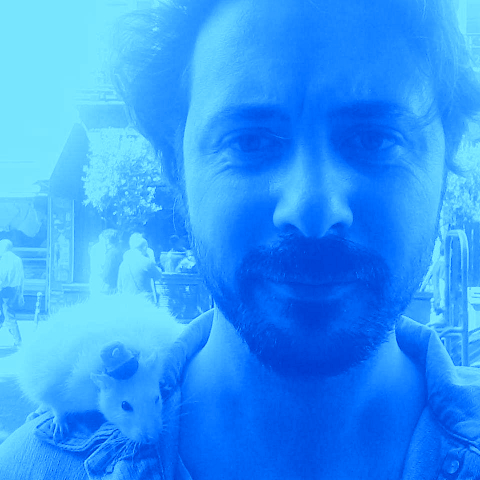 Alexander Damiano Ricci, translation coordinator #blueborder
JG: Maybe some people will see themselves as part of one or more of these stories. In that case, is it fair to say that we could also be able to affect their daily way of living, isn't it?
SL: I hope we will foster empathy, the basis for any true sense of community.
ADR: #blueborder could create connections between communities where we haven't spotted them yet. As previous projects run by Babel International and Cafébabel Deutschland, #blueborder might well shed a light on emotions and feelings of people who rarely make the headlines in mainstream news.
FB: I believe that #blueborder can contribute with a fresh and original touch to the process of bringing different national communities together. In a sense, #blueborder's pictures and reports, but also the offline exhibitions, will carry these communities across Europe. The message behind this project, could also be the following: as much as peripheral communities might think to be far away from others, they will never be alone. Our struggles and needs might be diverse, but the efforts to overcome them are shared.
---
Check out our special Tumblr website for the "behind the scenes" of #blueborder, as well as the project's Facebook page.