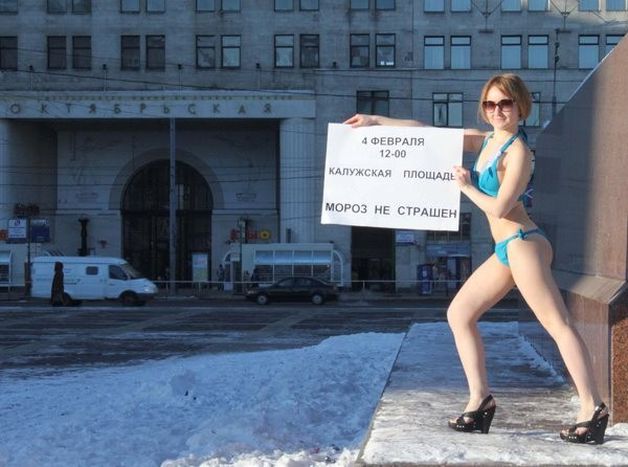 Blue bikinis for Nastya Karimova, hipster anti-Putin protester
Published on
Translation by:
Sarah Hole
A young woman strolls along Moscow's shopping streets on one of the most freezing days of the year. She suddenly stands still – and tears her clothes off her body in the city centre, posing in her swimsuit whilst holding up a sign. The 23-year-old activist protested for fair elections in Russia in May
NastyaKarimova's act was unique, but she's not alone in her campaign. As of 6 Maymore than 20, 000 Russians took to the streets against incoming president Vladimir Putin's inauguration. After bloody disputes, 400 people were arrested (a few days later Putinpassed a lawpunishing those who would protest - ed). What became of this protest? Interview with the activist herself.
cafebabel.com: Nastya, you're well-known in the Moscow activist scene. When did you first get involved?
Nastya Karimova: In January 2005. The orange revolution was just taking place in Ukraine. So I dropped off a pack of mandarins at the FSB (federal security service) Moscow office. It was a symbol. I wanted to support the activists there and show that there are also people in Russia who believe in them.

cafebabel.com: Have you always been interested in politics?
NastyaKarimova: Yes, I've always been politically-minded. Every morning my stepfather would read me articles from the internet criticising the government. In 2004 I joined the youth organisation for the union of rightist forces (SPS, an economic liberal party). That was shortly after the tragedy in Beslan; at that time Putin had decreed that governors would no longer be elected, but be appointed by the president. I wanted to protest against that. At the time I had no real political opinion – it was more like an unsettling gut feeling. But I wanted to do something.
cafebabel.com: What happened next?
NastyaKarimova: For a long time I thought that being involved in a party would really have an impact on the situation in Russia. But that's not the case. In 2008 I lost an election to be a town councillor and six months later the party was dissolved. I was disappointed and actually didn't want to be involved anymore. I haven't been interested in politics for four years – kind of like political apathy.
cafebabel.com: Except that on December 2011, you were there when the demonstrations against Putin started. What had changed?
Nastya: I don't know. After the first small demos, the mood was actually quite gloomy. Nobody believed that it could lead to a country-wide protest.
cafebabel.com: Not even you?
Nastya: No. We activists were far too wrapped up in our online hipster world.
cafebabel.com: Online hipster world?
NastyaKarimova: In Russia, the demonstrations that took place in December are known as the 'hipster demos'. There were also protests in the autumn, but they were interrupted or broken up by the police. The police only changed their strategy in the winter and we were able to demonstrate freely.
cafebabel.com: Why did the revolution still fail? 
Russians don't yet want to fight for more civil rights and more democracy. The time for that hasn't come yet
Nastya: Russians are too anxious and afraid of the unknown. That doesn't mean that they don't demonstrate for their rights: in 2005 pensioners across the entire country protested against social cuts. But Russians don't yet want to fight for more civil rights and more democracy. The time for that hasn't come yet.
cafebabel.com: Have young Russians become more politically-minded as a result of the fashion protests?
NastyaKarimova: I can't speak for all Russians. But I'm afraid that very little has changed. Only a small part of them have learned anything from the protests.
cafebabel.com: Which part?
Nastya: The city kids, the intellectual elite. They are successful and self-assured – and can therefore criticise the system. The committed core of course won't give up – it still has a few thousand people across Russia. They will continue to campaign for more democracy: in civic projects, flash mobs, etc. The only thing is, the focus will no longer be on all of Russia but instead on local matters.
cafebabel.com: Are you sometimes afraid?
NastyaKarimova: Personally, no. But perhaps I'm not in deep enough. I have lots of friends who are still involved, and they think things look bleak.
cafebabel.com: Which system would you want Russia to have?
NastyaKarimova: We have to stop worshipping our politicians as if they're gods. I'm all for decentralisation so that the money that people earn in Siberia also stays there and isn't carted off to Moscow. I would like an end to corruption once and for all. Nobody in our country can start up a business without always having to pay money to someone. It's especially important to process the Stalinist era. Russians have been tainted by what happened sixty years ago. In Germany people talk about the nazi period and work through it. That never happened here. Russia needs a campaign so that we re-learn the value of human rights.
cafebabel.com: Will you continue to protest?
NastyaKarimova: I'll remain an activist but I still have a lot to learn. The next thing I'll do is get to grips with healthcare, and in the summer I'd like to start an internship in a regional parliament in order to see how the administration functions. To change the system, we have to understand it and become experts in it. That's what I'll try to do.
Images: courtesy of © Nastya Karimova
Translated from Nastja Karimovas nackte Hipster-Demos gegen Putin