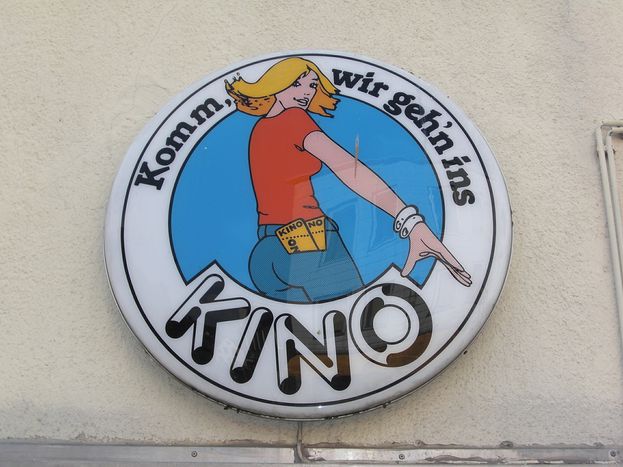 Beyond Nazism: A Guide to German Cinema
Published on
Outside of Germany, the term German cinema tends to be immediately connected to a dark period in the history of our country. We, as Germans, know how important it is to educate about the holocaust and learn from past mistakes. But we have also slowly regained our ability to celebrate our culture without being stigmatized. These 13 movies are the result of that.
Der bewegte Mann (1994)
This comedy was produced by Bernd Eichinger, the late mogul of the German film industry. The director Sönke Wortmann usually focusses on his dream career football in movies like "Das Wunder von Bern" and "Deutschland. Ein Sommermärchen". Fun fact: Both of them have cameos in the next movie on this list. The moved man, literally translated, is responsible for one of the most famous scenes in German cinema: The naked Til Schweiger squatting down on a sitting room table. He plays Axel, a guy that can't keep his fingers off other women although he loves his girlfriend Doro (Katja Riemann). After she catches him in a compromising situation he has to move out. Axel moves in with his homosexual friend Norbert (Joachim Król) who might like him a little bit too much. But when Doro finds out she is pregnant, she realises that she wants Axel back. Full of sexy innuendos, cultural clashes and witty banter this movie is deservedly one of the most successful in Germany. 
Knockin' on Heaven's Door (1997)
Two fatally ill cancer patients find a Tequila bottle in their hospital room and go looking for lemons and salt. When one of them (Til Schweiger) discovers that the other (Jan Josef Liefers) has never seen the ocean, they make a run for it and steal a car that belongs to some gangsters on a mission (Moritz Bleibtreu and Thierry van Werveke). Chaos ensues as the police follows the gangsters, the gangsters chase the cancer patients and they try to get to the seaside. It is just the right combination of drama and comedy and will leave you wishing you could see the ocean for the first time as well. The director Thomas Jahn was a taxi driver, before meeting Til Schweiger in a book store in Cologne. Schweiger had already accumulated some fame due to the huge success of "Der bewegte Mann" and Jahn told him that he wrote movie scripts in his free time. When Jahn sent Schweiger the script for this movie he immediately agreed to produce it and they revised the script together. Sadly, Thomas Jahn could never again land such a big success, but still works in TV today. By the way, Til Schweiger borrowed the fitting title of this roadmovie from Bob Dylan's song. 
Lola rennt (1998)
An exciting thriller, written and directed by the very talented Tom Tykwer, who went on to direct masterpieces like "Perfume" and "Cloud Atlas". It is the story of a young woman (Franka Potente) trying to save her criminal boyfriend's (Moritz Bleibtreu) life in under twenty minutes. The movie shows the events of those twenty minutes in three different scenarios. It is guaranteed to keep you on the edge of your seat.
Solino (2002)
Ever asked yourself why Germans love Italian food so much? Watch this movie and you will understand. It is the story of the Amato family, who emigrates from the south of Italy to the Ruhrgebiet, a region in North Rhine-Westphalia. It is part of a huge movement of Italians moving to Germany in the 1960's as Gastarbeiter (guest workers). Parts of the Italian culture have in this way embedded themselves in German culture. The father of the family Romano comes to Duisburg to work in the mines but soon discovers that he misses his dolce vita. By divine intervention he realises that his wife's cooking abilities have spread through the whole street and they open up the first Italian restaurant named Solino, after their home town. The movie shows us where the family is at every ten years and describes the struggle of the two sons to fit into German society, still feel connected to their Italian heritage and finding out where they belong. The director Fatih Akin is personally one of my favourite directors of all time. He was born in Hamburg as the son of Turkish immigrants, so naturally the theme is an intimate one. He told a story of the search for one's identity, nostalgia for a lost time, brotherhood and home coming. You will fall in love with the characters, however flawed they may be. 
Herr Lehmann (2003)
A tragicomedy based on a novel of the same name by Sven Regener (singer of "Element of Crime") that depicts the self-deprecating attitude towards life of young adults in West-Berlin just before the fall of the wall. In the 28 years that Kreuzberg had been cut off from the rest of the city, a lethargic sub-culture has formed among the constant bar hoppers, bohemians and crumbling buildings. Christian Ulmen plays the laconic Herr Lehmann brilliantly and you almost wish you could have one of the pointless yet entertaining beer conversations with him. Leander Haußmann has created a true gem of a movie. 
Goodbye, Lenin! (2003)
What would you do if your mother wakes up from a coma during which the socialist country you lived in has fallen and your people were reunited with the West? If she was an ardent supporter of the Socialists and too weak to cope with the truth? Right, you would try to hide the facts. Not an easy feat in a country that is changing fast and adapting to Western culture. Alex Kerner (Daniel Brühl) grew up in East Berlin and has never seen the city without the wall. Germany reunites while his mother is in the hospital. A tragically funny film about an important part of history and how normal people dealt with it. 
Die fetten Jahre sind vorbei (2004)
Strictly speaking this movie could qualify as Austrian due to its director Hans Weingartner. But because it mostly takes place in Berlin we can compromise on a German-Austrian cooperation. A young love triangle, consisting of Jan (Daniel Brühl), Peter (Stipe Erceg) and Jule (Julia Jentsch), become big city revolutionaries fighting the bourgeoisie by breaking and entering big villas, rearranging the furniture and leaving notes like "the fat years are over". The political statements and generational struggles will make you think.
Gegen die Wand (2004)
Fatih Akin, the son of immigrant parents, recurringly chooses the topic of integration in his movies. And every time he does so, he gives us insights into subcultures that mostly stay under the radar. Here we are immersed into the world of Sibel (Sibel Kekilli from "Game of Thrones"), a young woman that suffers under her family's demands to find a husband and settle down. She becomes so unhappy that she tries to kill herself. In a hospital, she meets the middle aged drunkard Cahit (Birol Ünel). Both are German Turks and Sibel sees her chance to fashion a deal. She proposes a formal marriage to get her family off her case. A drastic turn of events forces her to flee to Istanbul. As a viewer you suddenly are confronted with the pain of not belonging. How do children of immigrants define themselves? Where do they belong? What is their culture? The hopelessness of the characters is underlined by the artful soundtrack, which by the way has been the inspiration for a music documentary about musical influences in Istanbul: "Crossing the Bridge - The Sound of Istanbul". This cultural and emotional roller coaster is a true masterpiece of German-Turkish cinema, and only the start in Akin's unfinished trilogy on "Love, Death and the Devil". 
Das Leben der Anderen (2006)
It is not surprising that this movie won the Academy Award and the BAFTA for Best Foreign Language Film. Living in East Berlin during the 1980's you knew that you could not trust anyone. Not your neighbours, not your friends, sometimes not even your family. The playwright Georg Dreymann (Sebastian Koch) and his actress girlfriend Christa-Maria Sieland (Martina Gedeck) become the object of Stasi observation, after they have made themselves the target of the regime's suspicion. The secret police bugs their appartment and from then on events unfold through the (closely listening) ears of Stasi captain Gerd Wiesler (Ulrich Mühe, who died shortly after the Oscar win), who soon becomes too attached for his own good. Florian Henckel von Donnersmarck's full-length movie debut is not to be missed. 
Robert Zimmermann wundert sich über die Liebe (2008)
Germany's answer to "The Graduate" with a cameo by Art Garfunkel's son James. Already noted down on your list? Well, let me tell you more. Another one of Leander Haußmann's funny depictions of aimless young men falling helplessly in love with the wrong women. Tom Schilling's shining performance will stick with you and the soundtrack will leave you wanting more. Most songs are from the Band "Element of Crime", whose lead singer is Sven Regener, author of "Herr Lehmann". And you will definitely become a huge fan of Russian underground folk singer Vladimir Vysotsky. 
Soul Kitchen (2009)
Another one of Fatih Akin's brilliant films, this time about two Greek-German brothers and their sketchy attempts to save their restaurant. Zinos (Adam Bousdoukos) owns Soul Kitchen, a shabby restaurant in the Hamburg harbour. His incarcerated brother Illias gets special leave from prison and uses the restaurant as a work alibi. When tax inspectors make Zinos' life a living hell, the brothers pull together and transform the spot into a gourmet cuisine with the help of a crazy knife-throwing chef (Birol Ünel) and their quirky staff. Akin was inspired by Bousdoukos real life Greek restaurant, which he used to go to regularly. This movie is a love letter to Akin's friends and to his city. Hamburg has never looked more beautiful. 
Oh Boy (2012)
The talented Tom Schilling as a drop-out student, lost in his search for self, wandering the streets of Berlin. The bleakness of the black and white tragicomedy is reflected in the themes of the melancholy big city atmosphere and he cannot seem to get a grip on his life. Schilling brings an unassuming charme to his aimless character, the witty and often philosophical dialogues challenge the audience. A true arthouse piece of work. An impressive feat by Jan Ole Gerster, considering it is his final assignment for the Film Academy in Berlin.
Victoria (2015)
Sebastian Schipper directed this work of art in one single continuous shot, leading through the pulsing streets of Berlin. The Spanish girl Victoria has been living a lonely life since she came to the German capital three months earlier. After a night of partying in one of Berlin's numerous clubs, she meets a group of young men and spends the night in their company. What starts as an innocent youthful adventure soon turns into an action-packed thriller, giving you no time to catch your breath. Frederick Lau as Sonne gives a stellar performance and his rugged charme makes you understand why Victoria goes along with the events that unfold after they meet. This movie should have won the Oscar for Best Foreign Language Film. Unfortunately, it was disqualified for its high percentage of English being spoken. A huge mistake, but Oscar or not, this is one of the best German movies ever made.