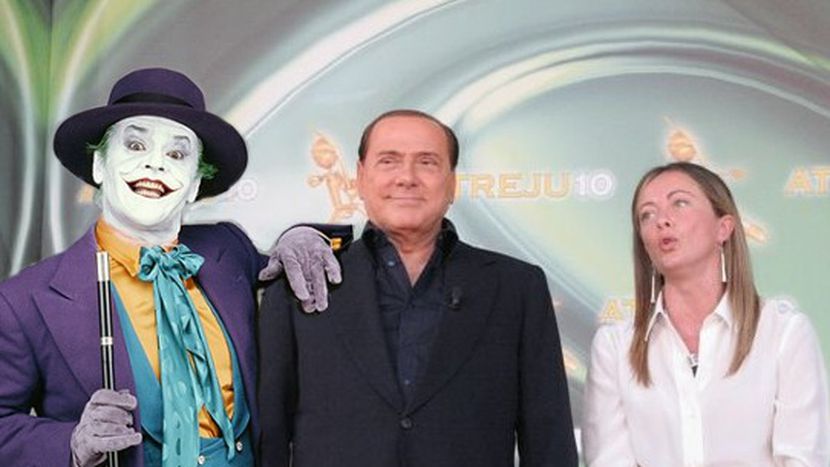 Berlusconi raised us; how to re-educate Italy?
Published on
What can we say: it was intense. The post-Berlusconi era is almost upon us: will we cope with the tediousness of political debate, with the absence of a man to love and hate, with the end of a television trend where success is available to all?
I always watch with a mixture of resignation and embarrassment each time Silvio Berlusconi comes out with another one of his jokes or when other international leaders laugh at him (and at the Italian population that he represents). Inevitably the incident ends up as a hit on youtube and makes headlines in most newspapers. Even after all these years, once the moment of shame has passed I wonder and worry: will we always be like this?
TV daddy
For many young Italians, Berlusconi had been a nagging and constant presence from their early years into adult life. In a potential post-Berlusconi era, will Italy manage to rehabilitate and re-educate itself? How will Italy get used to a sense of lawfulness and having to pay taxes again regularly? How will the country's youth which has grown up with him be able to take life seriously? Will Italians be able to understand and participate in a serious political debate, free of scandals, twists and jokes?
For many young Italians, Berlusconi has been a constant and nagging presence for the majority of their lives
I am specifically thinking about Italy's youth. We must remember that for many young Italians, Berlusconi has been a constant and nagging presence for the majority of their lives. They have grown up watching his television: Berlusconi owns three channels on the terrestrial network. Being in control of public television means he effectively owns five out of the six main channels, whilst on satellite he owns more, including pay-per-views. He also regularly appears on non-politically themed television shows. This generation has been following his career through the success of his football team, AC Milan, which dominated the European scene in the nineties. How will many Italians react when they realise that politics is not about entertainment and that a talk show is not the same thing as a political debate? How disappointed they will be when they will discover that the constructive discussion and exchange of ideas and opinions is actually a long, difficult and tedious process.
Moral crisis
In an interview conducted a few years ago, historian and journalist Indro Montanelli alarmingly announced: 'What we must fear from Berlusconi are not the punishments, but the prizes.' Have we all become addicted to such 'prizes'? An article published on 7 November in French magazine Le Nouvel Observateur, 'Berlusconi's Italy In Five (Black) Bullet Points', underlines how, among the numerous problems that post-Berlusconi's Italy will have to tackle – other than those related to the European economic crisis and the high rate of youth unemployment – there is a so-called moral crisis.
These are those dreaded 'prizes' that Montanelli warned us about. The Nouvel Observateur points out how Berlusconi has encouraged unlawfulness, the legitimacy of fiscal fraud, the impoliteness and rudeness of the young Italians; how his actions have mythologised the figures of television showgirls or escorts as subordinated and submissive women. Berlusconi leaves us with the idea that everything can be sold and bought. It will take time and courage for Italy to recover from his influence. We must re-educate ourselves from a moral point of view, without falling into excessive bigotry or self-righteousness.
Cult no more
We will probably have to re-educate ourselves to have more self-control, balanced opinions and the fact that serious political debate is not just a bore. We must embrace a form of rationality again, the one that has been lost. Berlusconians and non-berlusconians alike will no longer have a single political figure to love or hate. Italy's political scene has never witnessed as intense a personality cult as that of our prime minister in the past few years.
Berlusconi was able to foster contrasting opinions. On one side there was the extreme love, the 'meno male che Silvio c'è!' (thank God we have Silvio!); on the other there was the hatred and the disdain. You are never able to get a subtle or indifferent reaction when you say his name. Even worse, it seems that no-one is able to come up with any constructive criticism on his political agenda. We are just too busy hating him or loving him to actually look into his political actions.
You are never able to get a subtle or indifferent reaction when you say Berlusconi's name
To get an idea of what I'm talking about, all you need to do is take a look at the comments on Berlusconi's facebook page regarding his supposed resignation. Any declaration on his side brings about reaction in capital letters, 'YOU SHOULD BE ASHAMED OF YOURSELF! YOU SHOULD WALK AROUND WITH A BAG ON YOUR HEAD OUT OF EMBRASSMENT!' Others envision apocalyptical scenarios: 'You must go as soon as possible before you cause a human catastrophe'. Others again wish for the 75-year-old's death: 'You must not resign, you must DIE!' Some even still support him, with calls along the lines of: 'Don't resign president, think about your citizens!, or 'Come on Silvio! Don't give up!'
Image: (cc) giuseppesavo/ Flickr
Translated from Berlusconi ha educato i giovani. Come si fa a rieducare l'Italia?