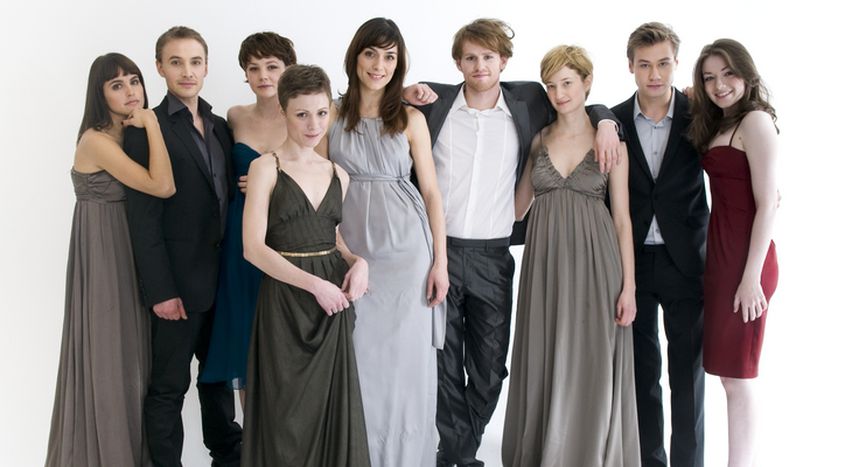 Berlinale: Europe's ten up-and-coming 'Shooting Stars'
Published on
Every year since 1998, an international jury selects Europe's best actors. These then embark take on a journey across the world to promote European cinema - and to get to know themselves. On 9 February, British actresses Carey Mulligan and  Sarah Bogler joined nine other winners at the Berlin Film Festival
Ten actors sit before the international press at the Shooting Stars opening ceremony. They are still unused to the constant spotlight. Although some are surprisingly self-conscious and a bit daunted, they know that this is a 'fantastic opportunity' for their careers. 'It is a necessary initiative,' says Spanish actress Veronica Echegui, 25, from Madrid. 'It is not just a chance to exchange experiences, but it's convenient for all of us, from directors and producers to the international press.'
Just the morning before the conference, the group had a casting breakfast with international producers. Though there is no concrete outcome yet, Danish actor Cyron Melville, 24, has proposed to shoot a movie in which this year's talents figure.
Ten nationalites and some broken English
The opening ceremony resembled an international youth encounter with actors from Ireland, Switzerland, Spain, France, Germany, Denmark, United Kingdom, Italy, Hungary, and Finland. English was the language of operation, but not all talents speak it with the same ease. French actress Hafsia Herzi, 22, who is of Tunisian and Algerian origin, has a strong accent when reciting a Shakespeare poem. 
However, this is not necessarily a default. German actor Daniel Brühl, 30, who rose to fame in Wolfgang Becker's Good Bye Lenin! (2003) was asked to play in the pan-European war movie production Merry Christmas (2005) precisely because of his strong German accent. Two other former Shooting Stars are British talents Daniel Craig, 39, and Rachel Weisz, 37. Craig, the new incarnation of Mr. Bond, had the honour in 2000 when only few Europeans knew his name. Academy Award winning actress Rachel Weisz was present in 1998.
This year's Shooting Stars all agree that 'art should have no boundaries', agreeing that for an interesting story or script they would gladly work anywhere. 'The story must come first, not ambition,' says Finland's Samuli Vauramo, 27. Britain's Carey Mulligan, 23, added that she would love to be paid to learn a language. Her line-up of films for 2009 includes The Greatest with Aaron Johnson and An Education with Peter Sarsgaard, Emma Thompson and Alfred Molina. Both films were screened at the Sundance Festival in January 2009.
Irish actress Sarah Bogler, 18, was only ten when she starred in Jim Sheridan's In America (2002). Since then she has played alongside Andie Macdowell in Tara Road (2005) and Mickey Rourke in Stormbreaker (2006). In her upcoming movie Iron Cross, she says she even had to learn a bit of Polish. Poland is also the location for Spanish actress Veronica Echegui's latest film. In Paul King's Bunny and the Bull, the star from Madrid plays a Spanish girl working at a Polish restaurant in Warsaw, who takes a road trip to bet on bulls in Spain. We can look forward to a very trans-European production, as half of the continent is crossed by car.
'Cannes is for the big stars while Berlin discovers them'
David Kross, 18, is the most well known from the group. He is currently starring in The Reader, which was screened at the Berlinale on 7 February. When the other actors listed the directors they dream of working with - David Lynch, Tim Burton, Wong Kar Wai and among many others - Kross simply says he would love to work with British director Stephen Daldry again. Hungarian actress Orsi Toth, 27, refuses to pick a director, and says she hopes they will pick her. Director Kornel Mundruczo did so for Delta, the Hungarian film which was one of the front runners for the Golden Palm 2008 at Cannes. However, Delta was also a very painful experience because it had to be largely reshot due to the death in July 2006 of the lead actor (Lajos Bertok, to whom the film is dedicated), in the middle of shooting. He was replaced by Félix Lajkó, a Hungarian violinist.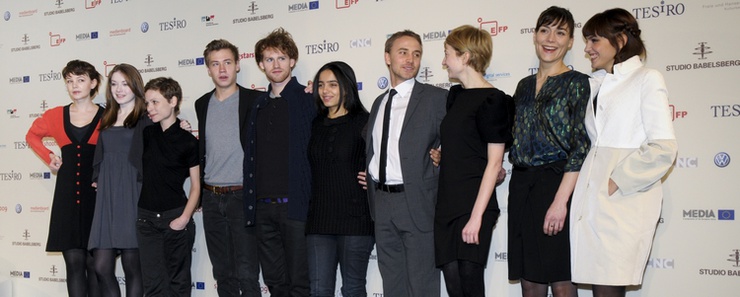 Versatile Swiss actress Celine Bolomey, who studied theatre in Brussels, says she would like to be challenged and play a man. She looks up to Australian actress Cate Blanchett, who has already undertaken this challenge in I'm Not There (2007), incarnating Bob Dylan. The trilingual actress has already taken the prestigious Swiss film prize home for her role as a divorced mother in On dirait le Sud (2003). Meanwhile, Italian actress Alba Caterina Rohrwacher's dream role is to play a character like Edward Scissorhands or a nun like Meryl Streep in Doubt (2008). So far the 29-year-old from Florence is mostly known for having a broken heart in the Italian feature Riprendimi (Good Morning, Heartache, 2007).
For the first time this year, Studio Babelsberg, the main sponsor of the Shooting Stars, is awarding a prize to the young actors. The trophy is shaped after the human robot character Maria, from Fritz Lang's 1927 science fiction film Metropolis, filmed at the Babelsberg Studio in Berlin. The Berlin Film Festival therefore builds upon its reputation to bring up talents. As British veteran actress Charlotte Rampling told cafebabel.com on the red carpet: 'Cannes is for the big stars while Berlin discovers them.'
More from the Berlin Film Festival, reviews and news from the red carpet on our Berlinale blog