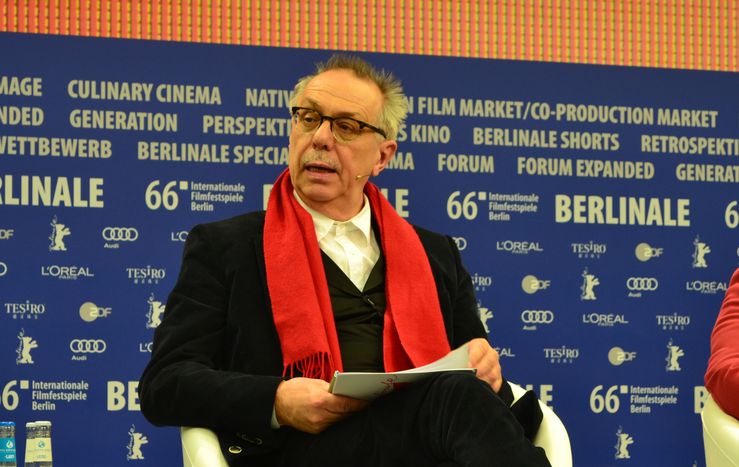 Berlinale Director Proclaims 2016 Diversity Year
Published on
Films from all over the world from all kinds of film makers trump the Oscars when it comes to diversity. 
Festival director Dieter Kosslick proudly announced at a press conference in Berlin on Tuesday that audiences can look forward to great diversity this year. For starters, no fewer than 112 films directed by women will be on the program.
The festival was criticised last year for having a relatively small number of women in key positions. When asked whether appointing this year's jury president, Meryl Streep, was a response to those criticisms Kosslick replied: "When one looks for a jury, sometimes one gets lucky and ends up with the best."
Kosslick also boasted about representation by black artists in 2016 – in contrast to this year's Oscars which have been under fire for having zero black actors among the nominees – for the second year in a row. Spike Lee, who is boycotting the Academy Awards on 28 February, is featured in the competition with his political satire Chi-Raq, as is Don Cheadle with his directing debut Miles Ahead.
Queer cinema, as is the case every year, is also well represented among the films in 2016. The Teddy Awards that honour LGBTI films are celebrating their 30th anniversary with a teddy retro series. 17 films will be shown from queer film history, which stretches all the way back to 1919 with the picture Different from Others.
Films from the Middle East are also prominent on the list. Countries of origin include Lebanon, Egypt and even Saudi Arabia and Syria. Saudi films are particularly special given that there is only one movie theatre in the entire nation due to religious restrictions by the establishment. Barakah yoqabil Barakah (Barakah Meets Barakah) by Mahmoud Sabbagh is a comedic love story in which the protagonists tepidly try to negotiate the complexities of courtship in the highly restrictive desert kingdom.
On the other end of the liberal spectrum, a tribute film to David Bowie – The Man Who Fell to Earth is being shown in the Friedrichstadt Palast on Friday 12 February. Bowie lived in Berlin between 1976 and 1978 and appeared in three Berlinale films throughout his life.
The diversity in film makers and content goes full circle to arrive back at stories about what it means to be a white male. The film Goat, produced by James Franco, deals with the hazing rituals students go through in American universities. It looks at how these practices contribute to creating the psychology of those who will one day run our banks.
Diversity is not really anything new at the Berlinale. But with Trump and xenophobia in Europe dominating headlines, diversity right now certainly feels refreshing.