Berlin citizen power: GreenLeaks, Stuttgart 21 and water privatisation
Published on
One of Europe's most politicised and strictly environmentally-ruled cities is home to a green-themed Wikileaks spin-off, run by an Australian documentary maker. The mood for disclosure is also celebrated in the annual film festival, which has incorporated the city's first successful referendum into its programme
Of the eight years Scott Millwood has called Europe home, he spent the first five in a Berlin squat. It was his baptism in European politics. 'Anglo politics is based on reaching a majority. 51% rules,' says the lawyer and documentary film-maker over a cappuccino in Kreuzberg. 'Eighteen of us had a veto power each; we had to agree! Really long discussions led to what was important, to compromises. European politics is about that endurance. That's why Germans engage in rigorous discussion, about venting those wounds and letting everything out. That's a big thing about Berlin.'
After WikiLeaks, GreenLeaks.com and GreenLeaks.org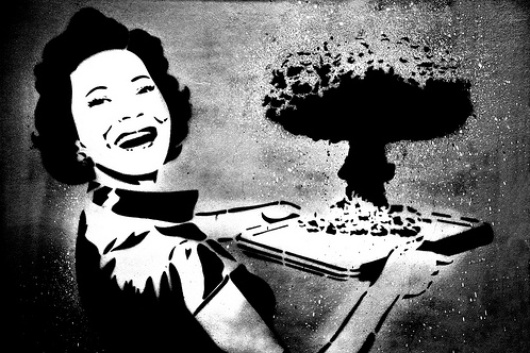 The Australian studied law at the universities of Melbourne (in mainland Australia) and Humboldt in Berlin, and later filmmaking in the US, releasing a book and documentary Whatever happened to Brenda Hean? (2008) about the seventies-era first female leader of a green party in the world, who disappeared after a plane crash. The vacuum created by WikiLeaks - 'using information in such a pure way, to have a direct impact and not have to be altered through the press' – has enlightened him that the Brenda Hean story, which was based upon the leaking of government police files on her disappearance, could have been approached differently. Instead of taking three years to make, those files could simply have been released. In late 2010 he launched GreenLeaks.com, a 'media organisation' aiming to publish information for a purpose. Simply existing, Millwood says, will influence companies corporate social behaviour and responsibility. Like Julian Assange, Scott Millwood will be the public face. An international network of people will run it, encouraging the use of traditional postboxes and well as e-dropboxes to release information; 'We'd be happy if it was three or four stories a year.' After publishing in major German newspapers, the goal is to keep transforming the information into narrative via artists and documentary makers; the site currently runs in French and German as well as English.
'The right is more united by the capitalist bottom line but on the left there's not one thing to unite us'
However, don't expect to see a GreenLeaks.com collaboration with the Copenhagen-based GreenLeaks.org, an NGO which is comprised of internet security experts, lawyers, journalists and another ex-WikiLeaks member, the Icelandic MEP Birgitta Jonsdottir. The site launched in January. 'In the environmental movement the first fight is within,' grimaces Millwood. 'I've been in environment over twenty years, it's so incredibly typical. The right is more united by the capitalist bottom line but on the left there's not one thing to unite us, we have all sorts of different values.' Both have since registered for different trademarks at the European union; currently, GreenLeaks.com is present in 36 countries. As for Germany, Millwood predicts its biggest green battle in 2011 will be the extension of the nuclear power stations. Several German states, Greenpeace and residents around the oldest nuclear power stations have launched applications to sue the federal government,' he explains. 'The regional elections in March are important because this didn't go through the upper house (Bundesrat), which represents all the states. If one of those governments changes then the coalition will lose its majority in the Bundesrat, and the more likely these states could bring a constitutional case.'
Citizen initiatives: 'Berlin 21'
Across the city in Potsdamer Platz, Berlin's first 'biological Berlinale' boasts energy-saving lamps for the red carpet, non-plastic messenger bags and bottles of Viva Con Agua, its proceeds going to water projects in developing countries. But old wounds are being vented. A film about the Stuttgart 21 protests, made 'by accident' with hand-held cameras, is showing in the non-competition category 'Perspective German Cinema'. The 75-minute screening features a lot of stomping and bloodcurdling screams as Stuttgarters watch their beloved trees mowed down to make way for the new central train station in 2010. In fact, the move is a pro-European one; chancellor Angela Merkel wants Stuttgart to join the EU Magistrale for Europe high-speed railway line between Paris and Bratislava/ Budapest.
Today, the cinema becomes a Berlin extension of one of Germany's most successful citizen initiatives. 'There was no concept or screenplay,' says Lisa Sperling, 24, amidst placards and flyers. 'We went to the protests in the park from January 2010; by the end we had a year's material.' Fellow filmmaker, Florian Kläger, 23, looks similarly abashed. 'We'd come at half past ten and there would be cars occupied by other young people. The adrenaline was huge, crazy.' Producer Peter Rommel, a friend of Lisa's family as well as Berlin film festival director Dieter Kosslick, explains he invested in Stuttgart 21 – Think to remember! to give something back to all those elders standing strong against the water cannons.
Water: Berlin's first show of people power
Germany's rise in citizen resistance has stirred Berlin, where locals claimed back their 'Own Water'; white posters around the capital celebrate the city's first successful referendum against the companies Veolia and RWE, which bought 49.9% of the water works Berliner Wasserbetriebe (BWB) in 1999. Prices subsequently increased by 35%. Unlike London water, which has remained privatised since 1989, Berlin is sniffing at Paris' footsteps, where water services returned to public hands in 2009. Thomas Rudek is head of the Berliner Wassertisch ('Berlin Water Round Table'), the network of engaged citizens which initiated the referendum for the transparency of the contracts signed for the part-privatisation. 'One step at a time,' he warns to applause in a 'Future of Water' debate on the festival's 'culinary cinema' programme. 'Get everything out in the open, make the important legal checks and aim for a low-cost solution. It's about the transparency of information.'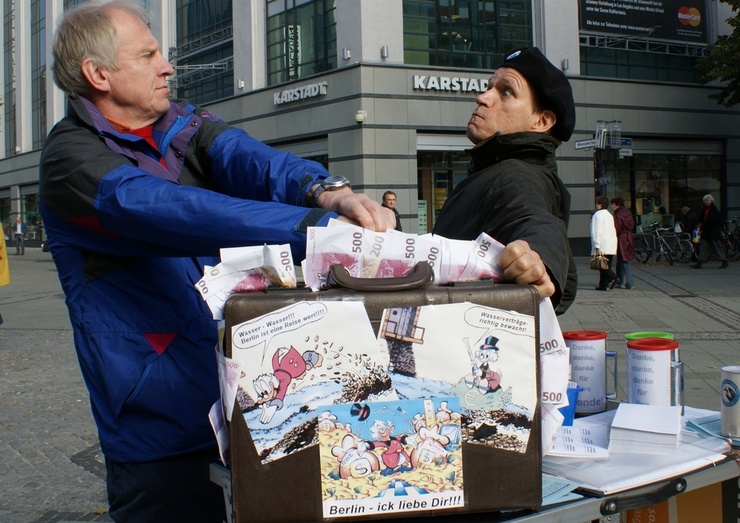 'The feeling in Berlin is that anything here is possible,' explains Millwood, who has been surprised by the number of tiny whistle-blower support groups, green groups or magazines who have contacted GreenLeaks.com. He says he would be happy to collaborate with Openleaks. The site launched three days before we meet, also in Berlin, by former WikiLeaks spokesman and German national Daniel Domscheit-Berg. 'That's why Berlin is full of artists and actors and activists. There's space and time to develop those possibilities because it's not a capitalist society. You can live here cheaply; Berliners are not fighting to pay their rent like in London or Paris.' The five years and 172, 000 signatures that Thomas Rudek has put in for his city's 3.7 million people seems to be inspiring the rest of Europe; the initiative's facebook webpage indicates water referenda motions in Italy. And aptly, disgraced former defence minister Karl-Theodor zu Guttenberg chose Smoke on the Water as his official military song in the ceremony of his political retreat on 11 March.
This article is part of cafebabel.com's 2010-2011 feature focus on Green Europe, which has already hit Budapest and Brussels. Thanks to the team at cafebabel.com Berlin. Watch this space for Green Rome, Green Seville and Green Paris!
Images: main (cc) Eexlebots/ Flickr/subrevolt.com; happy nuclear housewife cartoon (cc) GreenLeaks.com; water activists in Berlin (cc) Berliner Wassertisch