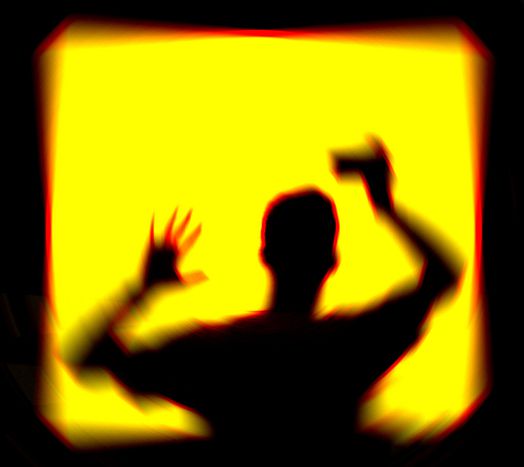 Belgrade's Roma minority: pop them in a metal container
Published on
Ignored yet maligned, numerous but powerless, the Roma minority live on the edge of society, making their living from other people's waste. The ghosts of the Serbian capital have been moved from the banks of the Sava river, not far from the luxury hotel area of New Belgrade, to 'construction containers' on the outskirts. They soon may disappear altogether
Rifat smiles and spreads out his arms. 'Welcome to the zoo!' The glare of the midday sun is partly deflected by a slanted parasol propped up by a plastic table that we are sitting around. Glasses of lemonade and packets of cigarettes are shared but this is no picnic. Merely weeks ago, city authorities controversially evicted Rifat and hundreds of others in Belville, the largest informal Roma settlement in Belgrade which was home to over 1, 000 people. The settlement was in the way of a proposed access road for a new bridge being built over the Sava river. Their new home is here in Jabucki Rit - 13km from the city, in the middle of the countryside, where the silence is deafening and there isn't a tower block or a job in sight.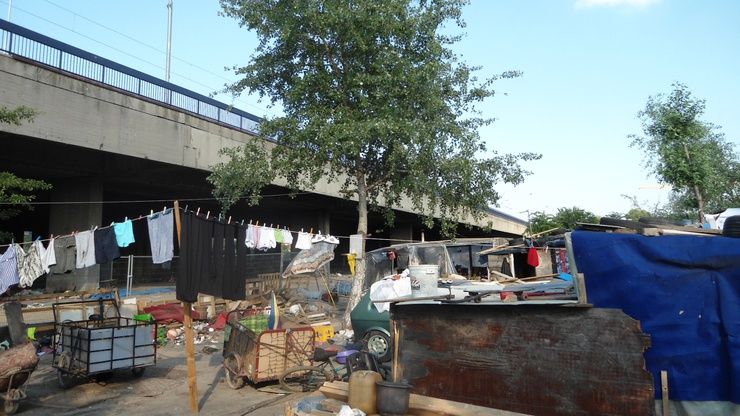 Metalhenge
City officials provided the Roma with 'mobile housing units'; you might call them 'metal containers'. They are around 6 m2 – less space than an average prison cell - which often has to accommodate a large family. I place my hand on the exterior of one container; it feels like a recently boiled kettle. A few days ago, an old man's television blew up from the heat. Passing through the metallic Stonehenge, I see one wall splashed with white paint. Enver tells me that on the morning of 1 May, a group of masked, baseball bat-wielding youths came to the camp and daubed racist slogans and swastikas on the side of one container. 'Some of us saw them, but we didn't approach or confront. If we tried to fight back, the next day the whole town would come kill us.'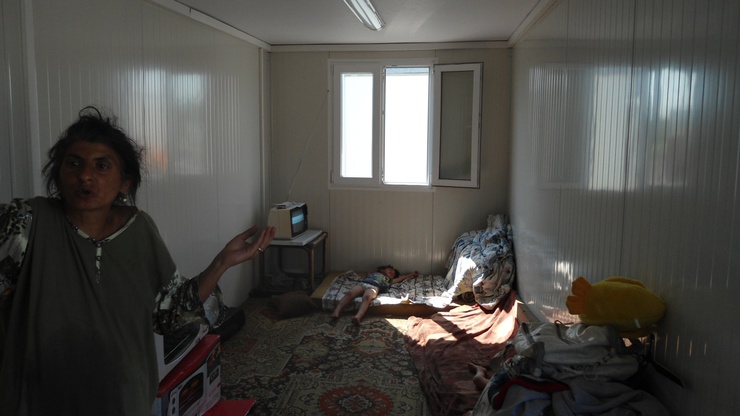 Despite clearly improved sanitary conditions, residents lead a completely unsustainable existence. One pregnant lady recently made the 30km journey to the nearest village where an NGO is providing food. 'The bus broke down, it took all day,' she says. 'We cannot work here, are we supposed to eat the grass?' The containers come with an intricate contract that threatens eviction if numerous demands are not met, including sending children to school though currently no transport facilitates this. In the city, many Roma earn money by collecting and recycling cardboard and metal but in remote Jabucki Rit this is impossible. Consequentially the mood is characterised by torpor and despondency.
Brain drain: 'legally invisible'
Things could be worse. Others were sent to Dren, 20km from Belgrade. Its similarity to the word 'drain' is appropriate, as Jovana Vukovic from the regional centre for minority rights explains. 'It is basically built on a swamp. Recently they have been invaded by frogs! People cannot sleep from the noise.' Any humour though, is bittersweet. 'Segregating Roma into container settlements far from the city leads them to require more social help thus making them more passive.' Slavica Denic, state secretary of the human and minority rights ministry recently announced, 'The position of the Roma people in Serbia has significantly improved during the decade of Roma inclusion.' Danilo Curcic from Praxis counters; 'Germany in 1957 could have said things were better than ten years ago: it still doesn't change the root of the problem. Roma in Belgrade are legally invisible people. The timing of the eviction coincided with a strike at the social welfare centre, so it was carried out without proper monitoring.'
'Germany in 1957 could have said things were better than ten years ago: it still doesn't change the root of the problem'
A world away in the book-lined study we are at the spacious home of Dragoljub Ackovic, director of the Roma museum in Belgrade. A black onyx statue stands prominently on his desk: 'a souvenir from South Africa'. The museum was set up in 2009 to positive media reviews but since then the building has been sabotaged and lacks sufficient funding. 'It is a constant battle with the city authorities,' says Ackovic. 'I recently suffered a heart attack that I am sure is from the stress.' Seemingly, a lot of the issues affecting the Roma stem from a lack of political engagement and representation.
Dragoljub launches into a speech mixed with denunciations of his political foes and lists of historical figures with secret Roma heritage (William Shakespeare and Bill Clinton, apparently). 'It is possible for poor Roma to coexist with the citizens of Belgrade, but the transition from socialism to capitalism has made it very difficult for some to sell their traditional products in the face of external competition. Many people work in waste disposal and recycling or simply beg on the streets. I have suggested forming unions for rubbish collectors but the city so far has not listened.' At the end of the interview I am given a weighty book he authored about the history and culture of the Roma in Belgrade. I open a page on this sentence: '…when the whole nation is sliding into misery, the first blows are felt by those in the margins.'
Belville heights
Meanwhile in Belville, which is located in the concrete jungle of rapid development that is New Belgrade, some people living directly on these margins have a different view of high profile Roma like Dragoljub. 'People like him only represent the Roma if they think they can make money from it,' says Borka, one of the few remaining residents of the informal settlement and whose future is uncertain. 'They exploit us for political and financial gain. If he cares about us then why hasn't he visited Belville even once?' Occasionally Borka's words are drowned out by the rumble of trains passing overhead but she shakes with anger. 'I will never live in a container. If they try to force me, I will sue the city. Or move to Belgium.'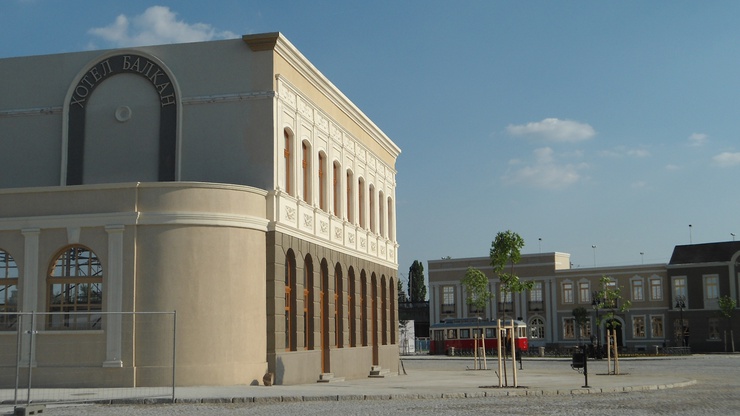 I leave the settlement, trudge through the wasteland back to the main road and immediately encounter what seems like a deserted movie set. Through the fence I can see a large square with an old tram and a vintage motorcar all surrounded by painted backdrops of buildings, one of which is Hotel Moskva. It is a replica of Terazije Square from the 1930s. 'Old Belgrade in New Belgrade', they say. Looking back towards the wreckage of Belville, it seems a city that embraces its past glory, but neglects its present realities, is doomed to be haunted by ghosts forever.
This article is part of cafebabel.com's 2011-2012 feature focus on the Balkans, Orient Express Reporter 2, a project co-funded by the European Commission and with the support of Allianz Kulturstiftung. Many thanks to Senka Korać akacafebabel.com Belgrade
Images: main (cc) Mathieu Péborde/ flickr; in-text © Andrew Connelly