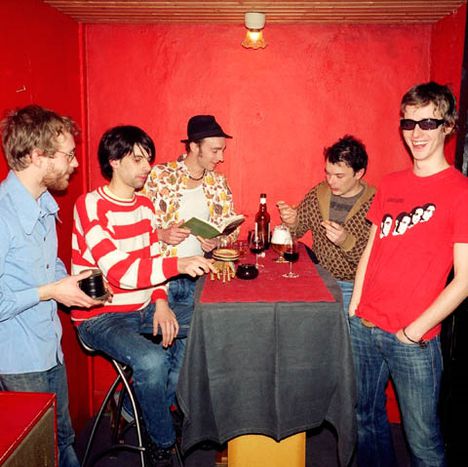 Belgian band Absynthe Minded: 'we're not playboys'
Published on
Since 2002, the acclaimed jazz rockers from Ghent have flirted with an indescribable style. As the Belgian five's tour stops in Paris to celebrate their fourth disc in eight years, we meet to talk about their passion for quality music, platinum albums and the women in their lives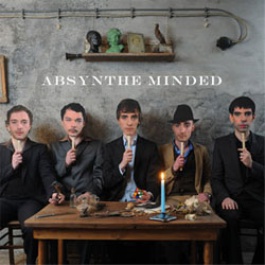 We're at Sers, a swish hotel in Paris's eighth arrondissement (district). The members of Absynthe Minded look almost as out of place as I do. Up until now, the Belgian rock stars had no producer, but they have just signed a contract with AZ, a subsidiary of Universal (who released their third albumThere Is Nothingin 2007 - ed). This ought to start opening more doors for them in Europe. Absynthe Minded's reputation is already well-established in Belgium, where the group's fourth album (to be released in France on 7 April) has already gone platinum, having sold over 30, 000 copies. The first single from the album, Envoi, has been downloaded 15, 000 times. Everything has happened very quickly for this group since singer and guitarist Bert Ostyn met violinist Renaud Ghilbert at Belgium's royal conservatory at the beginning of the decade.
Music first, girls second
At first, the lads didn't care how many instruments they used or the way their music was described on Belgian radio: it was all about playing music that 'swings'. Absynthe Minded is comprised of  'a nice bunch of guys who found themselves in the right place at the right time,' as Bert puts it. Starting out with no drummer, they went on a series of acoustic tours in the Netherlands, Germany and Norway with bassist Sergej Van Bouwel and pianist Jan Duthoy. Along the way, the group wereto find drummer Jakob Nachtergaele. With a larger team, they began to experiment more and more, playing with amplifiers and trying out other instruments like the Hammond organ and double bass, which Bert professes he loves for its 'big wooden sound'.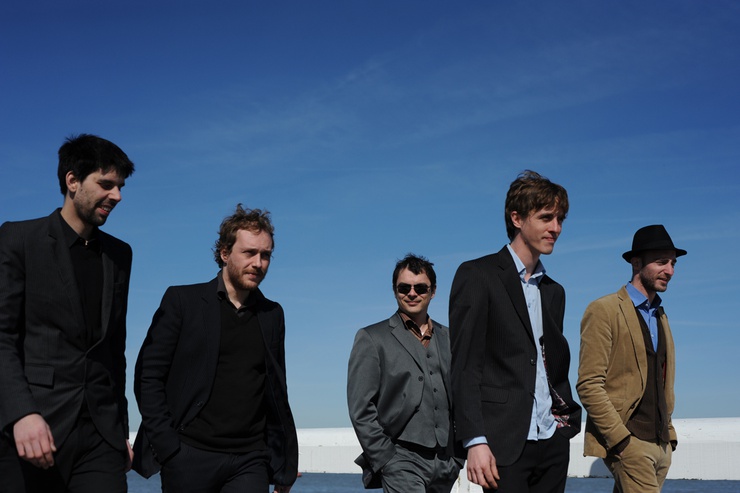 The group acknowledge the advantages and drawbacks of life on the road. Now 29, Renaud is already divorced. 'Some girls don't like you to live the life of a traveller,' he explains. 'But I don't spend too long crying over that kind of girl. There are lots of fish in the sea!' For Bert, girls are a great source of inspiration for songwriting. 'I find them really interesting,' he says. 'I grew up with three sisters, so I've always taken women seriously. We're not playboys in this group.' Making himself another candy-pink cocktail, Renaud adds playfully, 'The good thing about writing songs about chicks is that your audience is full of them!'
How to create a hit
Back to the music - their 2005 hit My Heroics, Part One was dubbed best song of the decade by Belgian radio station Studio Brussels. So what's the secret to their smashes? First of all, only one group member is responsible for the substance of the songs: Bert takes care of the harmony, lyrics and artistic vision. The remaining four 'put the cherry on top' in Renaud's words. 'It's a real challenge to include everyone's input when it comes to composition,' he explains, 'because everyone has their own ideas: the music has to be powerful, without moving too far away from the original idea.'
Each member of the group has mastered a different instrument, and each tries to contribute a new type of sound or a different approach to the music. Most important, though, is the group dynamic: Bert emphasises that it is essential for Absynthe Minded to 'practice as a group, explore as a group, and always work towards improving their music.' They expect a lot of themselves, and of music in general. 'It's not easy to make quality music,' says Renaud, 'but it's always worthwhile.' He makes a simple distinction: 'There are two types of music, good and bad, and Absynthe Minded's belongs to the first category. Music is my only real interest, and so I really listen to a lot: Metallica, Pink Floyd, Brahms, Miles Davis—nobody can say that's not good music.' And what about the bad music? Bert prefers not to talk about that category, while Renaud makes a general complaint about some groups' tendency to plagiarise: 'they're nothing but copycats'.
Absynthe Minded's definition of 'good music'
'We aren't commercial,' says Bert. 'It's all about the music, and experimentation. By the time I'm seventy years old, I hope to have made at least twenty albums.' The most important thing is to explore new directions, he says, and to be original and open-minded. As part of a generation that is used to paying for music, Bert spends his time in little record stores, looking to discover old, forgotten albums.
'The Beatles who were able to do so much in such a short time'
Finally having a producer gave the group a renewed confidence, explains Bert with evident excitement; the eponymous Absynthe Minded album brought the boys together with Jean Lamoot, producer of famous French acts such as Noir Désir and Alain Bashung.  'Things are going well for us: we've had four CDs released in eight years. We'd already played all over Belgium and the Netherlands, so we had an established reputation, but now we're hoping to find an even broader, international audience. This is just the beginning!' Bert is a great admirer of The Beatles who were able, as he says, 'to do so much in such a short time.' For his part, Renaud never expected to play to audiences that would fill whole concert halls in France. However, his success isn't fuelling dreams of fame and fortune. 'It would be amazing to be as well-known in Europe as we are in Belgium,' he says. 'But that would be enough for us. We're not looking to conquer America. We don't need a house with three swimming pools—or even one, for that matter!'
Catch Absynthe Minded live at the Nouveau Casino venue in Paris on 7 April
Images: ©Absynthe Minded, videos courtesy of ©CHUPACHIEP and ©AbsyntheMindedRecord/Youtube
Translated from Absynthe Minded : « On n'ouvre pas les portes, on les casse ! »