Belarus' messed up punk scene
Published on
When speaking of Belarus, we don't often address their punk rock scene. It's a country that has been largely scrutinised across the continent, and sometimes even referred to as Europe's last dictatorship. But the all-girl punk band Messed Up have been reshaping the country's music scene since 2015.
"One of the reasons that we are offered to play is that organisers understand that we aren't just girls with guitars. We are serious, and we won't let anybody insult us," explains guitarist and lead songwriter Liza. Messed Up is one of the few Belarusian punk bands in a small community that are attempting to spread their messages on social issues through music. But it's not an easy scene to be a part of. From the lack of gig opportunities, to the illegality of the locations, to the stereotypes that punk has in the country, to being a woman in a band... Messed Up has experienced it all. 
"First of all, there aren't many gigs. It's because concerts are usually quite illegal, and it's quite difficult to have a gig in a normal club because the owners are often scared of the local state and stereotypes," Liza explains. Pop and club music dominates most of the local music scene, and there is an obvious lack of interest in punk-rock. "People… continue to label us. They are scared of getting into trouble after every gig."
I am woman, hear me roar
The fact that Messed Up is currently Belarus' only all-female punk band comes with its own challenges. "We want to show that women can express their opinion equally to men," Liza adds. For Messed Up, the experience of playing as an all female band has been positive outside the borders of Belarus, but is a completely different situation at home. "Sometimes we catch stunned glances when we enter the stage… we even hear people say 'rock is not for girls'."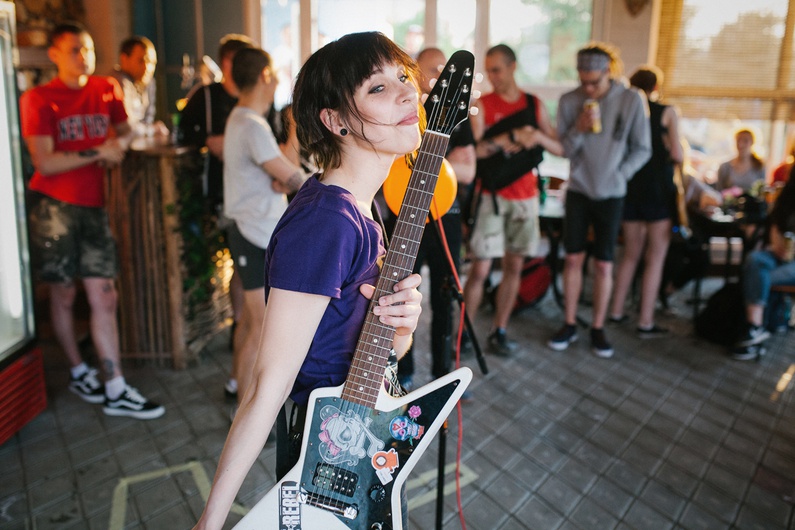 The gender discrimination along with the current view on punk rock in Belarus are both parts of the reason why Messed Up have found more success in touring internationally than in their home country. The band frequently plays shows in countries such as Poland and Lithuania. Liza explains that Belarus still has so many unresolved gender issues compared to the rest of Europe.
"Unfortunately our society is still thinking in stereotypical labels about the everyday social roles of women. Despite the fact that women are completely equal in terms of laws and rights, there are still some unresolved issues." In Belarus, a woman's place is often at home, and they rarely appear in positions of power or leadership roles.
Singing about the state
"Our songs aren't just about ourselves. We are singing about the problems in modern society."
Messed Up play songs that attempt to put forward opinions that they believe are not being heard in their country. The band's anthem "I won't" is a call to resist social norms in a country where the way people act and what they say is only okay if it's 'normal'. Especially concerning the way in which women should present themselves, and how an 'alternative' lifestyle is often criticised. At the end of the day, the band is trying broaden Belarus' horizons - to show its people that being different is also OK. 
Many of Messed Up's songs deal with how a post-Soviet society favours an ordinary person, and how people in positions of power oppress those who choose to live differently. Liza nominated the exposure of "injustice, hypocrisy and dishonesty" as the driving forces behind their fight for justice.
"The difficulties of being a political band in Belarus is the trouble that the state may cause," Liza comments. "It's hard to stand by your beliefs if they mute you…. no one should be silent or frightened." Today, Messed Up are recording a new four-song 7-inch vinyl, and are in the process of creating a new music video. They hope to have their debut album released by the end of the year.
In the meantime, the band refuses to be held back by the fact that freedom of expression is limited in their country. Punk rock is struggling in Belarus, but those at the forefront are still fighting to be heard. "Punk-rock gives us freedom… we express that we aren't pleased! We want to be heard, first of all in our homeland and not just abroad."