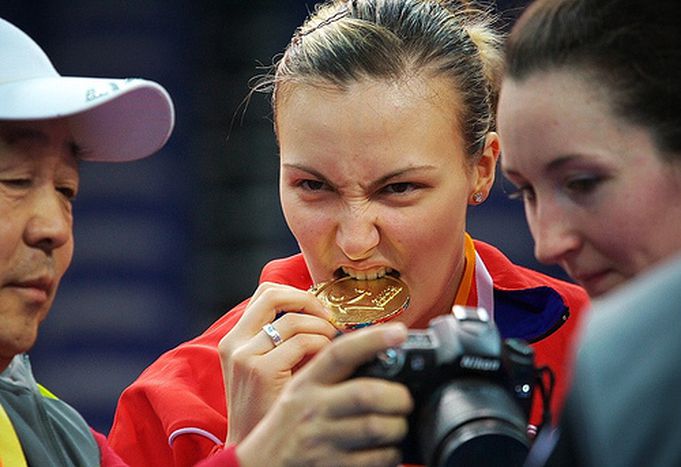 Beijing 2008: 273 Olympic medals for the EU
Published on
An Austrian commission representative has remarked that an 'EU medals table' would 'conserve EU identity' - latest update of the medals the old continent has won, against China, Russia and the US
Impossible that one day the European Union will become a unique country incorporating all of its member states. But did we not once say that about the single currency, a project completely utopian in itself? Today, we perhaps could dream of a future confederal EU like the United States. And if you were to take into account our honours in the Olympic Games so far… For the time being, the European Union would be rich in gold, ahead of the host nation and at the head of the competition.
Medal listings | Updated 25 AugustCountry Gold Silver Bronze Total EU - 27 85 99 89 273 China 51 21 28 100 US 36 38 36 110 Russia 23 21 28 72 Australia 14 15 17 46
More EU member states, but less gold medals
In 2008, each of the twenty-seven EU member states took part in the Beijing Olympics. The EU took home 34 more gold medals than the host nation China, and 163 more in total than the US. Impressive scores - but this year the EU only took home 85 gold medals. Think back to the last Olympiads in Athens, 2004, where the  United States finished with 36 gold medals, China 32 and Europe with 95. At least the latter was a haul almost three times greater than its rivals.
At Sydney in 2000, the EU doubled the number of gold medals awarded to the United States who walked away with 40 while Europe (with twelve less member states at that time) won 83.
We have to go back as far as 1984 to Los Angeles to find a time when the EEC (which then had only ten member states) was not been at the top of the leaderboard.
Translated from Pekín 2008: Europa encabeza el medallero